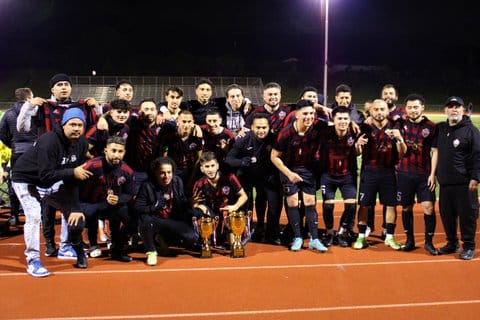 27 Feb

San Pablo FC Earn Team's First NSL Pacific Division Conference Cup Trophy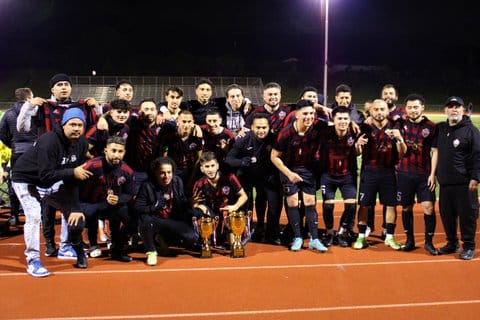 San Pablo FC celebrates the season finale by posing with Conference Cup and regular season trophies on Saturday in El Sobrante.
Story and photos by Joseph Porrello
In the team's second trip to an NSL Pacific CA North Division Final, the San Pablo Football Club took down San Leandro United 4-1 Saturday night in El Sobrante.
"I don't think I can describe what I'm feeling right now," said San Pablo FC head coach Omar Bautista. "It was a really hard season, so to top it off with this is amazing."
San Pablo FC came in as reigning regular season division champs, but San Leandro United entered as defenders of last year's Conference Cup and came out aggressively guarding their title.
>>>Read: Semifinal Victory has San Pablo Football Club Headed for NSL Pacific Division Championship
Only 15 minutes into the game, San Leandro's physical play resulted in them getting two quick yellow cards and an additional free kick awarded to San Pablo FC.
"It was pretty intense in the beginning," said San Pablo FC midfielder Erik Montes. "There was a lot of chaos."
The second of the yellow cards came when a San Leandro player pushed Montes to the ground after the whistle had blown right in front of the San Pablo FC bench. Opponents on the field began shoving and yelling at each other and had to be separated.
Players and coaches of San Pablo FC were visibly upset and voiced their frustration to the referees.
Referees of Saturday's match had their hands full in El Sobrante, dealing with grief from both teams.
"We can always talk about the refs, but I do think there should have been a red [card] on that play," said Montes. "I guess they just wanted to keep it 11 on 11."
Immediately following the altercation, play intensified between the two teams noticeably, both verbally and physically.
After both clubs managed three scoring opportunities apiece, San Leandro broke open the game, scoring in the 25th minute using a lofted shot from a tough angle on the side of the net. The goal was the first allowed by San Pablo FC goalkeeper Orlando Perez after three straight shutouts.
"Going down 1-0, we put ourselves into a spot where we'd have to define what type of team we are," said Bautista.
San Pablo FC narrowly avoided the deficit growing larger just five minutes later when a San Leandro United shot fired past Perez and off the crossbar.
Shortly thereafter, a hard slide tackle made by a San Leandro United player went unseen by the referees, causing another uproar on the San Pablo bench that paused the game for about five minutes as coaches and players argued with the game officials.
"I don't really think [the referees] had things under control in the first half," said Bautista.
San Pablo FC midfielder and captain Erik Montes squares up his target before taking a penalty kick Saturday in El Sobrante.
In the 40th minute, Montes was taken down forcefully in front of the goal and granted a penalty kick as San Leandro United was given another yellow card.
The ensuing penalty shot was stopped, but referees ruled that the San Leandro goalkeeper had left the goal line early, resulting in a do-over. The infraction for the netminder came with a yellow card, already the fourth before the midway point for San Leandro.
With a warm-up shot under his belt, Montes put his next opportunity into the back of the net and tied the game for San Pablo. As team captain, he felt it was crucial to take charge and capitalize on the second chance.
"Mentally, I knew I had to put that in the net and flush the first one from my mind to get my team back in the game," said Montes.
San Leandro United nearly instantly took the lead back before the ball ricocheted off the crossbar behind Perez again, falling safely out of bounds.
Right before halftime, a referee blew the whistle on an offensive breakaway for San Pablo FC, but teammates and coaches did not react demonstratively.
"I told the boys at half it's on me. We shouldn't be concentrating on the refs," said Bautista, adding that his players feed off his energy and how he reacts to calls they don't agree with.
Montes took an empathetic approach to the game's officiating.
"Refs are human beings," he said. "We all make mistakes."
Coaches on the San Leandro side were the ones unhappy with missed calls in the second frame. The staff collectively shouted at officials when no card was given to a San Pablo FC defender who made hard contact to the back of one of their players who remained down for an extended period.
San Pablo FC spent a good amount of time on the turf after repeated hard contact Saturday in El Sobrante.
Players from both sides being on the ground was a common occurrence throughout the game, with nearly 10 minutes of dead ball in each half. Only about two minutes of extra time for each half were given by the referees, perhaps not wanting to draw out the halves due to the chilly 45-degree field temperature.
The bundled up fans for both teams in attendance seemed to be warming themselves by loudly making their opinions about the officials known. Other attendees avoided the $10 entry fee by watching the match through the fence behind the bleachers.
San Pablo FC goalkeeper Orlando Perez kept up his impressive play, allowing just one goal in Saturday's final in El Sobrante after giving up none in the previous three games.
In the first 20 minutes coming out of the break, San Leandro United used multiple counterattacks in transition to produce numerous good scoring prospects, one of which was a bicycle kick that drew gasps from the crowd.
The momentum would shift rapidly and permanently when San Pablo right wing Antonio Zumaya broke the tie in the 67th minute, scoring from the sideline on a powerful shot that glided on the turf and into the bottom-left corner of the net.
'We didn't give up," said Bautista. "In the second half, we trusted in what we've done all season, and those adjustments paid off."
San Pablo FC would net two more goals before all was said and done, one on a streaking shot from about 40 yards away that rattled into the top corner of the goal in the 75th minute.
With 10 minutes left in the match, San Leandro United received a fifth yellow card on their second tackle in the box. The proceeding penalty shot was successful for San Pablo FC and iced the game with a three-goal advantage.
"[San Leandro] is a great team. It was good competition," said Montes. "They were the only team that beat us this season, so we had to come out here with a different mentality."
San Leandro United not only previously handed San Pablo FC their lone loss of the entire season in a 1-0 bout but also finished No. 2 in the CA North Division standings three straight years and won half of the league championships in its short history.
"I thought [San Leandro United] played really well. They're a really strong team and go in hard on every play," said Bautista.
As San Pablo FC took down their respected opponent in the finals of his opening season at the helm, Bautista helped the team receive its first championship trophy in franchise history.
"We Are the Champions" played from the stadium sound speakers postgame as San Pablo FC was anointed with both their regular season and Conference Cup hardware, along with individual medals for each grinning player.
Moving forward, Bautista said San Pablo wants to continue with its core of teammates and hold tryouts this April to add players.
"Our goal is to make the team stronger and repeat as champions next year," he said.
Montes echoed his coach's sentiment. "I think if we keep all the same players, we should be one of the top teams again."