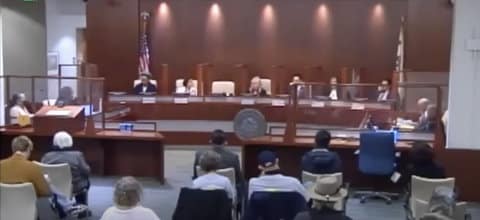 08 Mar

Richmond Again Addresses Illegal Dumping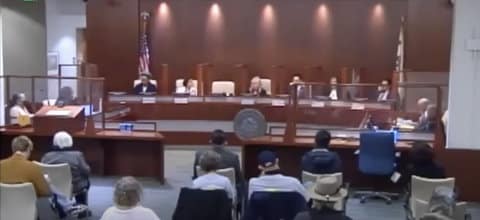 Richmond City Council met Tuesday in its first in-person meeting since the start of the COVID-19 pandemic. (Screenshot captured by Julia Métraux / Richmond Pulse)
By Julia Métraux
In its first in-person meeting since the start of the COVID-19 pandemic, city of Richmond staff and residents talked Tuesday about an issue that has remained constant: illegal dumping.
During his monthly presentation, public works director Daniel Chavarria said his staff spends over 1,600 hours a month trying to clean up illegal dumping. According to the California Department of Resources Recycling and Recovery, managing illegal dumping issues is "primarily the responsibility of [the] local government." Since January 2022, the city of Richmond has received over 2,100 requests to clean up illegal dumping sites.
"About 75% of our time goes to illegal dumping. This is less than what we did in January," Chavarria said, also noting that February has fewer days than January.
Vice Mayor Gayle McLaughlin, who led the meeting due to Mayor Eduardo Martinez "feeling ill" commended Chavarria and his staff "for all the hard work in cleaning up our city."
While solutions tend to be focused on individual cities and counties, illegal dumping is an issue throughout the state of California. A piece of legislation last year recognizes that.
Assembly Bill 2374 was introduced in February 2022 to combat illegal dumping in California, in part, by increasing financial penalties for dumping. It passed the California Assembly and Senate, and it was sent to Gov. Gavin Newsom's desk in August 2022.
In the meantime, Richmond is trying some new approaches to limit illegal dumping in the city. Since 2022, every neighborhood in Richmond should receive at least one "neighborhood dumpster day" where people can bring disposable items every year instead of every other year. Items that can and cannot be disposed during these events are listed here.
>>>From the Archives: To Curb Illegal Dumping, Richmond Turns to Goats
Council member Doria Robinson asked if "any tracking or any kind of assessment" was being done to determine whether dumpster days have decreased illegal dumping around Richmond.
Chavarria said he does not have "data to answer that question at this moment" but hopes to "provide more insight" in the coming months. The public works department also does specific outreach and labor to help seniors and members of the disability community dispose of their trash.
Conversations about illegal dumping continued into open forum, where members of the Richmond community shared their opinion.
>>>Read: It's Time to Open Our Eyes, Speak Up and Get Up & Clean Up
Joe Puleo, a Richmond resident, asked if the city would consider giving "dump permits" to residents or increasing dumpster days.
"One thing you might consider is providing dump permits to Richmond residents," he said. "I don't know how much of the trash public works department picks up is local and how much is out of town dumped here."
Michael Glickson, another Richmond resident, echoed McLaughlin in her praise for the labor and effort the public works department has made in trying to help Richmond thrive.
"I know that it's not everything there is in the city, so I'm grateful that that happens," he said.
The next regular Richmond City Council meeting is scheduled for March 21.