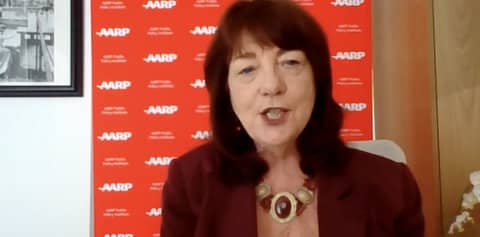 17 Mar

Caregivers 'Work Quietly With Little Recognition.' AARP Wants to Change That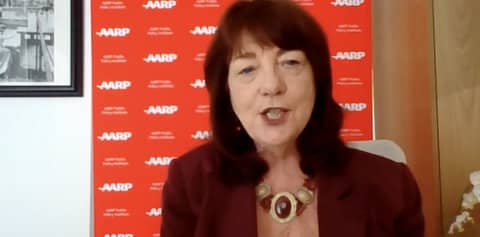 "Forty percent of family caregivers come from multicultural communities, and we really have to understand more about their distinct cultural values and needs so that we can address them better," said Susan Reinhard of the AARP. (Screenshot captured by Julia Métraux / Richmond Pulse)
By Julia Métraux
Unpaid caregiving work across the United States is valued around $600 billion. In the state of California alone, there are around 4.4 million family caregivers, according to a recent estimate from AARP's Public Policy Institute.
"Family caregivers do their work quietly with little recognition," said Nancy LeaMond, an AARP vice president and chief advocacy and engagement officer, "and as healthcare increasingly takes place in people's homes, they are taking on more and more complicated responsibilities."
At a March 8 virtual roundtable hosted by the organization, people from AARP discussed the findings of its report "Valuing the Invaluable 2023 Update: Strengthening Supports for Family Caregivers." One of the issues raised at the roundtable is the need for creating culturally competent care solutions that support family caregivers from diverse backgrounds.
"Forty percent of family caregivers come from multicultural communities, and we really have to understand more about their distinct cultural values and needs so that we can address them better," said Susan Reinhard, an AARP vice president and director of its Public Policy Institute.
Rita Choula, director of caregiving at AARP Public Policy Institute, said AARP is doing research into caregivers of color in three states — New York, Georgia, and Illinois — to see how they can better be supported.
>>>Read: Caregivers Need Support — and for People to Get Vaccinated
"We are looking specifically at racially and ethnically diverse communities and really talking to those caregivers," said Choula, adding that AARP should have more information on this to share later in the year.
A virtual audience member asked if outreach is being done for "Latino communities and other communities that may not be aware that there is support available." Choula said this is a focus of AARP state offices.
"Our state offices are very much engaged in the community and are working with caregiving coalitions and on the ground community organizations every day in this space," Choula said.
Caregiving is likely not anyone's sole responsibility, with many unpaid family caregivers also working part-time or full-time jobs. LeaMond said that "four in 10 caregivers say their biggest challenge is the emotional stress of balancing caregiving and their jobs." Many companies, especially during COVID-19, have started to shift policies to be more caregiver-friendly.
"It turns out that creating a caregiver-friendly workplace is good for business," LeaMond said. "Implementing policies like paid leave, flexible scheduling, employee assistance programs, and respite care options can help with both recruiting and retention of experienced workers."
There is also a rising number of "sandwich caregivers," people who are taking care of their kids and aging parents at the same time.
"What's new is the changing nature of it, because of an aging population, and the growing trend of delaying having children," Reinhard said.
Some recent positive policy changes include the ​​National Strategy to Support Family Caregivers, which came out of the RAISE Family Caregivers Act of 2017. The U.S. Department of Health and Human Services released the strategy in September 2022.
"This is a unique and overdue opportunity to make significant changes in the lives of millions of Americans who care for loved ones," LeaMond said.
There are gaps in some state-level support for caregivers, with a major issue being a lack of paid family leave across many states. According to the Kaiser Family Foundation, the United States "does not have national standards on paid family or sick leave, despite strong public support."
"If you look at some of the proposals across the country, for paid family leave, they are voluntary," LeaMond said.
Despite it being an economic issue, LeaMond said caregiving is "never a front-burner issue," as it deserves to be.
"There is no long-term care in America … other than what we know is provided with Medicaid [and Medicare] and some private health insurance."