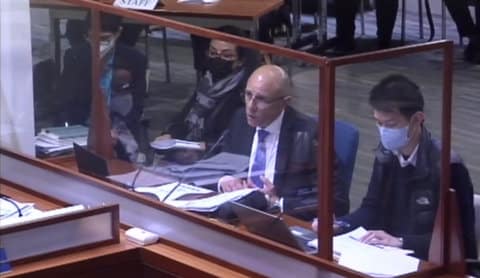 22 Mar

Last Fiscal Year, Richmond's Revenue Was Up and Spending Was Down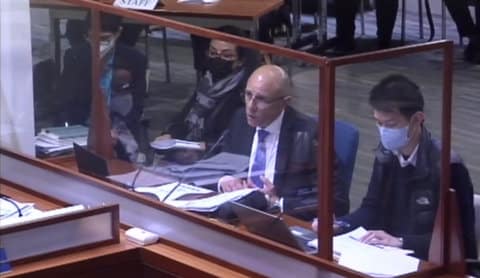 "Over the last three years, the city's tax revenues were higher than the net cost of service, and that's definitely a good thing to have,"Ahmed Baldawi, center, told Richmond City Council on Tuesday. (Screenshot by Julia Métraux / Richmond Pulse)
By Julia Métraux
After a long day of bad weather, the city of Richmond got some good news on its financial state.
Richmond City Council heard a report Tuesday on its annual comprehensive financial report for the 2021-22 fiscal year, which ended June 30, 2022, from Ahmed Badawi, whose firm, Badawi & Associates, conducted an audit.
"The bottom line is that the results of operation in 2022 were positive for the city," Badawi said. "There were increases in revenues and decreases in expenses."
In other words, the city got more money and spent less.
Compared with the fiscal years ending in 2020 and 2021, the city of Richmond's investments and capital assets both increased. Richmond also decreased its deficits from around $600 million to around $450 million. A copy of the report can be found here. The independent audit done by Badawi and his team is separate from one conducted by the state. Badawi said his firm's audit does not include reviewing every small transaction — such as those under $5,000 — and that it was important for his firm to not have any conflicts of interest with city employees when conducting the audit.
"Over the last three years, the city's tax revenues were higher than the net cost of service, and that's definitely a good thing to have," Badawi said.
One area in which Badawi said the city could improve is payroll review.
"Our concern is that there is no detailed review of payroll that is being done, and we don't anticipate that somebody's going to go in and check every employee," he said.
City Manager Shasa Curl said the city would be looking for a payroll manager.
"I do want to acknowledge and thank HR for the work they've done to develop a payroll manager position," Curl said.
Council member Soheila Bana asked if Badawi had "any advice or words of caution" about Richmond's fiscal well-being. Badawi said that this is not in his wheelhouse.
"My role is to report on history, what happened in the past, and whether the city reported the results of what happened in the past accurately," Badawi said.
Progress in Hiring
In a report, Curl said the city is working diligently to fill vacant positions.
"We've been doing a really phenomenal job of hiring across the city," she said.
While more positions have been filled, Curl did not specify how many are still vacant.
"Last fiscal year, we had 82 new hires and 49 promotions," she said, "and so far this year, we have 54 new hires and 41 promotions."
Preparing for Effects of Weather, Fires and Other Natural Disasters
Bana also invited members of the Richmond community "to participate in the process" of developing the city's local hazard mitigation plan.
"If there is a flood or anything like mudslide in an area that has not been recognized in the plan…no money will be given to us," she said.
Bana encouraged people interested in helping develop the plan to reach out to her. 
The next regular City Council meeting is scheduled for March 28.