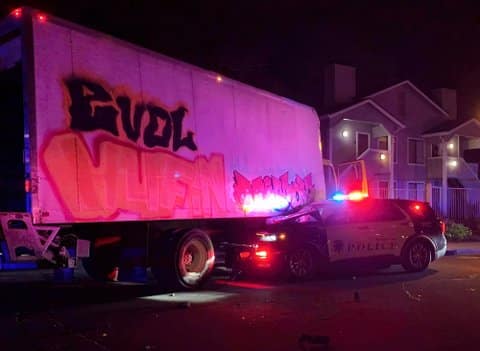 22 Mar

Man Uses Stolen Truck to Ram Richmond Police Car Before Getting Stuck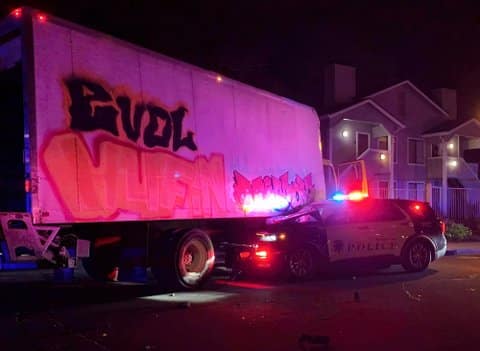 Richmond Police alleged that the driver of this stolen truck used it to push the cruiser with the officer trapped inside, then tried to drive over it and got stuck. (Richmond Police Department via Bay City News)
By Tony Hicks
Bay City News
A man driving a stolen box truck was arrested Monday night after ramming a Richmond police cruiser.
An officer on patrol saw a large box truck allegedly run a stop sign. Attempting to stop the truck, the officer discovered the truck was reported stolen.
The truck initially pulled over in the area of Esplanade and Schooner drives. Police said on their Facebook page that the driver then reversed into the officer's patrol car, rammed it, and pushed it backward while the officer was trapped inside.
The driver of the truck then allegedly tried driving over the hood of the patrol vehicle but got lodged on the police car's hood.
Despite repeated attempts to dislodge the truck from the hood of the patrol car, the truck remained stuck.
The officer exited his car and moved to a safe position. The suspect then fled from the truck on foot with officers chasing him.
After establishing a perimeter, police with a K-9 team found him hiding in a nearby yard. The man was arrested after a brief struggle, police said.
No one was injured in the ramming of the police car or during the arrest, according to police.
The man, whose name was not released, was arrested on suspicion of assault with a deadly weapon on a peace officer and possession of a stolen vehicle. He was also on active probation for possession of stolen vehicle and had active felony warrants for his arrest.
Copyright © 2023 Bay City News, Inc. All rights reserved. Republication, rebroadcast or redistribution without the express written consent of Bay City News, Inc. is prohibited. Bay City News is a 24/7 news service covering the greater Bay Area.