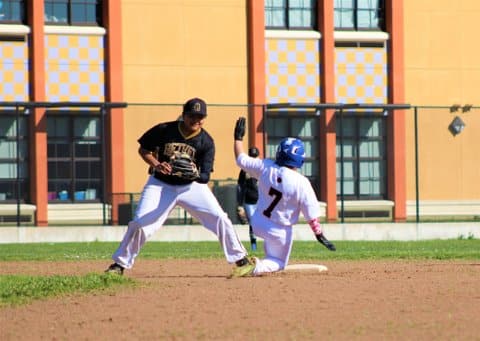 27 Mar

Oilers Varsity Baseball Forced to Replace Game with Scrimmage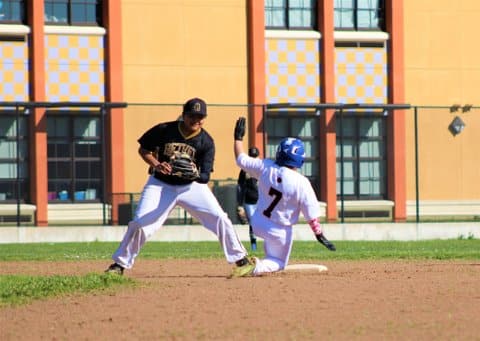 With Friday's game not officially counting, players from both sides took advantage by stealing lots of bases.
Story and photos by Joseph Porrello
The Richmond High Oilers were supposed to play what would have been its second official baseball game of the season Friday against the Bethel High Jaguars. But without coaches or enough players for Richmond or umpires to call the game, it proceeded as a scrimmage.
The game was an example of the ongoing issues facing the Oilers and high school baseball, in general.
Neither Oilers head coach Robert Johnson nor assistant coach Ricky Jefferson were at the game. 
Johnson recently took a sudden three-week leave of absence from the baseball team. According to a parent attending the scrimmage, he is out of state. 
"Coaching is a huge commitment with very little financial reward, and it's hard to find good people willing to take that on, especially when winning isn't likely," said Richmond High athletic director Jeffrey Jaymot.
Oilers baseball did not win a game in either of its last two seasons. The last time it had a winning record was more than 18 years ago.
Jaguars head coach J.R. Lindsey took on coaching duties for both teams, giving pointers to opposing players along with his own squad.
Bethel High's J.R. Lindsey had to coach his Jaguars and the opposing Richmond Oilers on March 24 — and handle umpiring duties.
"We didn't know what the circumstances were going to be until we got here, but we're not complaining," said Lindsey. "We just appreciate Richmond High for letting us on the field."
There were also no umpires to call the game, causing Lindsey to take on their responsibilities as well. 
Having recently retired from 20 years of umpiring to enlist in his first year of coaching, he was more than prepared to enforce the game's rules. 
Still, umpire crews usually consist of 2-4 people, so it was not an ideal scenario. Working alone, Lindsey had to call balls and strikes, as well as outs on the base paths from his position behind the pitching mound.
"The lack of umpires is a big problem, and I wish the [North Coast] Section could do something about that, but there's a shortage everywhere across the U.S.," said Lindsey. "I don't think there's enough young umpires coming up."
Also plaguing both the Oilers and high school baseball as a whole is a drop in interest and, thus, a lack of players. 
Richmond High does not have a junior varsity baseball team, and the varsity team has only seven players. Nine are needed for a complete team. 
"I couldn't tell you why teams are short players because, personally, I'm certainly not losing any interest in baseball," said junior Jaguars starting pitcher Jarren Santos.
Patrolling first base for the Oilers was a Bethel High player, who got one of his teammates out with a hidden ball trick after a pick-off attempt.
Two Bethel High players volunteered to play for the Oilers at first and third base, allowing them to field a team for a scrimmage. Dealing with a lack of players is nothing new for either team. 
"I've had to do that before a few times, but we don't really mind." said Santos.
According to Oilers junior second baseman Jorge Arvizu, the baseball team had a lot of students at tryouts, but many were unable to play because they failed to meet the GPA requirement. 
Because of the scarcity of players, coaches and umpires, Lindsey opted not to keep score or record statistics from the scrimmage.
This was Richmond High's fifth baseball scrimmage of the season. Because of rainouts and the aforementioned limitations, the Oilers have only played one official game, losing 12-2 at home March 20 against Making Waves Academy of Richmond. That game was possible because people played who were not on the official roster.
In Friday's scrimmage, Bethel High played a lot of small ball, using stolen bases, walks and wild pitches to its advantage.The Jaguars also bunted in roughly half their at-bats.
Richmond High failed to gain much traction at the plate, piling up numerous strikeouts, but that didn't stop them from enjoying themselves.
"To be honest, just being able to play was nice," said Arvizu. 
Lindsey, whose team has been practicing on cement because their baseball diamond is currently flooded, agreed.
"We just appreciate being able to get out onto a field," he said. "That's exactly what we needed."
Bethel High does not have trouble filling its roster, with 13 players suiting up. The Jaguars have themselves only played three official games, but that's mainly the result of weather.
In their first two games, they outscored their opponents 34-7 before getting walloped 21-3 against St. Patrick-St. Vincent High. 
"As a team, we need to work on communication," Santos said. "That's why we took an 'L' last game."
The Jaguars did seem to connect well with Oilers players, as they tried helping each other out with advice and laughed with one another.
"I'm pleased with what I saw," said Lindsey. "As you see, everybody respected the game."
Despite the unfortunate state of affairs, Richmond High players are focusing on baseball-related issues and trying to better the things they can control.
"To improve on our batting is what we need the most right now," said Arvizu.
Barely any balls hit by either team reached the outfield, but two did so on consecutive Jaguars doubles that drove in a run. 
Wind whistled through the trees surrounding the field, with 20 mph gusts whipping through the field perhaps adding to both teams inability to drive the ball as well as wild pitching. 
Only about 10 people braved the blustery elements in the desolate bleachers. 
Playing simultaneously, the Oilers varsity girls softball team conversely had a raucous crowd that could easily be heard from the baseball field about 200 yards away. 
Arvizu noted that Richmond High closed due to power outages the day of the scrimmage, which could have played a part in some fans not showing up. 
"I didn't even know if we were playing or not the whole day," he said. 
Players on the Oilers are inquiring about fellow students' baseball interests and asking them to join the roster so they can field a complete team. 
"You never come back to this part of life again, so it's worth trying something new," said Arvizu. "Who knows, you could be good at it."
The Oilers have until their next game Wednesday against Vallejo High to build upon their present lineup. 
Time will tell if the ensuing matchup is Richmond High's second official contest or yet another exhibition. 
One thing's for sure, it's safe to say the few boys that make up the baseball team are passionate about playing. 
After Bethel High left the field, the Oilers stayed on their own accord to have another scrimmage with the softball team before sunset.
Similarly, Richmond High's baseball program needs a little brightness before things get too dark.
To read more about the Oilers' ongoing struggles in baseball as well as other sports, check out our recent piece: Richmond High Athletics Down But Not Out.