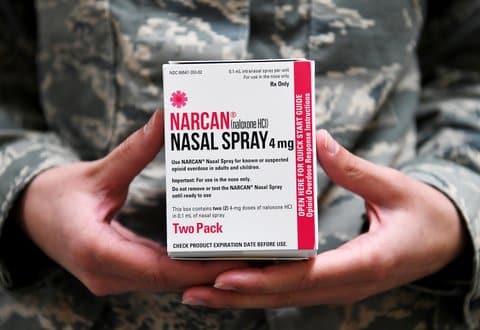 30 Mar

FDA Approves Narcan for Over-the-Counter Use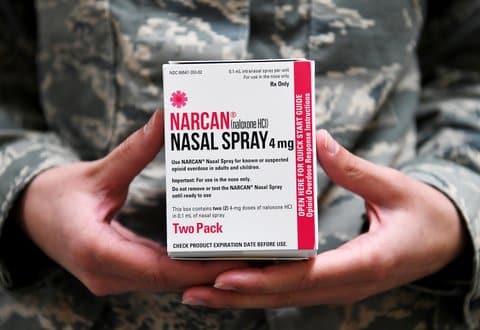 Airmen at the 178th Wing were given naloxone (Narcan) through Project DAWN (Deaths Avoided with Naloxone) on May 6, 2019, at Springfield Air National Guard Base, Ohio. Narcan is used on a person experiencing an opioid overdose. (Senior Airman Amber Mullen / U.S. Air National Guard via Bay City News)
By Eli Walsh
Bay City News
Federal regulators approved the first over-the-counter naloxone product Wednesday, enabling people to buy the opioid overdose treatment directly from places like pharmacies, convenience stores and online.
The U.S. Food and Drug Administration approved the nasal spray naloxone product, commonly known as Narcan, for use without a prescription. Narcan has been approved as a prescription drug since 2015 and is the standard treatment to reverse an opioid overdose by reversing or blocking an opioid's effects on the brain.
More than 101,000 fatal overdoses were reported nationwide between November 2021 and October 2022, driven mostly by opioids like fentanyl.
"Naloxone is a critical tool in addressing opioid overdoses and today's approval underscores the extensive efforts the agency has undertaken to combat the overdose crisis," said Dr. Patrizia Cavazzoni, the director of the FDA's Center for Drug Evaluation and Research. "The FDA is working with our federal partners to help ensure continued access to all forms of naloxone during the transition of this product from prescription status to nonprescription/OTC status."
A timeline for when Narcan could be available without a prescription and how much it will cost are still to be determined by the manufacturer that received Wednesday's authorization, the biopharmaceutical company Emergent BioSolutions Inc.
However, according to the FDA, the regulatory process to change naloxone from being solely available as a prescription drug to being available both with and without a prescription could take months and will require a change in labeling for currently approved 4 milligram naloxone nasal sprays.
Other Narcan manufacturers beyond Emergent BioSolutions will also be required to update their existing authorizations to make their products available as over-the-counter drugs.
"Today's approval of OTC naloxone nasal spray will help improve access to naloxone, increase the number of locations where it's available and help reduce opioid overdose deaths throughout the country," FDA Commissioner Dr. Robert Califf said. "We encourage the manufacturer to make accessibility to the product a priority by making it available as soon as possible and at an affordable price."
Copyright © 2023 Bay City News, Inc. All rights reserved. Republication, rebroadcast or redistribution without the express written consent of Bay City News, Inc. is prohibited. Bay City News is a 24/7 news service covering the greater Bay Area.