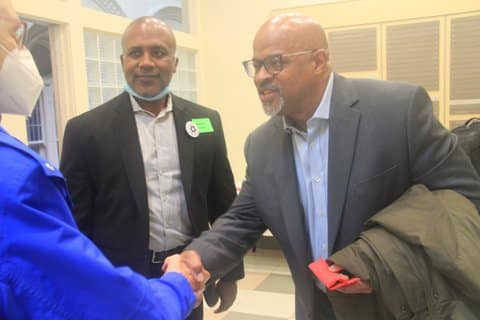 03 Apr

S.F. NAACP Clarifies Statement on $5M Payouts: Reparations Should Be Cash Payments, Plus 'Investments'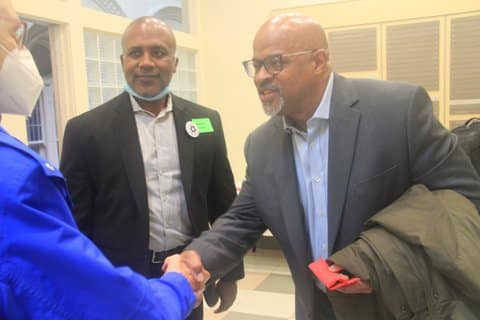 Eric McDonnell, right, chairperson for San Francisco's  African American Reparations Advisory Committee, said it presented 111 recommendations of reparations to the city's Board of Supervisors. (Antonio Ray Harvey / California Black Media)
By Antonio Ray Harvey and Manny Otiko, California Black Media
The San Francisco Branch of the NAACP is engaged in a public information blitz to clarify a press release it sent out urging the San Francisco city government to reject a proposal to pay each qualifying Black city resident a one-time lump sum reparation payment of $5 million.
The Rev. Amos Brown, a member of the San Francisco reparations board, pastor of Third Baptist Church, and the president of the San Francisco NAACP, released a March 14 statement before the recommendations were presented to the supervisors rejecting the $5 million payout.
"Reparations should focus on investments and opportunities" in five areas: education, employment, housing, healthcare, and a culture center for San Francisco's Black residents, the prepared statement reads.
"We strongly believe that creating and funding programs that can improve the lives of those who have been impacted by racism and discrimination is the best path forward toward equality and justice," Brown stated. Brown is the vice-chairperson of the California Reparations Task Force, which is proposing recommendations for two million Black residents in California.
The NAACP's press release was met with immediate backlash by supporters in the movement for reparations across the country who have, for decades now, invested time, energy and money in bringing the issue to national attention. In 2020, California became the first state to set up a task force to investigate the state's involvement in slavery, state-sanctioned atrocities against African Americans and all other forms of discrimination and discriminatory policy that excluded Black Californians from state benefits or protections or that prevented them from gaining social or economic power.
In several public appearances, Brown clarified that he is not against the idea of a cash payout but only wants the recommendation to be a reasonable compromise — one, he says, that does not give the city's Black residents "false hope."
"We don't want to get set up for another study or for them to put this up on a shelf to collect dust," said Brown in an interview with Roland Martin. We must have action. We believe in cash-plus — not either or."
Eric McDonnell, chairperson of the African American Reparations Advisory Committee — a task force set up by San Francisco city government — said that recommendations presented to the Board of Supervisors are an "appraisal" and he is "hopeful" that the city will deliver much needed compensation for Black community.
McDonnell made the statements in an interview with San Francisco's KRON 4 News on March 24. AARAC presented recommendations on March 14 to address the harms and struggles Black Americans have endured since they began migrating west after the Civil War.
"What the city will decide to do is fully in the hands of the supervisors, mayor's office, and full leadership of the city," McDonnell said in the six-minute segment. "We're hopeful as a committee that they will take up the charge and do what they believe both is right to do and have the capacity to do."
The recommendations, McDonnell said, are only in "draft" form at this stage. They cover economic empowerment, education, generational wealth building, and public policies for the benefit of Black San Franciscans. McDonnell referred to the recommendation as an estimation of value.
"Our task (AARAC) was to do the appraisal, and it's the city's task to determine, based upon recommendations, what they decide to adopt," McDonnell said.
"Once again, that conversation is yet to come: the determination of how it will get financed and made possible," McDonnell continued, talking about reparations payments to San Franciscans who are Black American descendants of enslaved people.
The 14-person reparations committee advises the Board of Supervisors, Mayor London Breed, the Human Rights Commission, and the public on the development of a San Francisco Reparations Plan. The plan features ways that San Francisco's policies have harmed Black lives.
Paying qualifying Black residents individual payments of $5 million, the elimination of personal debt and tax liabilities of African American households and securing annual incomes at a minimum $97,000 for 250 years are part of the package the committee is proposing.
San Francisco's Black population consists of 6% of the city's total number of residents and they make up 38% of the city's homeless population.
The AARAC has documented decades of policies and laws that systematically affected Black Americans in San Francisco, limiting their access to productive employment property, education and the ability to build generational wealth.
A decision by the Board of Supervisors on the amount of compensation owed to Black residents or the form it will take is not expected until June. Meanwhile, the city is mulling over the fact that providing financial compensation will push it deeper into the red, a point that has been made by some city officials that many who oppose reparations for Black Americans have latched onto and referenced in their arguments.
San Francisco is currently facing a deficit of more than $720 million over the next 24 months and several members of the Board of Supervisors acknowledge that reparations are warranted but not financially feasible for the city.
"I wish we had this kind of money in San Francisco's general fund, but if we want to maintain the services that exist today, we do not," said Supervisor Hillary Ronen in a San Francisco Chronicle interview.