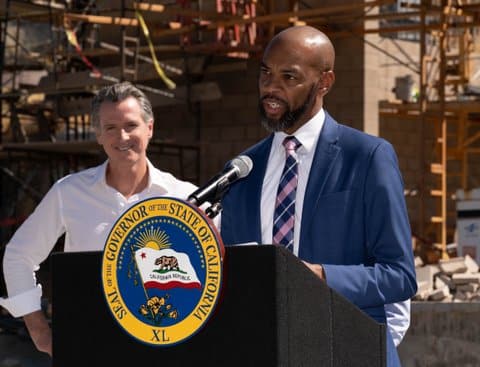 12 Apr

Antioch Police Scandal Debate Gets Confrontational at City Council Meeting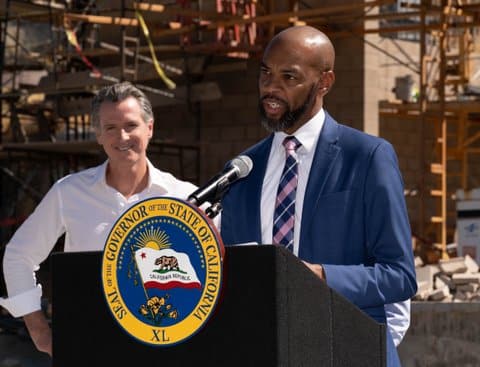 "I am sick and tired of being attacked by these people in this community apologizing for the racism that is going on in this community," Antioch Mayor Lamar Thorpe said Tuesday. Here, he is with Gov. Gavin Newsom in 2022. (Ray Saint Germain / Bay City News)
By Tony Hicks
Bay City News
A controversy over racist and homophobic text messages circulated among Antioch police officers spilled over into Tuesday night's Antioch City Council meeting, where Mayor Lamar Thorpe openly challenged at least one critic who called for an investigation into Thorpe.
"You wanna go outside right now — let's go! I am sick and tired of being attacked by these people in this community apologizing for the racism that is going on in this community," Thorpe said in the meeting, standing behind his seat and pointing. "You're the problem. You're the problem."
At least eight officers were suspended in the past year during an ongoing joint federal and Contra Costa County District Attorney's Office probe into civil rights violations and other police misconduct.
Thorpe said in a news conference last month that following an internal city probe, "several" officers were placed on administrative leave due to policy violations he later confirmed were officers circulating racist text messages.
Thorpe confirmed in a video last weekend — during which he called for an independent equity audit of the Police Department going back several years — that a judge had released the names of 17 officers involved in the texting scandal, including the president of the Antioch police union. The disclosure seemed to confirm the text messages were related to the larger overall investigation.
Thorpe said Tuesday that 24 officers were actually involved in sending the text messages.
"This was in their heart," Thorpe said. "It's not just 17 individuals we're talking about; we're now talking about 24. I'm not sweeping it under the rug. We're not going to do that. They may get upset. The institution and the status quo may get upset, but I'm not hiding behind that. This is what is and we got to deal with it."
At Tuesday's meeting, the council was slated to explore changing city procedure and having Police Chief Steven Ford report directly to the council, as opposed to the city manager.
City Manager Cornelius Johnson was suspended by the council last month for an apparent mixup with a former city spokesman, who allegedly quoted Ford saying something to the media Ford denied saying.
The council didn't vote on changing who Ford will report to moving forward but asked the city attorney to move forward with officially changing the reporting process and bringing it back for a council vote.
Council member Monica Wilson said Wednesday, "We're just about there," when asked if the city is facing a crisis with so many officers on leave.
"It's a culture that's been allowed to persist for years," Wilson said. "Community members are upset. Some say this has been happening for so long, while others say they had no idea."
"The trust is gone," Wilson said. "People are saying 'The one place I'm supposed to call when I'm in trouble and, can I trust them?'"
On Wednesday, Thorpe said the council all informally agreed the police chief should report directly to the council and expects the change to happen at the next council meeting.
Thorpe said reporting to the council makes the process more transparent.
"It makes it a public process," Thorpe said. "It's dangerous to have that buffer. A chief can hide behind the city manager."
Thorpe said Ford assured the council he can maintain regular staffing levels, though "I get concerned that we're overextended."
Thorpe said it will likely be done with overtime. He said there's also a large class of police academy recruits headed for Antioch by the summer.
Thorpe said he would characterize the current scandal, not as a mess, but as a "maturation process."
"Up until the 1990s, Antioch was 90-something percent white. Now, it's the second most racially diverse city in the Bay Area," he said.
As to his angry words at Tuesday's meeting, Thorpe said "I was standing up to racism. Everyone should stand up to racism. Standing up to racism can get emotional."
Copyright © 2023 Bay City News, Inc. All rights reserved. Republication, rebroadcast or redistribution without the express written consent of Bay City News, Inc. is prohibited. Bay City News is a 24/7 news service covering the greater Bay Area.