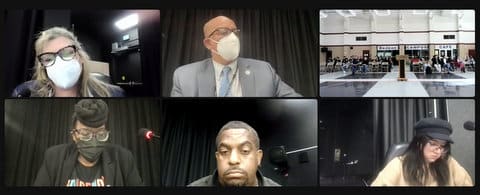 13 Apr

WCCUSD Board Votes to Formally Recognize Indigenous Peoples Day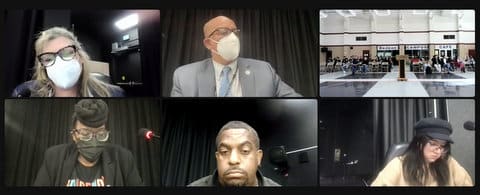 The West Contra Costa school board voted 5-0 on Wednesday to officially recognize the second Monday in October as Indigenous Peoples Day. (Screenshot captured by Julia Métraux / Richmond Pulse)
By Julia Métraux
As Indigenous Peoples Day gets celebrated and honored more across the United States, members of the Pinole Valley High School speech and debate team wanted to make sure West Contra Costa Unified School District does the same.
"It's vital that we acknowledge the land that we stand on, as well as the rich and diverse culture that California sits on," senior Elizabeth Duarte said. "California, it sits on stolen Indigenous land."
The West Contra Costa Board of Education voted Wednesday to recognize the second Monday of October as Indigenous Peoples Day. Tribes in Contra Costa County include the Miwok and Ohlone peoples.
The speech and debate team said that at least five other districts in the Bay Area, including San Francisco Unified School District, already have Indigenous Peoples Day on their calendar.
"The California Department of Education has recognized Indigenous Peoples Day as a school holiday," junior Alyssa Keller said. "We as a diverse district should work toward cultural awareness, inclusion and acceptance."
People with Indigenous heritage, among them the speech and debate team's coach, Michele Lamons-Raiford, spoke about the importance of honoring the lives and legacies of Indigenous people.
"Today is about honoring our Indigenous ancestors," Lamons-Raiford said. "In that spirit, I call the name of my great grandmother… my ancestors in the Cherokee Nation and all of our past and present native elders from all Indigenous tribes."
Cherokee elder Mike Racoon Eyes Kinney, national vice chair for the United Urban Warrior Society, also addressed the board.
"In the 550 years of what we call [America], 125 million Native people have been killed either due to ethnic cleansing or racial genocide," Kinney said. "The United States government and whom we call the Indian killer, President Andrew Jackson, introduced the gateways of America's history of racial and ethnic cleansing and genocide."
Trustee Mister Phillips said the board needs to do more to recognize Indigenous Peoples Day.
"The issue, in my opinion, is that it is not celebrated the way that it should be," Phillips said. "I do hope, with conversations with our labor partners, that this is and that it becomes a day that's actually recognized to be taken off."
Whether or not Indigenous Peoples Day ends up being a day off, clerk Jamela Smith-Folds said that the academic calendar could include listing the name of this day.
"What I heard that Pinole Valley Speech and Debate wants to add, is that on our academic calendar, it doesn't say smoke day, it doesn't say Columbus Day, but it says Indigenous people Day," Smith-Folds said.
Before the board voted on the resolution to recognize the day, Superintendent Kenneth "Chris" Hurst re-read it for clarification for what the board would actually be voting on.
"Henceforth recognizes the second Monday of October as Indigenous Peoples Day and command its observance to all members of the WCCUSD community," he said.
The resolution passed 5-0, with Board President Demetrio Gonzalez-Hoy and student trustee Kaylee Barron absent.
The next regular Board of Education meeting is scheduled for April 26.