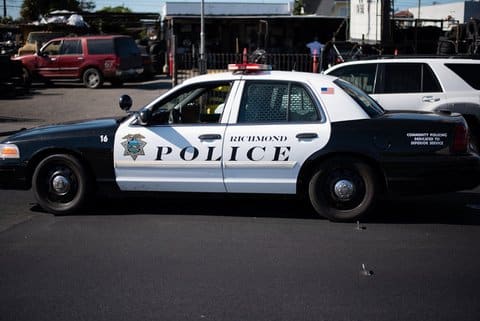 16 Apr

Questions Remain After Richmond Officers Cleared in 2020 In-Custody Death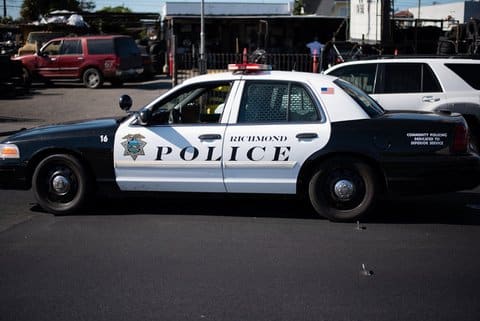 (Photo by David Meza)
By Kelsey Oliver, Wendy Medina and Danica Simonet
For more than 15 minutes, 11 Richmond (Calif.) Police officers restrained Jose Luis Lopez-Rodriguez, with some holding him facedown, hitting him, stunning him with a Taser, and kneeling on his neck as he shouted in Spanish, "Officers, you are killing me." Minutes after he was put into an ambulance, his heart stopped, and he later died. He was 40 years old.
His death was attributed to "excited delirium," a term challenged by medical experts and frequently invoked by law enforcement to justify excessive force. More than two years after Lopez-Rodriguez's arrest and eventual death, the Contra Costa County District Attorney's Office said it would not press charges against any officers involved. After an investigation, the prosecutors said the officers could not be held criminally liable, but significant questions still remain about the cause of death, the use of a prohibited chokehold, and why routine procedures linked with in-custody deaths went unfollowed.
According to police interviews released by the District Attorney's Office, Richmond Police responded to a domestic violence call on the 200 block of South Ninth Street at 2:38 p.m. on March 17, 2020. A young woman said her mother was being attacked by Lopez-Rodriguez, a man her mother had been in a relationship with, per the official report. The caller and her mother's names were both redacted from the documents. As a result, Richmond Pulse was unable to reach Lopez-Rodriguez's family or the alleged victim for comment.
Upon arrival, police were reportedly met with an agitated Lopez-Rodriguez and his girlfriend. The officers reportedly say they were told he had been under the influence of crack cocaine, alcohol and marijuana for at least three days with no sleep.
The Law Enforcement Fatal Incident Report released by the District Attorney's Office said that 11 officers assisted in detaining Lopez-Rodriguez for over 15 minutes as he resisted arrest. With Lopez-Rodriguez handcuffed and facedown, multiple officers kneeled on his neck and shoulders, restraining his legs by placing them in a crisscross position, striking him multiple times with a Taser stun gun and batons.
Body camera footage from Richmond PD Officer Daniel Campos, obtained by the California Reporting Project, showed Lopez-Rodriguez saying in Spanish several times, "Officers, you are killing me." He said, "They're killing me," in English as well. The footage also reveals officers kneeling on his neck for more than five minutes. Lopez-Rodriguez could be heard saying in Spanish, "I am telling the truth, and they are killing me," and pleading multiple times, "Please, listen to me."
An extreme amount of stress was induced into his already frantic state. While trying to restrain him after he was already in handcuffs, beaten and tased, five to six officers held him face down with the use of their body weight, restricting his ability to breathe, as they waited for a WRAP restraint, a straightjacket device that restrains the entire body.
Once Lopez-Rodriguez was in the WRAP restraint and a spit hood, an EMT administered a pre-anesthetic sedative called Versed to calm him down. Within one minute, Lopez-Rodriguez fell unconscious.
Lopez-Rodriguez was then taken to the hospital, but according to paramedics on the scene, within minutes of being taken to the ambulance, he went into cardiac arrest. Paramedics began administering CPR, and Lopez-Rodriguez was given an intravenous dose of sodium bicarbonate, which is routinely used during resuscitation. His heart stopped in the ambulance before being restarted at Richmond Kaiser. In a later independent investigation, it was found that Lopez-Rodriguez's breathing and heartbeat were restored after approximately 15 minutes of emergency attempts at the hospital. While Lopez regained a heartbeat at the hospital, he was declared brain dead and taken off life support shortly after. He died two days later.
After conducting an autopsy, Dr. Ikechi Ogan, a forensic pathologist who contracts with the Contra Costa County Sheriff's Department, indicated that Lopez-Rodriguez died March 19, 2020, from acute cocaine toxicity due to excited delirium syndrome, as well as other conditions including acute pneumonia, acute urinary tract infection and soft tissue injury.
When the independent investigation was done — over a year after the incident — the autopsy had not yet been released by the Contra Costa County Coroner's Office. Investigative Officer Jerry Threet was "unable to analyze the causes of death and what role the actions of RPD officers may have played in causing Lopez's death, if any," the report read.
The primary purpose of the 2021 investigation was to examine any potential misconduct by RPD officers in the Lopez-Rodriguez case. Threet looked at when the use of force against Lopez-Rodriguez (referred to only as Lopez in the report) was "unreasonable." Threet said that Officer Kenneth Ferraro's "initial take down and subsequent chokehold of Lopez were unreasonable."
Threet also found Officer Michael Ricchiuto's baton strikes and Taser applications to be unreasonable, as well as Officer Douglas Frevele's weight on Lopez-Rodriguez's neck area while he was restrained face down. Additionally, Ricchiuto told paramedics on several occasions to sedate Lopez-Rodriguez, which Threet found to be "inappropriate and dangerously reckless." The sedative Lopez-Rodriguez received through injection, Versed, carries a manufacturer warning of respiratory complications and possibly death. Paramedics administered 5 mg of Versed, double the initial dosage for a normal healthy adult.
Officers Timmy Parker, Ricchiuto and Frevele were also found to be at fault for not intervening in the "unreasonable force that they observed." Threet proposed that the Richmond Community Police Commission also uphold these findings.
Ricchiuto has been under investigation for alleged excessive force multiple times before.
In another report conducted by Sgt. Josh Clark of the RPD's Office of Professional Accountability, all officers involved in the Lopez-Rodriguez case were found "exonerated of any policy violations," except Ferraro. Lopez-Rodriguez and Ferraro struggled while Ferraro tried to detain Lopez-Rodriguez as he resisted being handcuffed. The report concluded that Ferraro used "unreasonable force" when he put Lopez-Rodriguez in a chokehold that appeared to restrict Lopez-Rodriguez's breathing.
The chokehold, also known as carotid control, is a controversial neck restraint that applies pressure to the throat, restricting a person's ability to breathe. The chokehold has been banned by police departments across the U.S. because of the restriction of blood flow to the brain, which can render a person unconscious in seconds. Also against RPD policy, the chokehold was reportedly improperly applied by Ferraro. The hold is meant to close off the carotid arteries, not restrict the person's windpipe or cause choking, as happened to Lopez-Rodriguez, per the OPA report.
According to the DA report, Ferraro heard a "pop" and felt hip pain when struggling with Lopez-Rodriguez. The officer disengaged with Lopez-Rodriguez, believing that he had dislocated his hip. As a result of his injuries from this incident, Ferraro retired in June 2021, and the OPA was unable to conduct a follow-up interview with him.
Although the OPA found Ferraro's use of force to be unreasonable, the CCC DA's office diverged from the OPA, finding the use of force reasonable by all officers involved — Ferraro included — under the "totality of the circumstances," dismissing the need for further action.
But controversy still surrounds the incident, particularly when it comes to the attribution of death to excited delirium syndrome, a term that has been denounced by clinicians and medical boards across the nation.
The American Medical Association, the American Psychiatric Association and the World Health Organization do not recognize "excited delirium" as a credible term. The American Academy of Emergency Medicine says "current emergency medicine literature does not support scientific evidence for 'excited delirium' or 'excited delirium syndrome' as a diagnosis." The APA also points to the term being disproportionately applied to men of color in police custody.
While no official data has been reported to discern the number of deaths under these circumstances, a 2020 study by the Proceedings of the National Academy of Sciences found that people of color are more likely to die in police custody, fueling concerns about its use as a justification for potentially lethal restraint methods.
A 2021 study published by the Virginia Law Review revealed men of color made up at least 58% of all "excited delirium" deaths in police encounters between 2010 and 2020, based on an analysis of 166 cases compiled through national databases.
In 2019, paramedics in Aurora, Colorado, diagnosed 23-year-old Elijah McClain with "excited delirium" after he was placed in a carotid chokehold and administered ketamine. He was declared brain dead four days later. In 2020, 41-year-old Daniel Prude was placed in a carotid chokehold with a hood by Rochester, New York, police due to being in an alleged state of "excited delirium." He was declared brain dead seven days later. That same year in Tacoma, Washington, 33-year-old Manuel Ellis was placed in a carotid chokehold, hogtied, shocked with a Taser and hooded after police said he was experiencing "excited delirium." He died on the scene.
"Excited delirium never seems to occur except in instances when the police are involved and they've been manhandling, wrestling and using force against people," Adanté Pointer, an Oakland-based civil rights attorney who specializes in police use of force cases, told the Mercury News.
On Dec. 23, 2022, in a case similar to Lopez-Rodriguez's, 30-year-old Navy veteran Angelo Quinto died in the custody of Antioch Police. His death was also attributed to "excited delirium" by Ogan, the same forensic pathologist who examined Lopez-Rodriguez.
Research reveals Ogan has not been certified as a pathologist by the American Board of Pathology, a standard in the field. Nonetheless, California law allows medical examiners to serve as coroners in certain county offices.
In Quinto's case, civil rights attorneys at the Oakland-based Burris, Nisenbaum, Curry & Lacy law firm, which specialize in excessive force cases, requested that the state attorney general review the findings in September after a private autopsy said that "excited delirium" was not the cause of death for Quinto but rather that he died of asphyxiation and fentanyl in his system, allegedly given by doctors at the hospital. However, lawyers representing Quinto's family stated that the DA's report was entirely inaccurate about when fentanyl was in Quinto's system.
"That report claims that he had taken fentanyl [and] that fentanyl contributed to his death. That report is an outright lie. That report is a fabrication," said Ben Nisenbaum, an attorney representing Quinto's family. The attorney general agreed to review the DA's decision not to charge the police officers in the case. That investigation is pending.
"Any time I hear asphyxiation or every time I hear excited delirium in a case where there's evidence of asphyxiation, then you know it's going to be the asphyxiation," said Nisenbaum.
Like Quinto, Lopez-Rodriguez hemorrhaged in the eyes and suffered extreme pressure to the abdomen, though Quinto's hemorrhaging was not identified by Ogan during the initial inquest.
"This could be more of a positional asphyxiation case, [but] I don't know exactly how he was placed on the gurney or in the ambulance," Nisenbaum said. "I'd be interested to know what position he was in, in the ambulance."
Positional asphyxiation occurs when breathing is suppressed from the victim's abdomen while placed head down, according to the National Library of Medicine.
"To resort to excited delirium, when you have evidence — clear evidence — of asphyxiation is ridiculous," continued Nisenbaum. "It's a very frustrating thing to me."
Dr. Michael Schwemm, head of emergency medicine at Mercy Hospital in Minnesota, who also specializes in cases involving heart attack, drug overdose, shock or massive bleeding, reviewed the autopsy performed by Ogan on Lopez-Rodriguez.
Schwemm says the controversial "excited delirium" term is typically used when medical examiners fail to find a clear cause of death. Upon hearing the story of Lopez-Rodriguez, he said, "Most of the time, these kinds of deaths are due to asphyxiation. From my perspective, it seems that his heart would have been fine were it not for the unnatural amount of restraint placed on his body."
Official determinations of death are broken down into cause (disease or injury); manner (classification); and mechanism (anatomical response to physical disease or injury). In Lopez-Rodriguez's case, the cause of death was found to be from complications of acute cocaine toxicity (excited delirium syndrome) due to substance abuse, along with other comorbidities including evolving acute pneumonia, acute urinary tract infection, subphrenic abscesses and soft tissue injuries. The manner of death was labeled as accident/drugs, according to the CCC Office of the Sheriff's death data. Per the DA report, the mechanism of death was when Lopez-Rodriguez went into cardiac arrest in the ambulance, as a result of excited delirium syndrome.
Following a death that involved law enforcement, standard protocol, according to the CCC DA, requires an inquest to be held by the involved agencies — here, the DA, Contra Costa Sheriff's Office and RPD. During the inquest, where additional evidence is given in witness testimony, a jury ultimately decides what the death was attributable to.
However, an inquest may not be held if all three parties (the DA, sheriff's department and police department) agree it is not necessary and only if law enforcement's role was "obviously appropriate and non-controversial." But this unanimous agreement did not happen in this case. Both the Richmond Police Department and the Sheriff's Department say the other agency was the one to decline.
Nevertheless, the inquest was still not done.