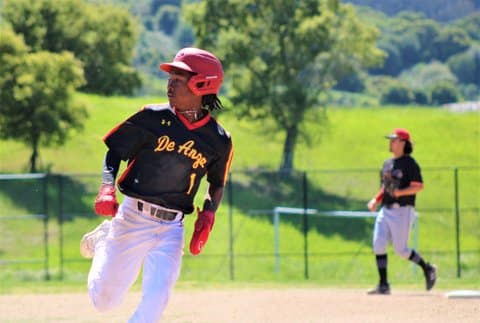 17 Apr

Dons Baseball Victorious in Intra-County Matchup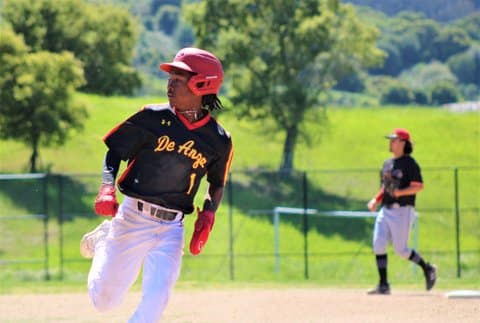 Second baseman Jason Miles helped the Dons with a multi-hit game on Saturday in El Sobrante.
Story and photos by Joseph Porrello
The De Anza High Dons beat the Salesian College Preparatory High Pride 3-1 Saturday.
The Dons were led by pitcher Daniel Ponce, who threw a complete game with three hits, one walk and one run on just 77 pitches. He came into the game with a team-best 0.30 earned run average.
"I credit all my success to the team," Ponce said. "They always pick me up when I'm down and tell me when I'm doing well."
Despite the win, neither De Anza players nor coaches were satisfied with their showing.
"We didn't execute, we didn't hustle, and we didn't keep our heads in the game," said Dons head coach Brandon Fredzess. 
It had been 10 days since De Anza won a game, winless in its last three, but getting off the schneid did not distract the team from its shortcomings. 
"It was a lackadaisical performance on everyone's part," said Dons junior catcher Alex Turner. "Our pitching was amazing though. [Ponce] did exactly what we needed him to do." 
The schools, separated by just four miles, entered the non-league game evenly matched, both with winning records, but Ponce set the tone early by setting down the first six batters he faced. 
Dons junior shortstop and UC Berkeley commit Nikko Taylor roped a ball over the Pride left fielder in the first inning for the game's only triple but was left stranded. 
Taylor leads his team in three-baggers, now with four on the season.
Shortstop Nikko Taylor, who has committed to UC Berkeley, had the biggest day at the plate of any Dons player.
De Anza High first baseman David Fernandez also remained consistent, extending his team lead in doubles to six in the second frame. 
Following a balk that got him to third base, Fernandez raced home on a ground ball for the first run.
The Pride would quickly respond with back-to-back hard hit balls and even the score, but managed only two more baserunners for the game's entirety. 
In the latter half of the third inning, tempers flared when batter's interference was called on the Dons. 
Instead of having a runner on second base with no outs, the Dons had a runner on first with one out, partially contributing to a scoreless frame for the home team.
De Anza High assistant coach Twon Blake confronts the home plate umpire, looking for an explanation on a hitter's interference call against his team.
Fredzess and De Anza High assistant coaches questioned each umpire about the call, as the game paused for roughly five minutes. 
The Dons head coach did not care to elaborate when asked about his feelings toward the officials post-game. 
"No comment," he said.
Ponce again sat down six straight Pride batters in the fourth and fifth frames to keep the game tied while De Anza's offense stalled. 
"We definitely need to focus more at the plate during our at-bats," said Turner.
The Dons were aggressive on offense, swinging early in counts and drawing no walks.
"You don't go up to bat looking for walks, and I think we sat on balls we should have," said Fredzess.
With only one strikeout as a team, De Anza High was kept at bay by flying out to Pride outfielders on 10 occasions, including a diving catch in center field.
"We just didn't make good contact today and couldn't get balls in the gaps," said Fredzess.
The lone ball hit by the Dons into the outfield gap was the contest's deciding factor.
After consecutive fifth-inning singles, Taylor hit a gapper for his second extra-base hit and gave De Anza a two run cushion it would not relinquish. 
The Dons shortstop then swiped his 27th base of the season, 11 more than anyone else on the roster.
Nikko Taylor continued his prowess on the basepaths, as he celebrates after stealing third for his team-leading 27th stolen base.
Second baseman Jason Miles and center fielder Jose Morales Jr. chipped in by each tallying multi-hit games for De Anza High with two singles apiece.
The southpaw Ponce picked off the only batter he walked and induced three straight groundouts to end the matchup.
Salesian High's starting pitcher also went the distance, despite being hit by a hard line drive in the sixth. 
With no pitching changes and only one walk and four strikeouts between the two teams, Saturday's game concluded in just 90 minutes.
The roughly 20 fans in attendance were treated to a sunny day with a slight breeze while watching the teams square off in the foreground of the rolling springtime green El Sobrante hills.
With their win against Salesian High, the Dons improved their overall record to 11-5-1 and remain undefeated at home (7-0-1). 
"Our field is quite different than most," said Fredzess. "It's not the smoothest, but this is what we practice on and we know how to use it to our advantage."
The home field boost would presumably be less effective against the Pride.
Salesian High came in with only one road loss (4-1) and undefeated in league play (5-0), still sitting atop the Tri-County-Stone League standings with this weekend's defeat.
Both squads have seen recent success with winning overall records three of the last four seasons, but the teams' similarity does not extend to their current rosters.
The Pride's varsity team consists of six seniors while the Dons have only one fourth-year player joining their 10 underclassmen. 
"Where we are age-wise, we're definitely ahead of schedule, but there's still a lot of growing to do," said Fredzess.
The youngness of the Dons showed when players were told to run sprints in foul territory while their team was at bat because assistant coach Twon Blake felt they were unfocused. 
At the game's closing, Blake gave an impassioned speech to the team lasting nearly 15 minutes. 
Players listened to Blake and Fredzess intently.
"By next year, we're going to be a force to be reckoned with," said Turner. "They're not going to want to see us."
It might be difficult this season for the Dons to match the previous year's win total of 21, but they need only two triumphs over the final eight regular season games to secure another winning campaign. 
The Dons are looking for cohesion to flourish moving forward.
"We really need to get closer and come together as one, just fight for each other," said Turner. "We had guys waiting on the bench for an opportunity today and couldn't get a big enough lead to get them in."
De Anza High is now perched in third place of the Tri-County-Rock League rankings and looks to defend their diamond Wednesday when they begin a two game series with the Cougars.
"We have Albany [High] next week, so we just have to get back on the field Monday and keep grinding," said Fredzess.