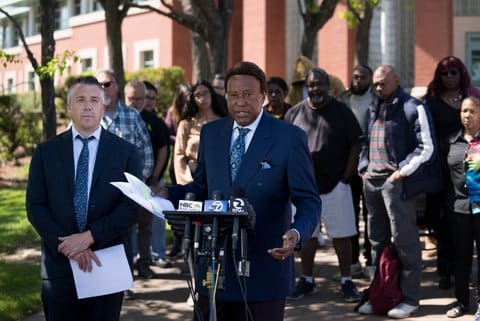 20 Apr

Antioch Police, City Targeted by Civil Rights Suit Over Racist and Homophobic Texts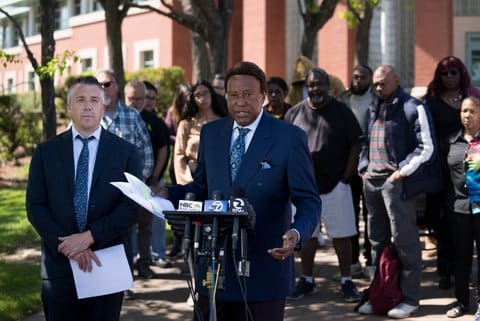 Attorneys Ben Nisenbaum, left, and John Burris hold a press conference at the Antioch Police Department on Thursday. (Ray Saint Germain / Bay City News)
By Tony Hicks
Bay City News
Civil rights attorney John Burris filed a federal lawsuit Wednesday against the city of Antioch and members of its police force on behalf of six people who he said were victims of civil rights abuses at the hands of Antioch Police Department.
The department has been under investigation for more than a year by the FBI and the Contra Costa County District Attorney's Office for civil rights violations.
Officials have released racist, homophobic and threatening text messages — including one threatening Antioch Mayor Lamar Thorpe, who is African American — circulated by at least 45 Antioch police officers.
Burris appeared in front of the Antioch Police Department on Thursday morning with some of the plaintiffs. Burris, who said a monetary amount hasn't been determined, said he wants federal oversight of the department, similar to that over the Oakland police since the Oakland Riders scandal.
Burris and colleague Ben Nisenbaum accuse APD of "wanton excessive force and salacious patterns of racial, misogynic, and homophobic bigotry."
"This is the most invasive, racial hatred case I've ever been involved in," Burris said. "It is certainly the type of thing that racial bigotry — I've never seen (an) invasive form of racial bigotry that was communicated among these officers as if it was a cup of coffee. And some of the things they said were so horrific that it certainly made you cringe."
"These were criminals. And if you looked at how they treated the people, use of force, they took real pleasure in it," he said.
At least 45 officers were included on chains of racist, homophobic and threatening text messages, Contra Costa County Public Defender Ellen McDonnell told the Antioch City Council on Tuesday.
McDonnell said 16 of the officers are in leadership positions, including one from the police union and one from internal affairs.
Prosecutors have said the text messages may have violated the California Racial Justice Act, a 2020 law barring the state from seeking or getting a criminal conviction based on a person's race, ethnicity or national origin. Burris said that could overturn a number of convictions.
It may have already happened. One of the plaintiffs in the federal lawsuit, Adam Carpenter, said he was released from federal custody last week and charges were dropped after news got out about the texts. But he can't get back the time he spent in jail or the thousands of dollars he has had to pay over false allegations.
"I basically have been targeted by dirty cops for over 10 years," Carpenter said. "They would have to completely reform this whole police station. I have not been able to get a job or attain any type of employment … it's basically the system is set for us to fail."
The District Attorney's Office has released two reports about the texts. Some described violence against arrestees. At least one threatened Mayor Thorpe.
Burris went into more detail, saying officers used various forms of the n-word, "monkeys," "gorillas," "f—," "water buffalos," 'fat b—," "c—" and "p—."
At least eight officers have been suspended, one of whom is no longer employed by the department. Antioch police haven't responded to requests asking how many officers are on leave and how many are currently working.
Some of the texts detailed a conversation about two suspects in a criminal case in March 2021. One exchange shows Officer Eric Rombough appearing to brag about brutalizing a suspect during an arrest.
Burris identified the suspect as Trent Allen, one of the plaintiffs in the lawsuit.
"We managed to set up a perimeter and he got his a— whooped in the back yard and I field goal kicked his head," Rombough allegedly texted.
"Gotta stop kicking n— in their head," he allegedly texted later.
Allen's mother, Shirelle Cobbs, who was in front of APD on Thursday, said the texts left her "devastated."
"These officers need to be removed from Antioch Police Department, and I mean removed," Cobbs said. "I mean criminal [charges]. I need justice for my son. They need to be prosecuted because this is unacceptable, and it's been going on for too long because these same officers been targeting my house, kicking in my door, not having warrants."
Burris compared the case to Los Angeles police and Rodney King or O.J. Simpson.
"It's like the old line about there's a cockroach in the spaghetti," Burris said. "The question is do you throw out the cockroach, or do you throw out the spaghetti? Here, you throw out the spaghetti."
Nisenbaum said the texts show how Antioch police routinely talk to each other.
"What that means is that nobody — from the richest to the poorest person in Antioch — can rely upon the APD to do the job that they are required to do: to provide constitutional policing, honest policing and fair policing."
"We are seeking court monitoring," Nisenbaum said. "We need things to change. It's not going to change by itself. In addition to asking for damages, we are asking for the department to be under federal oversight. There has to be an enforcement mechanism.
"We see this is as something that's not going to happen overnight. We see this is a process that may take years," he said.
On Thursday, U.S. Reps. Mark DeSaulnier, D-Walnut Creek, and John Garamendi, D-Fairfield, sent a letter to Attorney General Merrick Garland requesting that the U.S. Department of Justice investigate APD.
Copyright © 2023 Bay City News, Inc. All rights reserved. Republication, rebroadcast or redistribution without the express written consent of Bay City News, Inc. is prohibited. Bay City News is a 24/7 news service covering the greater Bay Area.