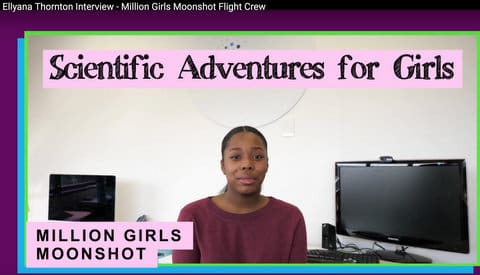 28 Apr

Richmond's Ellyana Thornton Chosen for Million Girls Moonshot's National Flight Crew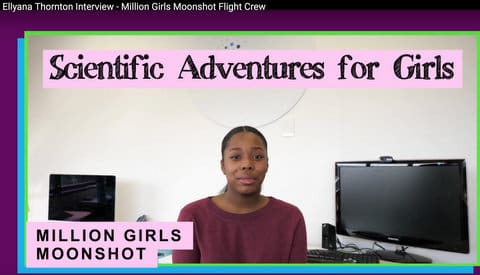 Ellyana Thornton has been named a STEM youth ambassador. The high school student got involved with STEM in first grade. (Screenshot captured by Danielle Parenteau-Decker / Richmond Pulse)
By Michael J. Fitzgerald
Scientific Adventures for Girls — a Bay Area nonprofit working to change the face of science — announced April 17 that Ellyana Thornton of Richmond has been chosen to be one of just 44 girls to be part of the national Flight Crew for Million Girls Moonshot.
She was selected to be a youth ambassador "based on STEM [science, technology, engineering and mathematics] experiences that reach beyond the classroom and their work to break down stereotypes and spark young girls' STEM interests, SAfG officials said in a press release.
"As a youth ambassador, she will elevate her voice and share her experience, not just among the crew, but with younger girls — motivating them to get involved in STEM and inspiring them to become future STEM leaders," they said.
SAfG's mission is to remove systemic barriers that prevent girls from participating in STEM. The organization's after-school program uses hands-on experiences to engage K-6th grade girls in an effort to increase positive attitudes toward STEM and help them learn 21st century skills. In this school year, SAfG is bringing STEM education to more than 600 girls in 22 East Bay Schools in Richmond, Oakland, Emeryville and Berkeley.
"My love for STEM began in first grade, when I joined the Scientific Adventures for Girls after-school program," Ellyana said. "Scientific Adventures for Girls piqued my interest in STEM and encouraged me to continue to pursue STEM opportunities." Ellyana has been involved with the program for seven years.
Teresa Drew, the executive director of Million Girls Moonshot, said Ellyana has provided a model for other girls in the program and across the nation.
"Ellyana is an inspiration for girls around the country to pursue STEM," Teresa Drew said. "Her journey with Scientific Adventures for Girls and beyond shows just how powerful after-school experiences can be in helping young people form their identities and go after their goals."
The executive director of Scientific Adventures for Girls, was equally effusive in her praise for Ellyana's selection.
We're so happy Elly was chosen to be a MGM Flight Crew member," Courtenay Carr Heuer said. "She's an inspirational young woman and great ambassador for sharing the importance of STEM with girls around the nation."
For more information, contact Courtenay Carr Heuer at ccarr@scientificadventures.org or visit scientificadventures.org.