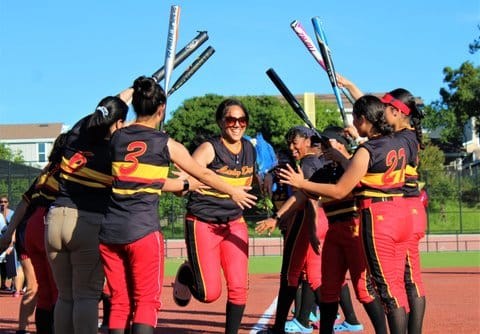 01 May

De Anza High Softball Wins First League Title in 20 Seasons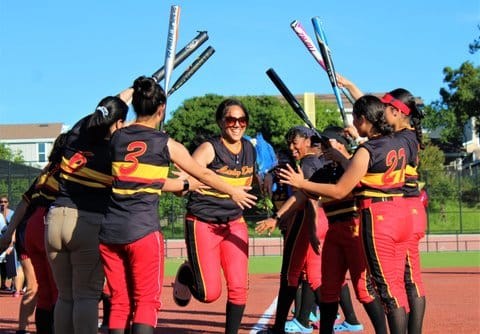 The Lady Dons honored Raina Figgs, center, and the rest of their seniors with postgame festivities after soundly defeating Richmond High on April 26.
Story and photos by Joseph Porrello
De Anza High varsity softball secured its first league title in over two decades on April 26.
Celebrating senior night in style, the Lady Dons overpowered Richmond High 25-3 to remain undefeated (11-0) in Tri-County-Stone League play.
"I'm glad we got a banner, especially knowing it's my last season here," said senior Raina Figgs. 
Without a winning overall record since the 2018-2019 season, De Anza High's ninth straight victory now has them sitting at 13-3 overall. 
The Oilers, on the other hand, sit at the bottom of the TCSL standings (1-10), this loss being their fourth consecutive and 11th in their last 12. 
Though the contest was called after four and a half innings due to an insurmountable lead, De Anza High still managed single-game season highs in RBIs (20) and triples (3).
"My girls handled their business and I feel great about it," said Lady Dons head coach Gregory Everetts. 
The Lady Dons faced a one-run deficit before they even came to bat but immediately answered with an offensive barrage that put the game out of reach before the second inning. 
De Anza High's first seven batters reached base safely, scoring three runs before making their first out on a baserunning gaffe. 
By the end of the first frame, the Lady Dons racked up six walks, seven stolen bases, five hits, and 10 runs. 
In the fourth inning, De Anza swiped another seven bags to accompany a pair of inside-the-park home runs.
One of the round-trippers came off the bat of senior Iyana Buggs. 
"That was my first home run, so I'm really happy and proud," said Buggs. 
Reaching base safely in all four of her plate appearances, Buggs also had a single, a walk, two stolen bases, two RBIs, and three runs. 
Lady Dons senior Courtney Walker likewise did not record an out all game, tallying a triple, a single, a walk, an RBI, and three runs.
"I'm proud of the seniors," Everetts said. "They're kind of like my babies, so it's sad to see them go."
In heartfelt post-game speeches by the De Anza High coaches, assistant Davina Carr said she has been with some of the players since they were 7 years old in her time as a youth softball coach.
"We have each other's backs no matter what," said Buggs.
Scarleth Deanda (right-center, facing left) was introduced during pregame ceremonies with her senior teammates.
More seniors contributed to De Anza's productivity.
Fourth-year Lady Dons Scarleth Deanda and Myrionna Crenshaw both finished with a walk, a stolen base, and a run, while Deanda added a base-hit to her stat line.
Figgs chipped in with an RBI single and twice got on base the hard way being hit by pitches. 
Senior Ashlee Chao came on in relief for the Lady Dons, pitching three innings, allowing two hits, and giving up just one run despite surrendering six walks. 
The six seniors soon to move on from De Anza High have six juniors behind them waiting to takeover as team veterans, 
One of them being Giselle Taylor, whose .761 batting average paces her team. 
In this game, Taylor scored five runs, stole four bases, drove in three runs, drew two walks, and had two hits.
The Lady Dons season leaders in home runs, RBIs and stolen bases are two sophomores who boosted their numbers against the Oilers.
Riana Everetts leads in home runs (9) and stolen bases (43), while Mya Arroyo paces the team in RBIs (32).
The two sophomores reversed roles on April 26. 
Everetts' six RBIs topped the Lady Dons, and Arroyo was second-to-none with five swiped bags. Both reached base safely in every one of their individual at-bats.
The Oilers had two straight wins to begin the season. Richmond High has since gone 1-13. 
With just nine wins in league play spanning nine seasons, the Oilers have not had a winning league record in over 20 years and are ranked No. 1,116 out of 1,145 teams in California.
One noticeable difference perhaps contributing to the teams' contrasting outcomes is their depth, with De Anza having 10 bench players compared with only one for the Oilers.
The Lady Dons have now gone over a month without a loss, their only three defeats coming consecutively. 
"The team has come together when they get down on themselves," said Carr. "They pick each other back up to win games."
Buggs echoed her coach's thoughts.
"Even when we mess up, we still have the support not to give up," she said.
After finishing with losing overall and league records last season, the Lady Dons attribute their present success to cohesiveness.
"It's completely different from last year," said Figgs. "This year, it feels like a family and a sisterhood."
Seniors Myrionna Crenshaw, from left, Raina Figgs, and Iyana Buggs soak in their last regular season home game together.
Following the game, De Anza High seniors rounded the bases with their families as their teammates and fans cheered them on, then broke out in a dance celebration with their coaches and teammates at home plate. 
"It's always a party for us whether we win or lose," said Everetts. 
They weren't the only ones dancing.
Those in attendance were also treated to an impromptu postgame horse dance on the field, on brand with their Dons mascot.
Afterwards, players and their families gathered for a festive balloon-laden food buffet. 
"The parents are great, the coaches are great, and there's just so much love and support," said Figgs. "I wouldn't have it any other way."
De Anza High concludes the season undefeated in league play after Richmond High forfeited their senior night game to the Lady Dons on April 28.
After a bye in the first round of the TCSL playoffs, De Anza High's most likely second round opponent is nearby Kennedy High.