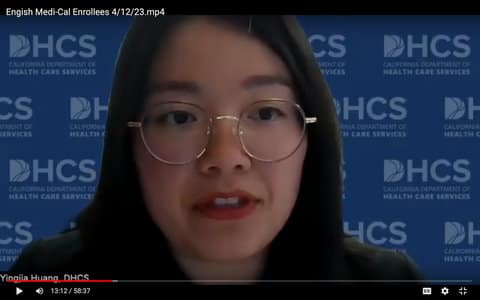 12 May

Watch Out for Yellow Envelope to Avoid Losing Medi-Cal Coverage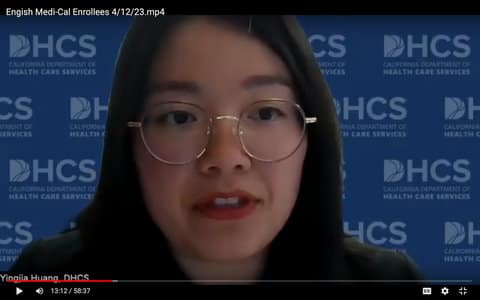 Yingjia Huang of the California Department of Health Care Services encouraged Medi-Cal members to ensure their county office has their current contact information, so they get their renewal packet or notice. (Screenshot captured by Danielle Parenteau-Decker / Richmond Pulse)
By Danielle Parenteau-Decker
During the pandemic, people on Medicaid have remained continuously covered without needing to recertify their eligibility, but now that's changing.
People can get free or low-cost health insurance from the government provided that they meet income limits and other qualifications. Normally, people on Medicaid — called Medi-Cal in California — have to have their eligibility confirmed each year. But in March 2020, Congress passed the Families First Coronavirus Response Act, which, among other things, increased Medicaid funding for states that kept enrollees continuously covered through the last month of the COVID-19 public health emergency, which ended Thursday.
>>>Read: Medicaid Health Coverage Is Guaranteed, but for How Much Longer?
Last month, the California Department of Health Care Services began reviewing the eligibility of its 15 million enrollees, a lengthy process that will continue through May 2024.
Millions of people could stand to lose coverage, but for many, it won't be because they are no longer eligible.
"It's particularly frustrating because those that often lose coverage … they lose it unnecessarily," said Mayra Alvarez, president of the Children's Partnership, during an April 12 Ethnic Media Services news briefing.
She said these people typically lose coverage of things like clerical errors or because they did not complete their recertification packet by the deadline.
"One family, one child, one person losing coverage unnecessarily is unacceptable," Alvarez said.
To avoid that, people on Medi-Cal should make sure their county office has their current contact information and keep an eye on the mail.
If you're on Medi-Cal and the state needs any information from you to determine whether you are still eligible, a packet will be mailed to you in a big yellow envelope that is "hard to miss," Alvarez said.
If the state is able to verify that you are still eligible without your input, you will get a notice saying your coverage has been renewed for one year. Yingjia Huang, assistant deputy director of health care benefits for the state DHCS, said that only about 30% of Medi-Cal members would likely be automatically renewed.
On the other hand, if you become ineligible because your income has surpassed the limit, Medi-Cal will automatically send your information to Covered California, which will review your income and connect you with plans to choose from.
Medi-Cal members can check and update their contact information, check their renewal date and complete their recertification online, Huang said. To do so, people should visit benefitscal.com. They can also return their completed renewal packet by mail.
Being aware and staying on top of all "this is especially important for people of color who are more likely to rely on Medi-Cal for coverage and who are more likely to be at risk of losing that coverage," Alvarez said.
And according to Alvarez, that risk is nothing new.
"Even before the pandemic, longstanding structurally racist policies and practice have created an environment where families of color experience significantly greater degrees of instability: instability in employment, instability in income, instability in housing," she said. "These economic and housing conditions actually heighten the risk of disruptions in health coverage."
Another big change is coming to Medi-Cal next year as well, but this one is aimed at getting more people enrolled.
Beginning January 2024, people aged 26-49 who meet the eligibility requirements will qualify for Medi-Cal regardless of their immigration status. (This is already true for people 25 or younger and 50 or older.)
>>>Read: 'Am I Really That Sick?' Healthcare Costs Weigh on Undocumented People
This will make California the first state to offer Medicaid coverage to its undocumented residents.
"The idea [is] that you are undocumented, [but] you are still part of this community, and you have the right to health insurance coverage," Alvarez said.
And immigrants would not have to worry about this being used to deny them legal status in this country.
"Enrollment in Medi-Cal is not considered a public charge," she said. "Enrollment in Medi-Cal will not count against you."
For more information on the Medi-Cal renewal process, people can visit keepmedicalcoverage.org. People in Contra Costa County can also visit Employment & Human Services online or call (866) 663-3225.