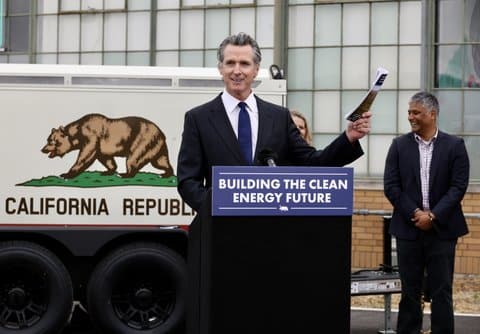 25 May

Newsom Unveils Plan in Richmond for State to Use 100 Percent Clean Energy by 2045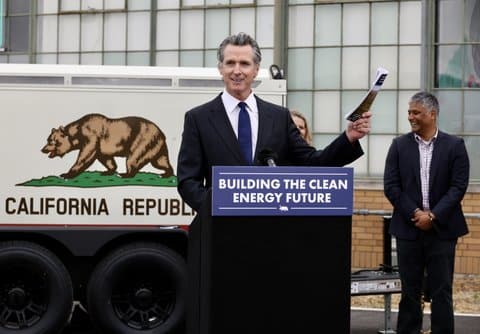 Gov. Gavin Newsom speaks Thursday outside Moxion Power Co. in Richmond about California's clean energy plan. (Office of Governor Newsom via Bay City News)
By Kiley Russell
Bay City News
Gov. Gavin Newsom on Thursday unveiled his administration's updated plan to quicken the pace of California's full abandonment of the fossil fuel industry.
Standing in front of the old Ford Motor Company assembly plant in Richmond that's now home to a company making a fully electric alternative to diesel generators, Newsom said the state will need to add 148,000 megawatts of clean energy by 2045 to reach that goal.
It's an ambitious target that will require a roughly 422% increase in the amount of clean energy the state now uses.
To take California to a fully renewable electricity portfolio, Newsom's "California's Clean Energy Transition Plan" lays out four broad strategies, including planning for an increase in electricity demand that's "responsive to real-time supply conditions," building a "diverse clean energy portfolio," ensuring the electric grid can continue to deliver power during extreme weather events and focusing on affordability.
"All these experts, all these fancy folks, think tanks, all these fossil fuel funded experts and pundits said it just simply can't be done. 'They don't have a plan. They don't have a strategy. There's no way they can handle this,'" Newsom said.
"Remember, we were the first state in America, one of the first jurisdictions in the world, to lay out a marker that all vehicles sold in the state of California will be alternative fueled by 2035," he said. "They were mocking us just a few years ago and now the rest of the world, including the (European Union) themselves, have followed us."
Newsom said the state has already reached several of its clean energy goals, including reducing greenhouse gas emissions to 1990 levels, having 37% of the state's clean energy coming from renewable sources and helping put 1.5 million zero-emissions vehicles on the road.
But he also said the state is in a race against the intractable, chaotic pace of climate change as it's buffeted by extreme heat, drought, wildfires and floods.
"And as a consequence of that, we need to alter our approach and strategy to address these extremes," he said.
While he bemoaned California's sluggish and burdensome permitting process, which he said is one of the main barriers to reaching his goal of using 100% clean electricity, he said his administration is supporting 11 bills in the state Legislature that would help streamline the environmental and permit process and shorten the amount of time that courts could hear legal challenges.
He also said he has a 10-year "pathway" to updating the transmission grid via 45 projects and $7.3 billion in investments.
"As it relates to process: enough. We need to build," Newsom said. "We need to get things done. This is not an ideological exercise. We're running against time."
Copyright © 2023 Bay City News, Inc. All rights reserved. Republication, rebroadcast or redistribution without the express written consent of Bay City News, Inc. is prohibited. Bay City News is a 24/7 news service covering the greater Bay Area.