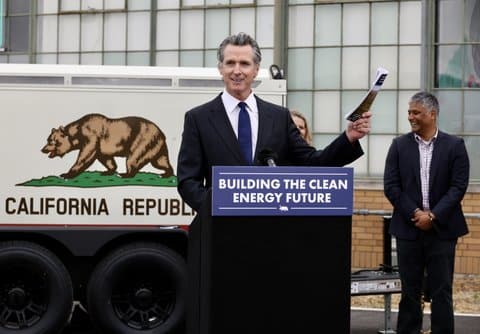 30 May

Newsom Pledges Support for Clean Energy Projects & Faster Permitting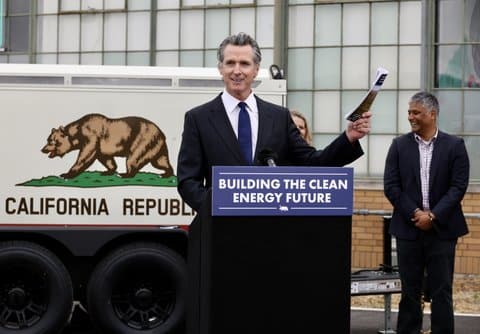 Gov. Gavin Newsom speaks at Moxion Power Co. in Richmond on May 25. (Office of Governor Newsom via Bay City News)
By Michael J. Fitzgerald
California Gov. Gavin Newsom pledged Thursday to continue efforts to speed up permitting for clean energy projects across the state.
In an update on the state's clean energy progress, Newsom said the state has been suffering from "weather whiplash," making it all the more important to continue to move away from dependence on fossil fuels.
"The future happens first here," Newsom said. "And when we set out markers for progress on clean energy, we exceed them."
Newsom made his comments in front of Moxion Power in Richmond, a 250-employee firm that specializes in temporary electric power solutions relying on battery power, not fossil fuels. Moxion officials said they believe within the next few years the company will grow to more than 1,000 employees, many of them Richmond residents.
During the presentations, Moxion CEO Paul Huelslamp noted that among the attendees were five of the women who worked at the Richmond shipyards during World War II — original "Rosies," so named for the iconic Rosie the Riveter.
The Moxion company is located adjacent to the Rosie the Riveter Historical National Park.
Most the comments at the event from participants emphasized the state's well-documented and rapid progress to meet clean energy goals as well as Newsom's close involvement.
"Our governor never stops thinking about and working to drive harder to get to clean energy," said Alice Reynolds, president of the California Public Utilities Commission.
"For energy systems, planning is key," she said. "The system must to be ready at any time to serve California's entire energy load at its peak." Reynolds noted how much electrifying is going on as the state moves away from dependency on fossil fuels.
"We are electrifying massive ports: L.A. and Long Beach, the largest ports in the country," she said. "We're electrifying warehouses. We are putting in data centers. We are electrifying truck fleets, airports, stadiums and the activities of 40 million people."
Even though the state is already years ahead of meeting its benchmarks, Newsom and other clean-energy-related speakers emphasized it's critical to build more clean energy capacity faster to meet climate goals.
"We're moving from aspiration to application," Newsom said. That includes speeding up the permit process, but without sacrificing environmental safeguards at the same time.
"We all want to move off fossil fuels," he said. "We don't have to be profligate to be progressive."
Newsom also voiced support for the growth of electric-vehicle-to-grid, bidirectional capabilities. Senate Bill 233 moving through the state Legislature would require electric vehicles to include technology that would allow them to feed electricity back into the grid. If enacted, it would require the change go into effect in 2027.
"This is, quite literally, putting power back into the hands of people," Newsom said. "Go home, plug in your car and get reimbursed."
With about 6 million electric vehicles predicted in the state by 2030, officials said they would represent about 6 gigawatts of needed storage.
"These are storage facilities on wheels," Newsom said. "And all the electric car companies are moving in this direction."