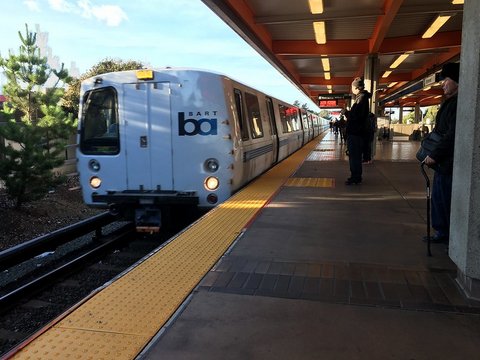 31 May

Transit Policymakers Urge More Public Transit Funding From the State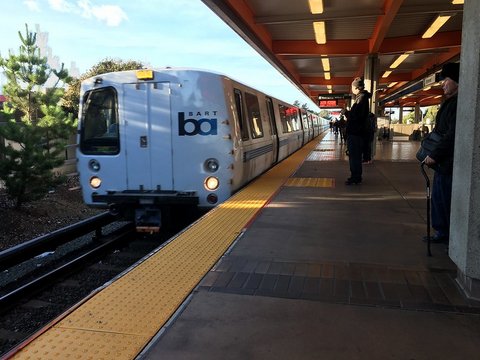 BART could see major service cuts if transportation funding isn't increased, transit advocates warn. ("Richmond, California BART station" by Flickr user The West End under CC BY-NC-ND 2.0 license)
By Olivia Wynkoop
Bay City News
As the upcoming state budget deadline looms over California, state policymakers warned Gov. Gavin Newsom that his ambitious climate targets will crumble without adequate funding for public transportation.
On Tuesday, a coalition of state lawmakers, labor leaders, environmental activists and transit officials stressed that public transportation will go over a "fiscal cliff" if it does not receive more state dollars. And if public transportation is not saved, it can cause lasting harm to the state's economy and people's quality of life.
Last week, the California Transit Association, a group of transit agencies and public transit proponents, issued a $5.15 billion budget proposal over the next five years for transit agencies to stay afloat. For the upcoming fiscal year, the budget calls for another $213 million from the General Fund and to utilize excess federal highway funds and cap-and-trade profits.
The numbers come in response to many agencies' dwindling ridership numbers post COVID-19, federal pandemic relief funds drying up, and public outcry for safer rides on buses and rail systems.
>>>Read: Lawmaker Introduces Effort to Make Public Transit Safer
Though numerous proposals are in the works throughout the state Legislature that could provide more funding for public transit operations, the coalition says it's nowhere near enough to make up for the proposed $2 billion cut in transit infrastructure that Newsom is considering, and would only use transit capital funds for non-capital purposes.
Michael Pimentel, executive director of the CTA, stressed that these funds are a "hand-up and a bridge forward," not a handout.
He said challenges in recent years pushed agencies to reinvent their services and find funding elsewhere.
Now, the CTA is asking for additional support from largely, non-general fund sources, recognizing the situation in which the state has found itself, Pimentel said.
State Sen. Scott Wiener (D-San Francisco), a key player in the call for more transit funds, said that as public transportation adjusts to changes in ridership patterns, the state must ensure that the systems can survive.
"You cannot reform a system that has fallen apart. Left unchecked, these budget shortfalls will cause devastating and possibly permanent damage to our public transportation systems," Wiener said.
Wiener said he's already heard of potential major service cuts in the Bay Area, like MUNI eliminating 20 bus lines, or BART ending weekend rides entirely.
And with those service cuts comes a "transit death spiral," he said — with less frequent service, transit becomes less accessible, so people choose not to take public transit at all. Which only leads to more budget cuts that come at a cost for the disproportionate levels of seniors, low-income people and students who depend on transit systems to get around.
"This is a do or die moment for public transportation in California," he said.
East Bay Assemblymember Buffy Wicks said a lack of transit funding would not only affect the commuters and schoolkids who depend on public transportation to get around, but could also affect the state's climate and housing goals.
"Our housing policy is predicated on the idea of our transit and our housing working together, so that could be undermined," Wicks said.
"Yes, we need accountability and reforms, but funding must come first," she said.
BART Director Rebecca Saltzman said new funding is needed to keep BART's operating budget stable, or else severe cuts in service and staff could take place as early as this year, which also affects its relationships with its labor partners. Trains may run only once an hour, or entire lines could be shuttered, she said.
"These devastating service cuts would turn away riders and send transit into a death spiral that would dramatically impact the quality of life in the Bay Area for everyone, not just transit riders," Saltzman said. "Traffic would worsen across our already congested roadways and bridges, and greenhouse gas emissions would increase, further fueling climate change."
Melissa Romero of California Environmental Voters said that public transit investments are not just a matter of finances or climate metrics, it's also a matter of social justice.
"It's a matter of justice and fairness," she said. "We cannot afford to overlook the transformative power that public transit holds in promoting social and economic equality."
Copyright © 2023 Bay City News, Inc. All rights reserved. Republication, rebroadcast or redistribution without the express written consent of Bay City News, Inc. is prohibited. Bay City News is a 24/7 news service covering the greater Bay Area.