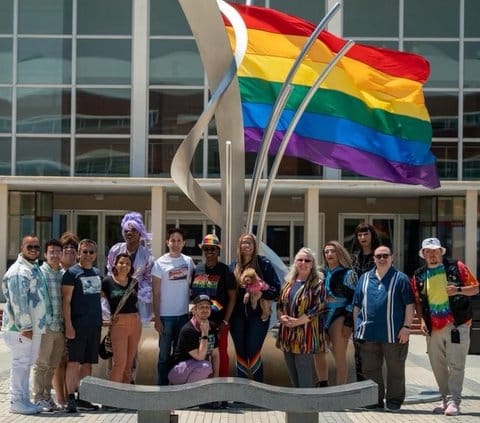 09 Jun

Richmond LGBTQ+ Community Celebrates Pride, Says 'We Have a Long Way to Go'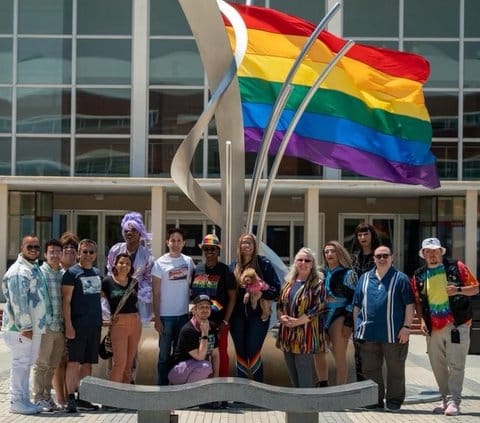 Richmond Rainbow Pride returned to in-person celebration Sunday and moved it to Civic Center Plaza to make it more accessible. (Photo by Tony Tamayo)
By Ana Tellez-Witrago
Richmond Rainbow Pride held its ninth annual Pride event Sunday at Civic Center Plaza. The event included drag, comedy and musical performances, as well as speeches by elected officials, community organization resources, and HIV testing by the Contra Costa Health Department.
This year's theme was pride and joy.
It was the organization's first in-person pride event since 2019, according to Ashley Scarborough, a Richmond resident and member of Richmond Rainbow Pride.
>>>Read: At Richmond Pride, Community and Acceptance Grow
"Richmond has been very supportive, with over 200 people coming out to celebrate," said Scarborough.
The event, previously held in Marina Bay, was moved to Civic Center Plaza "to make the event more accessible to everyone," Richmond Rainbow Pride co-founder and City Council member Cesar Zepeda told the Pulse via text message. "Marina Bay was a little out of the way and not as transit friendly as Civic Center.  We had a lot more people coming out to celebrate."
The master of ceremonies for the day, KaiKai Bee Michaels, shared what the LGBTQ+ community and Pride means to them.
"The LGBTQ+ community means family," said Michaels. "My blood family has not always been supportive, but this community is chosen family, and Pride gives us the opportunity to look at the struggles of the past while also enjoying where we are now. Understanding that we have a long way to go."
>>>Read: Hope, Community and Self-Esteem: What Pride Means to Me
The Bay Area, including West Contra Costa, is typically open to LGBTQ+ people.
"We are spoiled," said Danu Calderon of Pinole.
But that doesn't mean they take that for granted.
When Donald Trump was president, Calderon says she felt she had to be more cautious when moving to a new neighborhood. She wondered if her new neighbors were going to be accepting. She ultimately had no issues with them, but she worries about the anti-LGBTQ+ narrative the nation is still dealing with.
Over 540 anti-LGBTQ+ bills have been introduced and 45 anti-LGBTQ laws enacted so far in 2023. Several LGBTQ+ community members expressed concern with the attacks by extremist lawmakers and politicians across the country, but Calderon said the pushback was also a "badge of honor" for all the progress that has been made throughout the years.
"It makes me feel angry and disappointed in the general conversation, but I also take encouragement because it is a backlash against a lot of gains and an acceptance of people just living their lives — of people having the bravery and courage to live in their truth,'' said Amber Hatfield of Richmond. "The LGBTQ+ community is a safe place for people who have been historically ostracized in our society."
Irving, who asked that his last name not be shared, didn't know about the Pride event but was walking past when he saw all the rainbow flags and decided to lie on the grass and enjoy the performances.  He thought it was "cool" that Pride wasn't only being celebrated in San Francisco but also in Richmond.
"Now, it is more important than ever to show up for one another," Irving said. "I don't believe in hate."
If you would like to volunteer for next year's 10th anniversary of Richmond Rainbow Pride, you can email richmondrainbowpride@gmail.com.
Correction: An earlier version of this story said this year's Richmond Rainbow Pride event was the first held in person since 2020. The 2020 event was virtual; the last in-person event was in 2019.