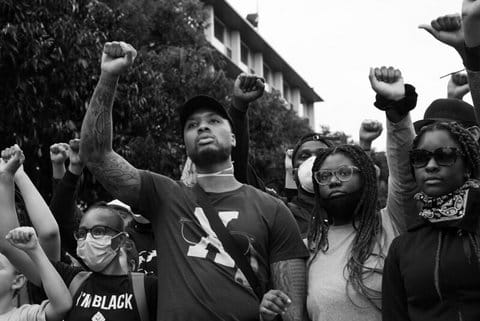 14 Jun

Group Uses Sports to Combat Hate Speech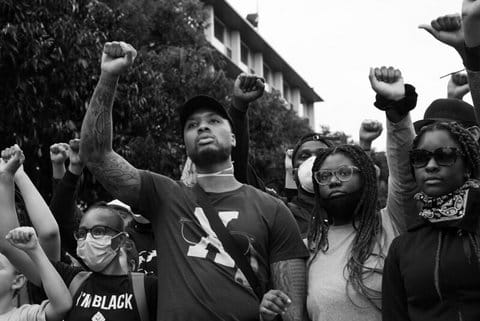 The international Sports Working Group was created to use athletes' and teams' platforms to combat hate speech and violence. Here, NBA star Damian Lillard takes part in a 2020 Black Lives Matter protest. ("Damian Lillard at the Black Lives Matter march in Portland" by Matthew Roth via Flickr / CC BY-NC 2.0 license)
By Joe Porrello
Sports have long been used to encourage camaraderie among children. They also bring people together with those from many different backgrounds cheering in unison for the same team. Last year, a group was created to use sports to combat rising hate speech and crimes.
The United Nations and Eradicate Hate Global Summit partnered in 2022 to establish the Sports Working Group to collaborate with teams "to foster acceptance and mutual respect and counter hate speech around the world," according to the summit's website.
"The interest and support for this initiative and to work with United Nations to fight hate speech has been overwhelming," said SWG Co-Chair Michelle Rosenthal at the 2022 Eradicate Hate Global Summit.
The group says fan allegiance and commitment gives athletes and their teams a distinctive platform to fight hate speech.
People of all ages imitate their favorite professional sports players not only athletically but also sometimes socially.
"Athletes are heroes to many, including extremists, so who better to carry the message of acceptance, mutual respect and compassion to those who most need to hear it," said Laura Ellsworth, an attorney and co-chair of the Eradicate Hate Global Summit, at an Act Against Hate Alliance press conference May 17.
>>>Read: To Stop Hate, Step Out of the Silo
On a community level, being part of a team or fan group and working toward a shared goal aids character development and helps build healthy social tendencies.
Playing team sports helps young people build trust and friendship and teaches discipline and respect for others, which may reduce hateful beliefs.
The summit's roots can be traced back to 2018, when a hate-fueled attack by a heavily armed gunman left 11 worshippers dead at the Tree of Life Synagogue in Pittsburgh.
Members of the Pittsburgh community came together after what was the deadliest antisemitic act in U.S history to construct what the summit says is the most extensive anti-hate conference in the world.
Leaders and experts from around the globe gather annually at the Pittsburgh summit, including those in government, academia, law, corporations, journalism and the nonprofit sector.
"I think it's been enormously effective in terms of attracting people to the initiative and getting the commitment to participate and help build it," Ellsworth told the Pulse.
According to its website, "The summit incentivizes experts to work collaboratively across disciplines, across institutions, and across borders between each annual gathering, to deliver actual, lasting, and measurable change."
Year-round working groups, like the SWG, inform each subsequent summit gathering and expand on their given agendas.
According to the Eradicate Hate website, the 2022 summit featured multiple topics of discussion aimed at furthering the fight against hate speech: police and military, prevention in practice, legal strategies, education and public awareness, community preparedness and response, global government response, and the rise of hate among young adults.
As a keynote speaker for the 2021 summit, U.N. Special Advisor on the Prevention of Genocide Alice Nderitu suggested the U.N and summit work in unison to create a game plan for sports franchises and their fans to lessen hate speech.
"People take hate speech for granted," said Nderitu. "They use stereotypes and prejudice, but the fact is that every crime of genocide that's been committed in the world, the key risk factor was hate speech."
The idea struck Nderitu when she was in the Pittsburgh airport and noticed how prominently the star athletes of the city were on display, illustrating their importance, influence and potential as a EHGS focal point.
"(Nderitu) wondered if we had any contacts in the sports community that could maybe take this initiative around the world on the platform of sports," said Rosenthal.
Also pointing out Nderitu's influence on the SWG forming was Ellsworth.
"I have to give her credit, it was really she that spearheaded that," she told the Pulse. "The leadership of sports leagues and sports teams has never been brought into the U.N. and been part of the U.N. initiative that was launched before, ever."
Ellsworth also said why sports, specifically, are important to fight hate speech.
"What we know from the research is the most prolific killers in the world — the people in Pittsburgh, in Christchurch, in the Tops supermarket shooting — these are young men 19-25 years old who are alienated and lost, and all of them, virtually, refer to one another by name online and share the same written manifesto that they cut and pasted from one another," she said at the Act Against Hate press conference. "These young men, we also know, care about the world of sports" and what sports leaders value.
Nderitu made a similar statement during the 2022 summit.
"We haven't found, among all the people that commit these atrocity crimes, a single group of people who are not committed to any sport," she said.
The Sports Working Group game plan formally launched in December 2022 and, as detailed on its website, is outlined by the acronym SPORT:
Speak openly and honestly about hate speech with athletes, employees, the public, and those who are targeted by hate speech;
Promote positive messages, practices, policies, and procedures to foster genuine respect and counter hate speech;
Organize specific outreach to communities of fans (from backyards to stadiums) to educate them about hate speech and its consequences and to try to intervene before violence and messages of hate that may lead to incitement of violence can take root;
Recognize, reward, and report success stories and positive impacts that athletes and sports figures who join the Game Plan (facilitate); and
Train at all levels to identify and address hate speech.
Rosenthal said all teams and leagues are different when it comes to their involvement in fighting hate speech or racism and advocating for LGBTQ+ rights.
"What we plan to do in this plan of action is to give a menu of options for teams to do," she said. "They can think about which of these things they're going to employ in their own operations."
Beyond concentrating on identifying and reporting hate speech, the Game Plan also focuses on positive reactions that fans and athletes have taken or have committed to take to counter it, as well as on the universal love for sports that helps break barriers.
"The Game Plan is envisioned to be a living, growing document," Ellsworth told the Pulse.
As of now, the group includes all major U.S. sports leagues — MLB, the NBA, the NHL and the NFL — along with MLS, NASCAR, UFC, the WNBA and the U.S. Soccer Federation, Women's National Team.
"What is so wonderful is that a lot of these teams and leagues of these different sports already engage in platforms similar to fighting hate speech," said Rosenthal.
Ellsworth said each league is equally important, as many extremists patronize the less popular sports. She said soccer is influential because of its worldwide fan base and multitude of teams within conflict zones.
The first teams to join the working group were the Pittsburgh Pirates and Penguins.
Then, it expanded to the Bills and Sabres after Buffalo experienced a 2022 racially charged grocery store shooting.
Ellsworth told the Pulse the SWG does not currently have specific stipulations for joining.
"We invite them as people who we consider, for a variety of reasons, to be thought leaders who will help us in crafting the overall approach, which is still a work in progress," she said. "You don't need to be a member of the Working Group to adopt the different strategies identified within the Game Plan."
Both hate speech and the use of sports to combat it are not confined to the U.S.
Notably, studies have shown the world is calmest and the fewest atrocities happen during the FIFA World Cup soccer tournament, which takes place every four years in a different country each time.
Still expanding, the SWG recently welcomed its first international sports franchise in the Liverpool Football Club, which hosted an overseas Eradicate Hate Sports Summit in April.
"(Sports teams) have such large fan bases that it's such an opportunity to reach people from different backgrounds and different beliefs," said Rosenthal. "Sports tend to bring people together, whether you have different religions or different ethnicities."
As of now, the only connection to Bay Area teams the SWG has is through its league affiliations, but that could soon change.
"Our target goal is that by the end of 2024, we will have at least one representative of every sports team and league in the world involved in some way," Ellsworth told the Pulse.
The World Cup plans to have games at Levi's Stadium in Santa Clara in 2026, and Ellsworth said the SWG has the global soccer tournament as well as the Olympics on its radar.
Implementing the SWG at the college and high school levels is also being considered, according to Ellsworth.
A former head of community affairs for the Pittsburgh Steelers, Rosenthal partially pioneers the SWG through her connections both in the sports world and locally.
Rosenthal is particularly invested in the cause, as her two brothers, David and Cecil, were killed in the Tree of Life massacre.
"(Rosenthal) has taken the most horrific loss that anyone can imagine and transformed that into something that is powerful and meaningful and hopeful and is going to make a difference in this world, and her ability to transform the horror and evil that happened here into a force for good in the world to protect other people in the world, I think is nothing short of stunning and inspiring," Ellsworth told the Pulse. "If she can do that, anybody can find what is in their zone, in their profession, where they can make a difference in the world."
The trial of the accused gunman, 50-year-old Robert Bowers, began in May.
According to CNN, the trial could last until July in what will be a rare federal death penalty case.
"Regardless of the outcome of the trial, it is incumbent on every one of us to take on the rampant, widespread hate that gave rise to (Bowers)," Ellsworth told the Pulse. "Anybody who thinks that a trial verdict is going to solve the problem is sorely mistaken and is really advocating their own responsibility to do what they can in their own sphere to take on this issue, because we didn't know that it was an issue in our community until it's too late, and it's an issue in everyone's community."
The trial will likely be a key point of conversation at the 2023 Eradicate Hate Global Summit, which will be held Sept. 27-29.
On May 25, the Biden administration released the first U.S. national strategy to counter antisemitism, announcing over 100 new actions and more than 100 calls to action.
As listed in the whitehouse.gov fact sheet, the Eradicate Hate Global Summit Sports Working Group is part of the broad presidential strategy.
"No one thing will ever solve (the hate speech problem), but it is solvable if every person steps up to be part of the solution," Ellsworth said at the press conference.
Nderitu shared her thoughts on the SWG reaching its goals, saying it's difficult to measure success because you don't know exactly what you prevented.
"Success does look like us going through a period of five years, to begin with, with no attacks," she said. "If we are able to counter what they are planning, because we do know what they are planning, then we would measure that as a success," she said.
It will be an ongoing effort for the SWG.
"Hate isn't going to go away," Ellsworth told the Pulse, "and it's something that's very important we keep our eye on and continue to measure impact and effort for us as long as this working group is around, which we hope is going to be a long time."
This story was funded by a grant provided by California Black Media through work from the State of California Library Stop The Hate grant campaign.