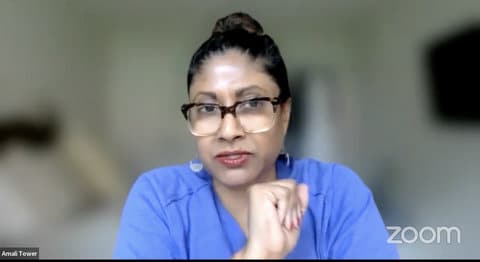 15 Jun

Response to Immigration Crisis Largely Ignores Root Causes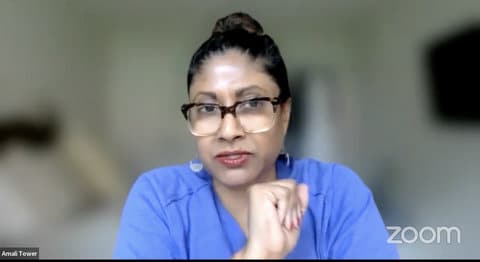 Amali Tower, founder and executive director of Climate Refugees, spoke in May about the climate and migration crises. (Screenshot captured by Natasha Kaye / Richmond Pulse)
By Natasha Kaye
As nations around the world continue to grapple with dire internal and external conflicts, millions of migrants fleeing in search of refuge and opportunity have resulted in a global migration crisis that experts say is unlike anything in recent history. 
Ethnic Media Services held a news briefing May 19 with experts across the immigration field sharing data, anecdotes and knowledge about the mounting crisis. 
"The increasing migrants fleeing rising sea levels and extreme weather, grinding poverty and growing authoritarianism is a worldwide phenomenon," said Pilar Marrero, associate editor at Ethnic Media Services. "It's not a crisis that can be reduced to the United States Southern Border as we've heard in recent weeks in our media."
Susan Fratzke from the Migration Policy Institute said that while people being driven from their homes is hardly a new phenomena, the ways in which people are skirting legal pathways due to their dire circumstances is something that has not been seen in the past hundred years, leaving countries scrambling to meet the needs of their new populations. 
For instance, Europe received over 1 million asylum applications in 2022 mostly from Syrian, Turkish and Venezuelan nationals in addition to the over 4 million Ukrainian refugees accepted into the continent after the onset of Ukraine's war with Russia last year. 
>>>Read: After Escaping Abuse, Immigrant Victims Forced to Endure Long Waits With Little Hope
Another aspect that distinguishes this migration crisis from ones prior is the increasingly greater distances refugees are having to travel. Typically, when a nation experiences turmoil, refugees flee to neighboring countries. However, as the effects of destabilized governments and climate change increase, refugees are taking longer journeys to reach safety. 
People displaced by climate change are not legally considered refugees and therefore cannot apply for asylum, leaving them without those legal protections. 
"We know some people have been very reluctant to identify as being climate displaced knowing fully well the legal limitations," said Amali Tower, founder and executive director of the organization Climate Refugees, in regards to Central American migrants fleeing disastrous hurricanes and flooding. "They've even said that they exaggerated the violence and other situations that are also concurrently ongoing in Central America to identify those as their drivers, so they could seek legal protection."
>>>Read: As Climate Change Worsens, 'We Have No Future'
Although it is difficult to know the exact number of migrants worldwide, estimates hover around 100 million people experiencing displacement per year with 86% residing in the global south. 
Hossen Ayazi, a policy analyst from the Othering and Belonging Institute at UC Berkeley, said much of the conversation around the migrant crisis has centered on what countries in the global north like the U.S., Canada and Europe are doing to secure their borders, all the while ignoring the root causes of the issue.
"We need to ask, 'Why are people from across the global south so profoundly and disproportionately vulnerable to the climate crisis that they're forced to move?' " said Ayazi.
Centuries of colonialism, enslavement, persecution and extensive resource exploitation has left the global south deeply wounded and impoverished, he said. These nations were unable to compete with the north as they not only had their resources stripped, but also saw their natural landscapes decimated by extraction efforts which went to profit the global north.
This process also significantly prevented those nations from recuperating after natural disasters or preparing for climate change-related events, despite the global north acting as the largest drivers of climate change in the first place. 
Roughly 23 million people are displaced due to climate change-related events. 
Furthermore, according to Tower, the seven nations with the highest emissions rates throughout history spend nearly twice as much money on securing their borders than on tackling the climate change crisis.
"So for those seven countries, you could say border security is their climate policy," said Tower. "It wouldn't be hard to make that statement."
The U.S. is one of the world's top two emitters of greenhouse gases, historically among the largest exploiters of natural resources, and also worked to destabilize nations across Latin America during the Cold War.
Central American countries like Guatemala, Nicaragua and El Salvador have lived with the devastating impact of climate change, corruption and violence that has come as a result of the U.S.' actions, resulting in mass migrations of people fleeing these conditions. 
Nonetheless, the U.S. continues to restrict immigration from these countries. Recently, there has been much discussion about the lifting of Title 42, a Trump administration era policy that allowed for immediate deportation of migrants at the U.S.-Mexico border on the grounds of mitigating the COVID-19 public health crisis.
Title 42 expired May 11 when the federal COVID-19 public health emergency came to an end. Some said that could increase the number of migrants attempting to enter the country, but the Biden administration has instituted new immigration restrictions limiting asylum. Among other things, the new rules require migrants to apply for asylum and be denied in the countries they pass through on their way to the United States before they could apply here.
Tower says this is in violation of U.S. and international immigration laws, although it has been done before.
"It's a global strategy that the richest and most culpable countries in the world for crises including the climate crisis use to keep the most vulnerable and marginalized people who are in the global south primarily penalized and marginalized," said Towers.