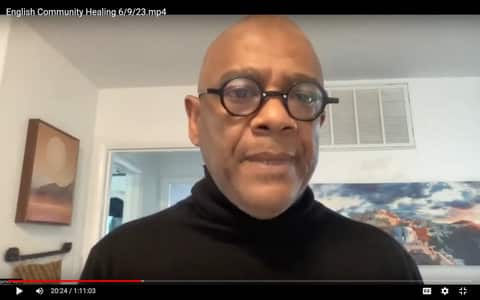 08 Jul

Learning From the Past Can Help Stop Hate and Promote Healing, Activists Say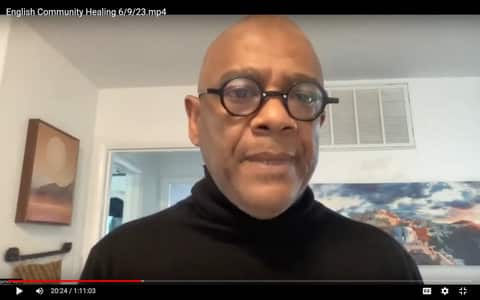 Professor James Taylor of the University of San Francisco called for reparations to heal not just the Black community but America as a whole. (Screenshot captured by Danielle Parenteau-Decker / Richmond Pulse)
By Danielle Parenteau-Decker
Nestor Fantini was beaten, tortured and held captive for four years as a political prisoner in Argentina in the 1970s — one of many arrested or killed for opposing the country's military dictatorship.
And he said the likes of what he went through is still going on.
"What happened in Argentina is still happening in so many other parts of the world," Fantini said during a June 9 discussion hosted by Ethnic Media Services that asked, "Can Communities Heal from Hate?"
As EMS co-director and panel moderator Julian Do put it, there has been a "relentless rise in racial and ethnic hate crimes," including "brutal attacks on Asian Americans … targeted shootings of African Americans … Jewish worshippers at a synagogue and LGBTQ persons … cultural genocides of Native Americans … countless attacks against Latinos."
Activist Helen Zia said the current levels of hatred and violence also harm people by resurfacing old wounds.
Current Events Worsen Long-standing Trauma for Many Asian Elders
"This is a time of incredible change, tectonic shifts that are going on that, unfortunately, have involved violence, division and things that have resurfaced, a lot of the triggering that brings back intergenerational traumas," she said. "The thing about these traumas, even if they are incidents that have happened long ago, they continue, they're absorbed, not only in our psyches but our bodies."
Zia said many Asians living in the U.S. came here as refugees — trying to escape violence. That includes Do's own family, who came to the U.S. as refugees at the end of the Vietnam War.
They Lost Their Homes to War. Now, Richmond Laotians Fear Being Pushed Out Again.
Now, Asian families have to face "the uncertainty of walking out your door and possibly be killed," she said, "or having Grandma and Grandpa go for a walk and wondering whether they're going to come home at all."
Uncertainty also comes in the form of some tough questions.
"How do people and communities find a way to reconcile with horrific acts perpetrated against them, their families, their communities, let alone the ongoing trauma of structural racism and wars, of genocide or states-induced terrorism?" Do asked. "Is there a way to heal?"
For some people, like the mother of Vincent Chin — a Chinese American man killed in Detroit by two white men in 1982 — it can help to be "able to channel their grief through action to make a difference," Zia said.
At the time, the U.S. automobile industry was struggling against competition from Japanese automakers. "And Japanese Americans — or anyone mistaken for them — became scapegoats," wrote Harmeet Kaur for CNN.
That attitude reportedly motivated autoworkers Ronald Ebens and Michael Nitz, who beat Chin to death.
Ebens and Nitz ultimately pled guilty and no contest, respectively, to manslaughter charges but spent no time in jail.
But Chin's death did lead to change, including "a new civil rights movement," according to Zia.
She said there were "not just Asian Americans coming together but reaching out and joining with the Black community — Black, brown, red, white — and coming together and actually saying, 'We stand together against hate and inequality and injustice to any community.' "
According to Zia, people came together across generations, religions and cultures.
This helped people understand how different traumas experienced by different groups over hundreds of years are linked, she said.
"Naming different communities as the enemy," on the other hand, "divides us, keeps us apart and makes it less possible to actually make change, and it is the change that is healing," Zia said. "Healing, it also means empowerment."
Professor James Lance Taylor of the University of San Francisco also spoke of the "solidarity that is needed to break down barriers, helping people understand in their own terms what other groups have experienced."
Taylor is a member of the San Francisco African American Reparations Advisory Committee.
"What reparations is about is, is really about healing and reconciliation and fixing the broken bone to repair, to repair a people," he said.
He said that reparations would be good not just for the descendants of enslaved people or Black people, in general, but also for the entire country.
"I think America's great moment is still ahead of itself. If it did reparations, it would heal this land. It would heal this land in a tremendous way," Taylor said. "It would heal Black America, the crime, the poverty, the negativity, all the social problems."
Beth Wright, an attorney with the Native American Rights Fund, was supposed to speak about the lasting damage caused by the boarding school system that many Native children were forced into, but she was quickly cut off by technical difficulties.
Do relayed what she was going to talk about from a conversation he had had with her.
"When these children were kidnapped and placed in these boarding schools, they basically robbed many of these tribes of the cultures, the language and the identity," he said, "so part of the restorative justice is about restoring the tribes' identity and also the culture and also the languages as well"
Fantini, the former political prisoner, said that restorative justice and reconciliation are only sometimes the answer.
"Don't get me wrong. I strongly support reconciliation … and also restorative justice programs because they are a humane alternative to a very dysfunctional criminal justice system," he said. "How could we not support restorative justice programs that are a true alternative to punishment, to revenge?"
However, he said, a one-size-fits-all approach does not work.
For reconciliation or restorative justice to be achieved, Fantini said, "it's fundamental that the offender needs to acknowledge the harm that he or she had caused."
He said that has not happened in Argentina. "There's no acknowledgment. There's no shame. There's no apology," Fantini said, likening it to Holocaust denial.
If the offender does admit their wrongdoing, they then need to provide both "material restitution and symbolic reparation," he said.
Fantini said it is especially important that the perpetrators of hate crimes be held accountable and that "next generations know what actually happened."
"It's so important to talk about the past experiences to understand what we should do in the future," he said.
Zia also stressed the importance of not letting history repeat itself.
"They say that time heals all wounds, but I don't think time … time is not enough," she said. "There must be action. There must be learning. … We must know the past and acknowledge the past … so that we don't repeat it in the future."
This resource is supported in whole or in part by funding provided by the State of California, administered by the California State Library in partnership with the California Department of Social Services and the California Commission on Asian and Pacific Islander American Affairs as part of the Stop the Hate program. To report a hate incident or hate crime and get support, go to CA vs Hate.