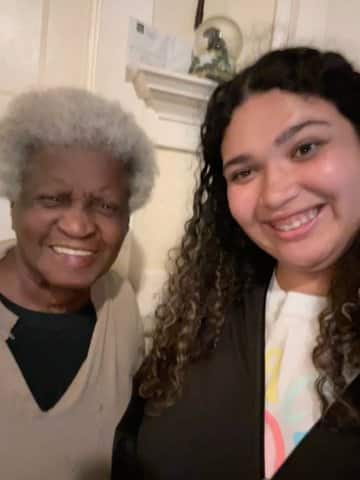 11 Jul

Taking Care of My Grandma Taught Me to Take Care of Myself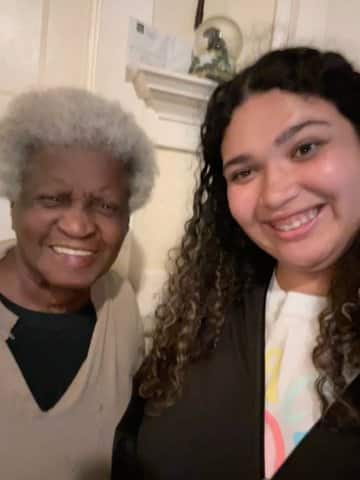 Seventeen-year-old Sasha Abigana provides care for her grandmother, who has dementia. (Photo courtesy of the author)
Commentary, Sasha Abigana
Sometimes, when we try to give my grandma her pills, she thinks we're trying to poison her.
For almost 10 years, my grandma has lived with my family and me because she can no longer live independently. Now, I'm used to having her in my life every day and caring for her, but before that, she would only visit once a year. Then, one day, everything changed so quickly.
I still recall the day of Feb. 13, 2014. I was only 7 years old. It was an ordinary day: I went to school, then to the Boys & Girls Club, and everything was good. Then, unexpectedly, my parents came to pick me up and told me we were heading to Daly City.
I was bewildered, and my mother was sobbing. She said my grandmother had fallen. I didn't understand what was going on because I was so young; I assumed she had tripped or something, and I was curious as to why there was such a big deal. Then, my mother told me she had fallen from her two-story apartment while attempting to climb into a window, landing headfirst.
They wouldn't let me into her hospital room. Before I saw her injuries, I had no idea how serious it was. Then, my family finally agreed it was time to let me visit her. As I entered the hospital room, I could hear her coughing. She was hooked up to machines, and her face was broken and extremely swollen. She also had a tube in her throat. She was in a coma and was not conscious of what was happening to her at the time.
Fast-forward a few years, and now my grandma lives with us. She has ever since her accident because she can't take care of herself anymore.
Both my parents work, so I have always been the one to look after her. I'm the only girl with three brothers, so I have also always been the one to have to take my mother's role when she wasn't there. When my youngest brother was born, it felt like I had to take care of two children, running to both my grandma and my brother every time they cried and giving up my childhood to take care of them. This has left me feeling sort of overwhelmed because so many people have been dependent on me. My parents, my grandmother and my brother don't even realize how much I have done for them.
It can be frustrating, but I have learned a lot from it.
Over the years, I learned things while taking care of my grandma without really even realizing it. There are many skills that come along with caring for someone, but the major lesson I learned is patience and how much more strength that exhibits than responding angrily. I also gained a lot of practical knowledge, such as how to do hair, cook, compromise and even persuade. So in a way, I feel that taking care of others taught me to take care of myself and, in a way, I raised myself.
Taking care of my grandmother, who is 80, can also be tough because she has dementia, a brain condition that, for her, has caused memory loss, confusion, personality changes and even paranoia. I don't know for sure if her accident or her age caused it.
It can be challenging to argue with my grandmother at times because she often thinks things that are nonsensical. Sometimes, she doesn't know who I am. She doesn't fully realize that she can't accomplish everything by herself and frequently becomes irate when I take over. She will attempt to cook and clean on her own and inevitably make a mess.
She also doesn't understand why she is with us. My little brother was born two years after she fell and came to live with us. But she believes she just came to visit to see the new baby and now we are holding her hostage. It's annoying because no matter how many times I tell her, she will either forget or refuse to believe me.
Not every day is challenging with my grandma, but there are times when she is extremely paranoid and refuses my care, believing that I'm trying to harm her. For example, when I try to give her pills, some days she will take them without asking, and other days she will refuse, saying that they are poison. I have to reassure her that she will be OK, but she just doesn't believe me, which is really challenging.
She can be especially stubborn about it because she believes God is on her side. She has told us that the Lord was going to knock at the door and tell us we're wrong.
I'm still waiting for him to knock.