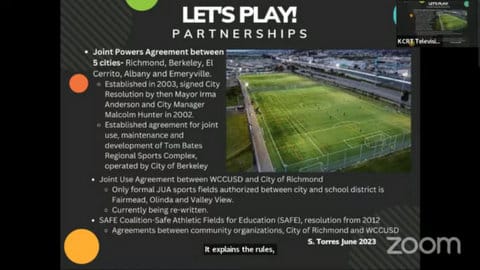 12 Jul

Richmond Takes Long Awaited Steps Toward More and Better Soccer Fields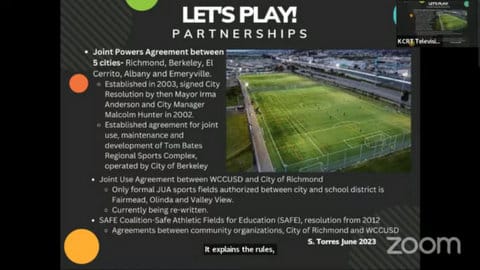 The city of Richmond has agreements with the city of Berkeley and the West Contra Costa Unified School District concerning the use of particular fields. (Screenshot captured by Samantha Kennedy / Richmond Pulse)
By Samantha Kennedy
In front of the largest crowd since resuming in-person meetings, the Richmond City Council took action Tuesday on an issue the public has been waiting on for decades.
The council directed city staff to move forward with planning for more in-city soccer fields. That includes beginning efforts to reach an agreement with the West Contra Costa Unified School District to use its facilities, getting community input on potential soccer fields, and having staff check on complaints about bathrooms. Support from the council was unanimous.
For many in Richmond, lack of access to adequate soccer field facilities has lasted for generations in their families.
Diego Garcia is one of them. Garcia, who serves as president of the board of Richmond's semi-professional soccer club, Richmond Sol, told the council during public comment that he has been asking for the same thing for over 20 years since his son was a kid.
"We came here, and this board promised us some fields." Garcia said. "My son is 25 now."
>>>Read: 'Long Time Coming': Local Teams Make National Soccer League Pacific Conference Debut
Soccer fields in Richmond are scarce. The 2010 Richmond Parks Master Plan showed that only two of the soccer fields used were intentionally designed to be used as such. There were 16 fields in total being used at the time, and staff found that an additional 19 were needed to properly serve the community. Due to population increases, it's likely more are needed now.
Samantha Torres, who serves on the Recreation and Parks Commission and as a coach for the Richmond United Soccer Club, gave a presentation that advocated not just for the creation of more soccer fields but for their proper care.
Already limited soccer fields further reduce participation in the sport because the facilities are not maintained correctly. Teams outside Richmond don't want to play on potentially dangerous fields, and Richmond teams don't have the resources to help their players make progress towards their goals.
Those goals include becoming a professional soccer player.
Amelia Torres is 10 years old and wants to play soccer professionally when she grows up. Amelia spoke during public comment, asking the city to fix things like the holes in Nicholl Park that have caused injuries to her teammates.
Even in the often poor conditions they are in, Richmond parks charge higher rates for usage than surrounding cities. Rates continue to increase if users want to use lights or have access to the bathroom.
According to Samantha Torres of the Recreation and Parks Commission, Richmond charges more to use its soccer fields than nearby cities like San Pablo and Berkeley. (Screenshot captured by Samantha Kennedy / Richmond Pulse)
Facilities outside of Richmond are much more attractive but many organizations are unaware of them. One facility, the Tom Bates Regional Sports Complex in Berkeley, was agreed upon for use by five cities in 2003. Rates are lower and maintenance is better, but, according to Samantha Torres, there has not been enough outreach to inform the public of this opportunity.
>>>Read: Q&A: Park Director Says There Are 'More Things to Be Done' in Bay Point
Fields that are not under city control, such as WCCUSD facilities, offer local alternatives for soccer organizations. WCCUSD and Richmond have an agreement for sports field usage between the city and the district; however, independent soccer organizations cannot currently benefit from this agreement. Only city-sponsored groups are able to use these alternatives.
The next regular Richmond City Council meeting is Sept. 12 as the council takes a summer break.