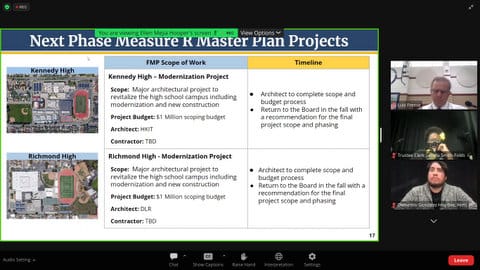 13 Jul

WCCUSD Gives Update on Facility Improvement Plans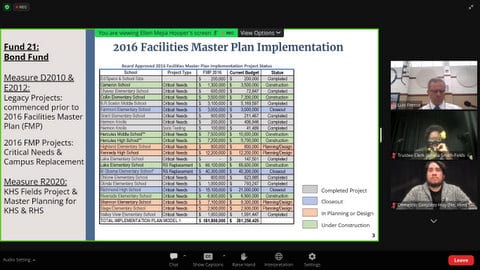 WCCUSD facility improvement projects are in various stages of completion. (Screenshot captured by Samantha Kennedy / Richmond Pulse)
By Samantha Kennedy
Like many schools in California, poor facility conditions in the West Contra Costa Unified School District create an environment that is unsafe and hinders learning.
The WCCUSD school board received an annual update of the Facilities Master Plan and summer projects at its Wednesday meeting. The update shows already improved facilities and future sites the district will be working on.
Clerk Jamela Smith-Folds said a school's facilities are one of the most important things students use.
"They need to feel as if they are taken care of from the inside out," Smith-Folds said. "We should not take for granted how powerful having a good school building to go to (is)."
The 23 projects that are part of the facilities master plan include complete demolition, renovation and soil testing. Only 10 projects must finish going through planning or construction.
Nearly 40% of students in California schools learn in facilities that don't meet state standards. California's Office of Public School Construction provides schools with the facility inspection tool that can be used to evaluate the condition of a facility. There are 15 categories staff evaluate within the tool, including cleanliness, structural and safety, of which eight are included in a school's accountability report card.
>>>Read: 'Kennedy Is Still Stuck': School Board Addresses Equity Issues at Richmond High Schools
Some WCCUSD schools that are on the list for future projects, like Stege Elementary School, receive poor ratings in categories and complaints from staff, students and parents, but still receive a fair facility rating.
Stege, which the board identified as being one of the schools most in need of renovation, is planned to undergo demolition to make way for site improvements in the future. But, even though this need was identified, Stege is one of the last projects left.
Luis Freese, associate superintendent for operations, said projects are prioritized based on a number of things. The conditions of school sites, maintenance surveys and district need are used to determine which project goes ahead of another. In addition, other projects identified by the operations department are sometimes prioritized. This year, for example, the department is working on play structures at 10 school sites.
West Contra Costa voters passed Measure R in 2020 to fund school facility improvements. Trustee Mister Phillips said last year that Kennedy and Richmond high schools had been left behind.
Two of Richmond's high schools, Kennedy High and Richmond High, are among the schools that have planned projects for their sites. In the fall, staff will return to the board to recommend phasing and scope for construction.
President Demetrio Gonzalez-Hoy, Trustee Leslie Reckler and Smith-Folds said keeping community members informed of projects is important.
Gonzalez-Hoy said he often gets questions from the public on the status of the projects at Kennedy High, Richmond High and Stege Elementary. He said many of them also ask how they can get involved in the process.
Community members can sign up for WCCUSD's operations department's construction electronic newsletter using this form to stay updated on projects in the district. Updates include Kennedy and Richmond High reconstruction and other rebuilding projects.
The next WCCUSD school board meeting is Aug. 2.