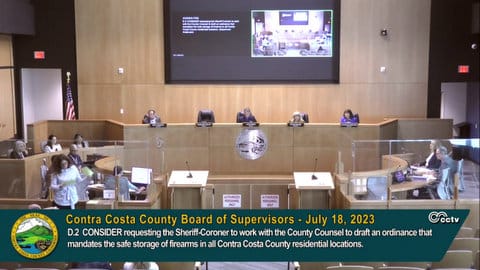 18 Jul

Contra Costa County Looks to Increase Gun Safety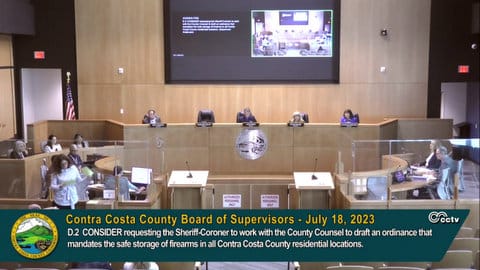 Contra Costa County could soon bolster gun storage laws. (Screenshot captured by Samantha Kennedy / Richmond Pulse)
By Samantha Kennedy
Contra Costa County is looking to increase gun safety in unincorporated county areas by addressing gaps in California gun laws. 
At its Tuesday meeting, the Contra Costa County Board of Supervisors directed staff to begin drafting an ordinance that would require all households in unincorporated areas to safely store guns owned or possessed by the residents. Current California laws only require guns to be stored away if a child can gain access to them or if another member of the household is not allowed guns. 
Supervisor Candace Andersen, who brought the idea to the board after members of the community came to her, said current state law leaves several scenarios where guns are allowed to be unsafely stored in homes. 
Though state law falls short, many East Bay jurisdictions have already passed similar ordinances. In the last two years, Antioch, Dublin and Walnut Creek have required guns to be stored away in residences even if a child isn't present. 
Andersen calls the future ordinance "common sense" because it protects communities in ways that current laws do not. Rather than just focusing on keeping guns away from children or criminals, keeping guns safely away from anyone could prevent gun violence. 
In a report released earlier this year by the Bureau of Alcohol, Tobacco, Firearms and Explosives, 95% of stolen guns are taken from private citizens. Burglary, which requires entering a building with the intent to commit a crime, accounted for 79% of stolen firearm incidents between 2017 and 2021. 
After hearing about several burglaries taking place in her district, which includes Alamo, Walnut Creek and Danville, Andersen said firearms were often being stolen and might be used in a future crime. Andersen's proposal would add another layer of protection for community members. 
In addition to protection from outside harm, the ordinance could protect those with guns from themselves. Andersen said a gun stored away safely could reduce things like suicide by giving someone additional time to think over their actions or limit their access to the firearm. 
But the board said this won't solve everything. Board Chair John Gioia said this ordinance is a step in the right direction but more can be done. 
"We need to not fool ourselves into believing this solves a problem," Gioia said. 
He said decisions by the Supreme Court have prevented officials at the local and state levels from passing gun control laws, which makes foundational ordinances like the one proposed so important to progress. 
Supervisor Diane Burgis said the personal responsibility of owning a gun and having a child should be understood and taken seriously in addition to policy in place. 
The next Board of Supervisors meeting is Aug. 1.