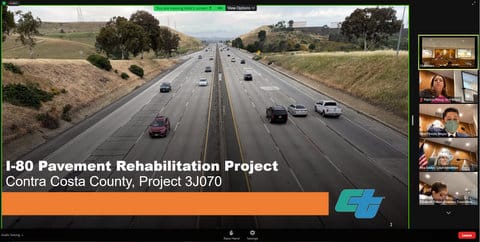 21 Jul

Weekend Closures on I-80 Start Friday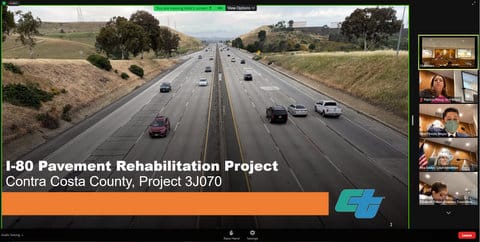 A 26-mile stretch of I-80 will be closed in both directions for four weekends this summer. (Screenshot captured by Mitzi Pérez-Caro / Richmond Pulse)
By Mitzi Pérez-Caro
San Pablo City Council focused heavily on transportation Monday with two major items given the spotlight.
CalTrans presented its Bay Area Summer 2023 Paving Project for Interstate 80. As part of an effort to improve highway operations, for four weekends CalTrans employees will reinforce the concrete pavement for a 26-mile stretch both westbound and eastbound on I-80 from the State Route 4 separation to the Carquinez Bridge.
Construction on the heavily trafficked highway will begin Fridays at 9 p.m. and stop Mondays by 5 a.m. and cost a total of $50 million. 
That will start July 21 and also occur Aug. 4 to 7, Aug. 18 to 21 and Aug. 31 to Sept. 5. That last falls over a Thursday through Tuesday for the extended Labor Day Holiday. 
CalTrans recommends the usage of State Route 4, Highway 680 and I-5 as detours. There will be 25 signs for eastbound traffic and 11 for westbound traffic reminding travelers of the closure. 
The CalTrans project is provided by the State Highway Operations and Protection Program and Senate Bill 1 funding. SB1 is a legislative package totalling $5.4 billion to invest in California roads, freeways and bridges. 
This project notification is being shared with affected cities through council meetings, radio and television stations, targeted media advertisements, social media, press releases and traffic advisories. 
Council member Elizabeth Pabon-Alvarado thanked the CalTrans team for its robust outreach effort to inform the public. Vice Mayor Patricia Ponce asked the City Manager, Matt Rodriguez, if San Pablo would be sharing any information. The city will share the I-80 date closures on its social media, newsletters and website to spread awareness of the project. 
For more information on the I-80 detours this summer, visit cc80pave.com.
The second transportation item that was highlighted affects residents more locally.
The council considered an ordinance amending a San Pablo zoning code. The ordinance regarded off-street parking requirements for family day care homes. 
San Pablo Community Development Director Libby Tyler said the Child Care Law Center asked the city to amend off-street parking per section 1597.45 of the code. 
The amendments would remove additional parking requirements for small or large daycare out of the home. 
Small family daycare is considered to be one that cares for eight or fewer children; large family daycare, seven to 14 children. 
The Planning Commission, which met and voted June 27, and the City Council both voted unanimously to approve the change to the ordinance for the zoning code given the recommendations by the city staff.
The zoning amendment and resolution can be found on the city's website.