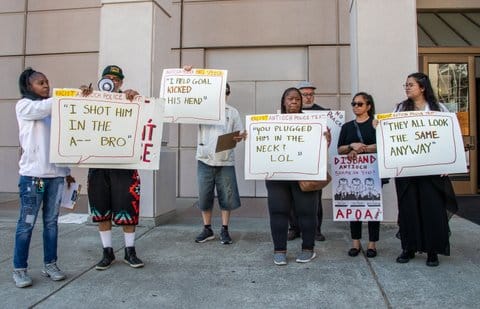 23 Jul

Antioch Officers, Chief Don't Show Up for Hearing on Racial Justice Act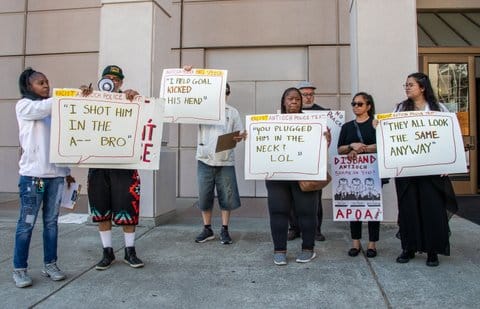 From right, Bella Quinto Collins and Cassandra Quinto-Collins, the sister and the mother of Angelo Quinto, and members of Reimagine Antioch protest against Antioch police officers involved in the racist text scandal in the department during a hearing involving the officers at A.F. Bray Courthouse in Martinez on July 21. (Harika Maddala / Bay City News / Catchlight Local)
By Tony Hicks
Bay City News
Antioch police officers subpoenaed to testify Friday didn't appear in court at a hearing over whether they — and other officers — violated California's Racial Justice Act while arresting four men on suspicion of murder in 2021.
Antioch Police Chief Steven Ford — who resigned Wednesday night — signed an affidavit saying as many as five officers were out on medical leave, though the number appeared to be eight on Friday.
Lawyers for the city of Antioch said Ford certifying they were on leave wasn't the same thing as saying they were legitimately unable to come to court after defense attorney Carmela Caramagno said some of the officers have been spotted at pool parties, driving a tractor, and "walking briskly" down a driveway during their injury leave.
"They appeared to be quite healthy," Caramagno said.
Ford, whose resignation goes into effect Aug. 11, also didn't show up in Contra Costa County Superior Court in Martinez. Lawyers for the city of Antioch filed a successful motion to quash Ford's subpoena, saying his appearance wasn't necessary because the arrests happened before he was police chief.
Judge David Goldstein agreed Ford's testimony wasn't relevant Friday but said Ford he could be subpoenaed again later as the case progresses.
Antioch police arrested 22-year-old Terryonn Pugh, 23-year-old Eric Windom, 24-year-old Keyshawn McGee and 22-year-old Trent Allen in 2021 for two alleged gang-related murders.
Attorneys for the four African American men — all of whom remain in custody and were in court Friday — say officers involved in the arrests also face allegations of racism and homophobia in the racist text scandal involving at least 45 Antioch officers.
The FBI and Contra Costa County District Attorney's Office have been investigating the officers, and some in neighboring Pittsburg, for the past year and a half for civil rights violations. The California Attorney General's Office announced its own investigation earlier this year and members of Congress have urged U.S. Attorney General Merrick Garland to launch a Justice Department probe.
'Fire Everyone Who Is Racist': Black Antioch Residents, Mayor React to Police Texting Scandal
The texts included slurs and threats against Ford and Antioch Mayor Lamar Thorpe, both of whom are African American.
Defense attorneys said Friday the defendants were referred to in some of the texts, which they said proves racist intent helped fuel the arrests.
Attorneys for the eight officers allegedly available Friday said the officers shouldn't have to testify without their attorneys having the ability to cross-examine other witnesses or object to their testimony.
Goldstein said the Racial Justice Act doesn't allow that, though he would allow the officers' lawyers to be present to advise them in case of a Fifth Amendment issue (the Fifth Amendment to the Constitution allows people to withhold testimony that could be self-incriminating).
Representing seven of the officers available Friday, attorney Nicole Pifari argued officers' testimony could damage their careers by labeling them as racists.
Goldstein said there's no precedent to suggest the Racial Justice Act is unconstitutional and that any perceptions of the officers would come from evidence presented.
Goldstein also said there would be no time for police to testify Friday. Caramagno did call an expert witness: UC Irvine political science and Asian-American studies professor Claire Jean Kim, who also researches comparative race issues, Afro-Asian politics and human-animal studies.
Testifying via Zoom, Kim said the District Attorney's Office reports concerning the text messages equated African Americans to "gorillas." and contained the n-word at least a dozen times, connected to adjectives like "panhandling," "transient," "dead" and "body bag."
"That reflects an attitude that Black lives do not matter," she said.
Goldberg continued the hearing to Aug. 25 and told lawyers to keep Sept. 8 open, as the hearing could require a third day.
Copyright © 2023 Bay City News, Inc. All rights reserved. Republication, rebroadcast or redistribution without the express written consent of Bay City News, Inc. is prohibited. Bay City News is a 24/7 news service covering the greater Bay Area.