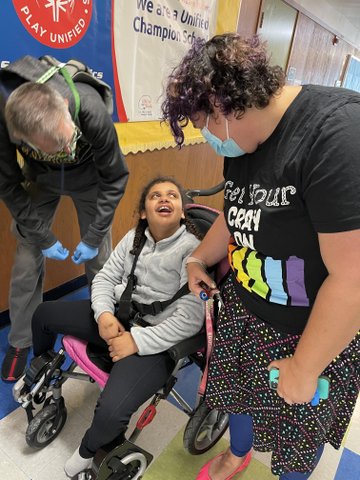 24 Jul

EdSource: West Contra Costa Unified Among Districts Struggling to Staff Special Education Classes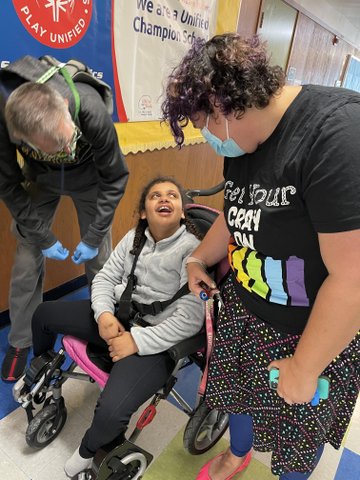 Leanne Wu, right, a special education teacher at Tara Hills Elementary in San Pablo, had to drastically change her teaching plans to keep her students engaged while learning from home. (Photo courtesy of Leanne Wu / RP file)
By Ali Tadayon, EdSource via Bay City News
With less than four weeks before the start of the next school year, more than 200 special education paraprofessional positions in West Contra Costa Unified School District — about 33% — are unfilled, despite recruitment efforts.
The district is contracting with ProCare Therapy — an outside staffing agency — to fill the vacancies, a move that Guthrie Fleischman, interim director for the district's Special Education Local Plan Area, said costs about twice as much as hiring paraprofessionals in-house. Additionally, paraprofessionals who are directly employed by the district say the outside staff makes their working conditions more difficult.
That extra cost is unavoidable, Fleischman said, since the district is legally obligated to staff special education classes at a certain level: one paraprofessional is required for each class of students with mild to moderate support needs, and two are required for each class of students with extensive support needs. Additionally, some students require one-on-one intensive individualized services assistance.
The cost of the agency staff comes out of West Contra Costa Unified's special education budget, leaving special education programs with fewer funds.
"We haven't explicitly pulled from one program in order to make up for that added cost, but anytime you're increasing an expenditure, that's less money you have elsewhere," Fleischman explained.
Fleischman is, however, confident in the staff that ProCare sends to West Contra Costa, he said.
"[ProCare] does a good job of training their folks, and they do a good job with oversight and transparency," Fleischman said. "That minimizes the negative impact on programs, but the ideal is to have people employed through the district, members of our local union."
'We Can Reimagine How We Teach': How Four WCCUSD Teachers Adapted to Distance Learning
Paraprofessionals like Joyce Ramsey work as instructional aides for special education teachers, assisting and supervising students with daily activities. Ramsey has worked as a special education paraprofessional for 20 years, eight of which at Shannon Elementary School in West Contra Costa Unified. Some paraprofessionals also assist with students' personal care needs, including with meal times and using the restroom.
Ramsey said from her experience with outside paraprofessionals from various agencies, they are often not as prepared, take long breaks and leave much of the work to the district employees, while getting paid more. Also, there's "animosity" between district paraprofessionals and the contractors, Ramsey said.
West Contra Costa Unified provides training for special education paraprofessionals on working with students who receive special education services, behavior intervention, and evidence-based practices. The pay ranges from $19.16 an hour to $22.72 an hour for tier 1 paraprofessionals to $22.27 an hour to $26.49 an hour for tier 3 paraprofessionals.
Veronica Diaz, who represents the Teamsters 856 union, which includes West Contra Costa's special education paraprofessionals, chalks up the district's shortage to special education paraprofessionals leaving for private sector jobs with higher pay and better medical benefits, or going to other districts that are able to pay more. She added that many other districts are also searching for special education paraprofessionals.
"To be frank, folks are not making a lot of money in these positions, which are quite demanding both physically and emotionally," Diaz said.
'We … Put Ourselves Last': Former WCCUSD Teachers on Why They Left the Classroom
Last year, the California Federation of Teachers sounded the alarm about shortages of special education paraprofessionals in other school districts in the state, including Menifee, San Francisco and Gilroy, pointing to low wages as the primary reason for the shortages.
California Federation of Teachers President Jeffrey Freitas said districts are coming up with "creative ways" to fill the vacancies other than paying paraeducators more. He said paying higher wages and offering them full-time positions will help districts recruit more paraprofessionals.
Special education teachers are also in high demand throughout California. The Learning Policy Institute released a report before the pandemic in 2020 that said California was "in the midst of a severe special education teacher shortage that threatens the state's ability to improve outcomes for students with disabilities."
>>>Read: School Year Begins With Teacher Shortage
Diaz said that even given its precarious financial situation, WCCUSD should consider a "healthy wage increase" in order to recruit and retain special education paraprofessionals. The district anticipates extensive budget cuts in the upcoming years in order to remain fiscally solvent. Diaz says that if the district invests and employs more of its own paraprofessionals, it wouldn't have to spend as much on the outside contracts.
West Contra Costa Unified has, over the years, hosted job fairs and posted the positions on job boards in efforts to directly hire its own special education paraprofessionals, Fleischman said. They have also worked with Teamsters 856 to publicize the vacant positions.
"We're trying to highlight some of the benefits of working directly for the district: union representation, benefits, retirement, job ownership and things like that," Fleischman said. "When you're an employee of the district and a union member, you own the position that you're in. When you work for an agency, it's all temp work."
Having in-house paraprofessionals improves the "camaraderie and the morale" among school staff, making it the ideal for the district, Fleischman said.
"It's just a different working condition. I mean, ultimately, they're in the same classroom, and they're working with the same kids, but there are inherent differences there," Fleischman said. "We're going to do our best and continue to bridge those gaps regardless of where people's direct deposit comes from."