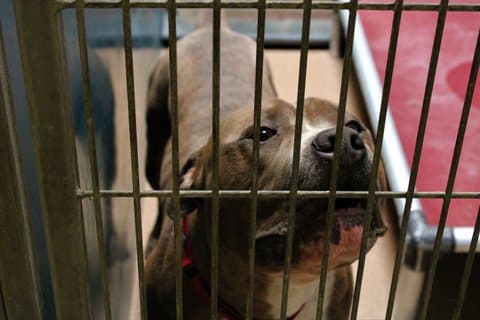 25 Jul

Overcrowding at Contra Costa Shelter Puts Animals at Risk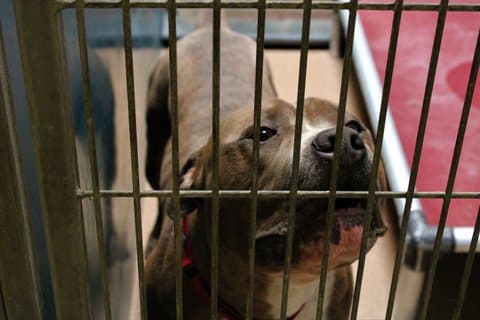 Bark Ruffalo is a 2-year-old pit bull terrier up for adoption at the Contra Costa Animal Services shelter in Martinez.
Story and photos by Joe Porrello
Editor's note: This is part one in a series about Contra Costa Animal Services and pet adoption. In this first chapter, we take a look at overcrowding in the shelter and the deadly consequences it can have. See the end of the story to find out how you can find animals to adopt.
A vacant dog kennel at Contra Costa Animal Services is a rarity.
CCAS has offered free adoptions in June and July in an effort just to reduce overcrowding at its shelter in Martinez.
In just the first five months of this year, CCAS has already taken in 1,382 dogs. Of those, 106 have been euthanized. In May, 33 dogs were euthanized in only 31 days.
Overcrowding and euthanasia are common problems for Bay Area shelters. For example, Oakland Animal Shelter took in 2,852 dogs in 2022, 157 of which were euthanized.
"When you look at other public shelters, we're proud of our ability to save animals," said CCAS public information officer Steve Burdo.
Squirrel was adopted by a family that had two other dogs, which they brought to meet Squirrel before taking him home.
The dilemma stretches countrywide and beyond dogs.
Every year, an average of 3.1 million dogs enter the 14,000 shelters and rescue groups throughout the U.S. But that's only the beginning.
According to Spots.com, 4,000-10,000 animals are euthanized daily in shelters, and 25% of animals entering shelters are confirmed euthanized.
In 2019, California passed Texas as the state with the highest euthanasia rate.
The veterinarians euthanizing animals themselves are also affected, with a suicide rate 2.8% higher than the general population.
Some dogs are euthanized due to behavioral issues (such as aggression) that are said to make them unfit for domestic life; others, to end suffering caused by depression or incurable medical problems.
Though, Spots.com indicates 90% of euthanized animals are adoptable and that 75% of people think euthanizing a healthy animal should be illegal.
This dog at the Contra Costa Animal Services shelter in Martinez just wants someone to take them home.
Irina Dyatlovskaya helps dogs by connecting them with fosters, partaking in fundraisers, creating awareness on social media, and speaking at Contra Costa Board of Supervisors meetings.
Dyatlovskaya said CCAS sometimes wrongly labels dogs as aggressive, leading to undeserved euthanasia.
"It's not aggression; it's fear. Dogs are put on the 'kill list' just for being scared," she said. "They're just trying to protect themselves…Imagine your own dog in that situation."
According to Wendy Wolf, an ex-CCAS employee who coordinates with rescue groups and interacts with shelter personnel frequently, "they (CCAS) use catch poles, bring dogs into a loud, scary place, then if the dog growls at them, it's labeled aggressive, and the designation never leaves them."
The dogs are also labeled things such as, "timid" and "unable to be handled."
Ward acknowledged that CCAS cannot reproduce a domestic setting, no matter how hard it tries.
"Dogs aren't meant to be held in a kennel for any length of time, really — they want to be with people," she said. "When we get overcrowded, it becomes harder on the animals because it gets more stressful, and you see potential illnesses increase or behaviors decline."
She added that dogs' heightened senses are overloaded by things like the smells of other dogs and loud echoing throughout the tile-floored building.
Wolf went on to say that a lack of information provided by CCAS — like "bite incident," without details — unless asked for, could change an adopter or rescuer's mind about taking a dog.
"Most rescuers have other jobs and don't have extra time to ask questions," she said.
According to Ward, all notes made on dogs at CCAS are crucial.
"The notes do stay with an animal because they're important to know… when the dog goes into a new environment we can be careful about how they're introduced," she said.
Burdo said it partly takes the direction of their field services captain and chief veterinarian to decide how a dog is labeled.
"There's a whole process we go through for designating an animal as dangerous," he said.
According to Ward, shelter staff bring their information on dogs to a rounds committee overseen by herself, the chief veterinarian, and captain of field services to figure out what paths dogs should go on and continuously reevaluates.
Dyatlovskaya and others critical of CCAS cite the No Kill Movement, which has been successfully implemented at shelters around the country where animals are not euthanized.
The movement is headed by Nathan Winograd, whose No Kill Advocacy Center works out of Oakland.
Shelters can be technically labeled as "no kill" if under 10% of their animals are euthanized annually.
Opponents of the movement point to dogs being kept alive under cruel circumstances, sometimes going "kennel crazy," which involves endlessly spinning or smearing feces.
"While there's very positive aspects of the 'no kill' movement, because I believe we really wouldn't be where we are today in the industry if we didn't have that, it did create a divide between the municipal and the nonprofit shelters because of intake policies and practices, et cetera," said Ward.
Last year, CCAS euthanized 12% (229) of the dogs surrendered.
The "no kill" designation is nothing new to the Bay Area. In 1994, San Francisco became the first city to be considered "no kill" as a whole.
To find out more adopting an animal, visit contracosta.ca.gov/804/adoptions or 24petconnect.com to look beyond Contra Costa County.
Read part two in the series:
Local Advocates Say More Can Be Done to Save Animals. CCAS Says It's Doing All It Can