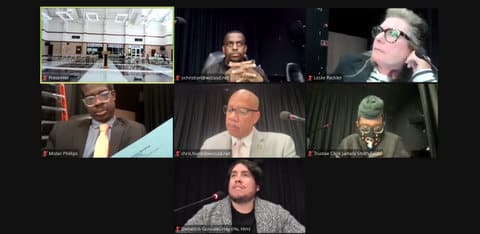 03 Aug

Marching Band, Junior ROTC Will Count Toward WCCUSD P.E. Requirements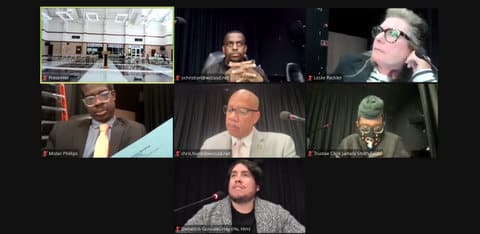 The West Contra Costa school board on Wednesday unanimously approved counting marching band and junior ROTC toward students' physical education requirements. (Screenshot captured by Samantha Kennedy / Richmond Pulse)
By Samantha Kennedy
The West Contra Costa Unified school board approved additional courses at its Wednesday meeting that will allow students to fulfill physical education requirements in new ways.
The board unanimously voted to allow students who take Air Force Junior ROTC or marching band to fulfill their physical education requirements with that class. Students who participate in a marching band that is not for a class but is school-sponsored are also eligible to receive physical education credit this way.
Though board members all agreed that making these courses eligible for physical education credit was a good thing, they also recognized that the language of the policy limits who gets access to these opportunities.
Trustee Leslie Reckler said community members often ask what courses are eligible for certain credits or how to get a waiver to make a course eligible because the policy does not list specific courses.
Trustee Mister Phillips said not all schools have a marching band or reliable instruments for students to use.
To increase equal opportunity across the district, Trustee Otheree Christian said all schools should have a band. However, the board said figuring out how to support current school marching bands better should take priority.
>>>Read: 'Kennedy Is Still Stuck': School Board Addresses Equity Issues at Richmond High Schools
For schools that don't have a band or Junior ROTC, there are other options for students to participate in physical activity outside of a traditional physical education class.
Trustee Jamela Smith-Folds said some courses that require a lot of physical activity are not the same at every high school. At Hercules High School, for example, dance classes are offered to students to fulfill physical education credits, but this is not true everywhere.
"Making sure that we are not creating barriers at other schools," Smith-Folds said. "And not adding privileges to one or the other. Making sure that we're consistent." Smith-Folds said consistency across school sites and defining what each site considers physical education is a must to ensure barriers are not a problem.
Smith-Folds also said student-athletes who participate in school-sponsored sports have to also complete physical education courses, which requires them to put in a lot of work. She said a conversation around this should be had to explore options for those students if outside school-sponsored sports are not covered under the district's policy.
The next WCCUSD school board meeting is scheduled for Aug. 23.