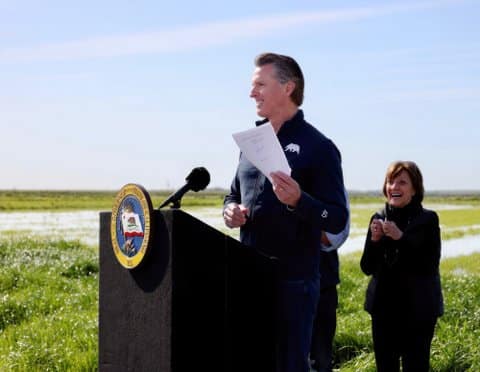 03 Aug

New Grant Program Promises $100 Mil for Tribal, Nature-Based Solutions for Climate Change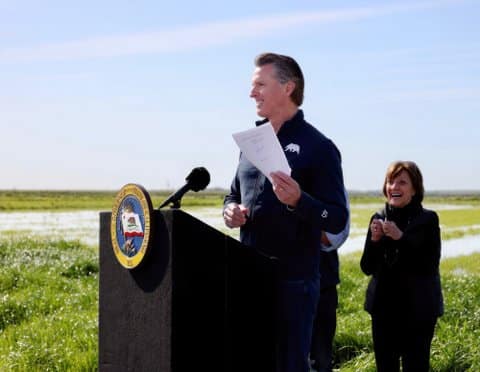 Gov. Gavin Newsom signed an executive order rolling back many of the state's drought restrictions at a news conference at a Yolo County, Calif. farm on March 24. (Gavin Newsom via Bay City News)
By Olivia Wynkoop
Bay City News
The state of California is offering $100 million in grant funds for Native American tribal groups to help them acquire land and implement nature-based solutions towards climate change.
Announced Monday, the California Natural Resources Agency said the program will help tribal groups purchase ancestral land, expand knowledge on traditional practices and build projects that both preserve biodiversity and protect culturally relevant natural resources.
California Secretary for Natural Resources Wade Crowfoot said the program was created after conversations with tribal leaders during the steps to conserve 30% of state land by 2030.
"We are really excited to establish this first-of-its-kind state program to support tribally led solutions to our biggest environmental challenges," Crowfoot said.
"It is a concrete example of our progress supporting tribal leadership to steward our natural resources," he added.
Just this March, Gov. Gavin Newsom announced a $100 million budget proposal towards tribal nature-based climate solutions during a California Truth & Healing Council meeting, which was later approved in the state budget.
The program also builds on a $1 million Tribal Small Grants Program developed by the California Ocean Protection Council, which is meant to ensure tribes can conserve, manage and steward land.
"California Native people, our homelands and sacred places have long felt the harmful impacts of our removal from the places we have lived and thrived in since time immemorial — we have heard these harms shared statewide through the California Truth & Healing Council process," said Governor's Office of Tribal Affairs Secretary Christina Snider-Ashtari.
"The Tribal Nature-Based Solutions grant program is a step in the right direction to begin to address some of the historical wrongs committed against California Native peoples, return lands to tribal ownership and stewardship and support tribes in their efforts to restore balance to their homelands," Snider-Ashtari added.
Funding will be set aside for two different types of projects — the priority being time-sensitive, shovel-ready land return projects that are partially funded, and the second being non-time sensitive projects. Projects on accelerated timelines have until Aug. 28 to apply for the program, and the latter has until Sept. 29.
Copyright © 2023 Bay City News, Inc. All rights reserved. Republication, rebroadcast or redistribution without the express written consent of Bay City News, Inc. is prohibited. Bay City News is a 24/7 news service covering the greater Bay Area.