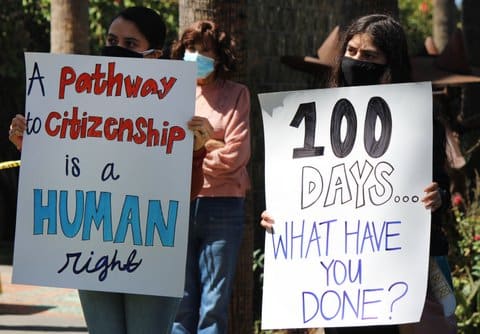 04 Aug

Migrant Rights Groups to Stage 40-Mile Walk for Immigration Reform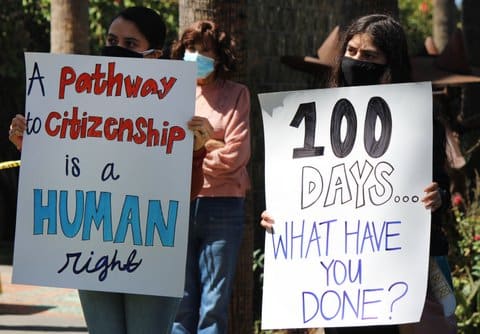 Migrant rights advocates hold signs demanding a pathway to citizenship for unauthorized immigrants in a rally on April 30, 2021. (Jana Kadah / Bay City News)
By Toby Roca
Bay City News
Immigration reform and migrant rights advocates are planning to walk more than 40 miles from the North and South Bay to San Francisco beginning this weekend to demand congressional action on a pathway to permanent residency for millions of migrants stuck in legal limbo nationwide.
Dozens of immigrant rights organizations in the Bay Area and elsewhere in Northern California are gearing up for the "All in for Registry" walk starting Saturday at 8 a.m. in Petaluma and San Jose. Participants will walk more than 40 miles over the weekend to meet at the Federal Building in San Francisco on Monday.
The walk aims to press Congress to pass H.R. 1511, also known as the "Registry Bill," which would allow approximately 8 million undocumented people currently living in the U.S. to apply for legal permanent residency.
"We ask that Congress pass H.R. 1511 so that migrants have a reasonable process to apply for residency, and they may come out of the shadows of work exploitation and fear," said Socorro Diaz in a statement. Diaz is a leader of the Northern California Coalition for Just Immigration Reform and of the Sonoma County-based women's group ALMAS LIBRES.
>>>Read: Response to Immigration Crisis Largely Ignores Root Causes
Immigration advocates participating in the event will also demand respect for human rights at the U.S.-Mexico border amid criticism of border authorities' handling of migrants there.
According to organizers, the 40-plus mile distance stands for the nearly 40 years of what they describe as "congressional inaction" on immigration reform. The last time Congress passed legislation that legalized millions of previously unauthorized migrant workers was in 1986 with the Immigration Reform and Control Act.
"I haven't seen my children in many years because there is currently no way for me to apply for legal residency," migrant women's organization Mujeres Unidas y Activas leader Enma Delgado said in a statement.
"It is immoral for so many millions of people left with an undocumented status to have to remain separated from their families and loved ones," Delgado added.
>>>Read: After Escaping Abuse, Immigrant Victims Forced to Endure Long Waits With Little Hope
This weekend's 40-mile walk is the first in a series of August and September actions in support of a registry update, organizers said.
H.R. 1511 proposes to update a 1929 law so that undocumented individuals may apply for legal permanent residency as long as they have lived in the country for at least seven years.
It is estimated that approximately 8 million of the approximately 11 million undocumented people in the U.S. will benefit from the reform if passed.
The walk will start Saturday 8 a.m. at Walnut Park, 201 Fourth St. in Petaluma, and in San Jose concurrently. Sunday is day 2 of the 40-mile plus walk, with participants expected to arrive in San Francisco on Monday morning.
The San Francisco and Petaluma contingents will meet at the Golden Gate Bridge on Monday at 11 a.m., and all participating groups will hold a rally from 4-5 p.m. in front of the San Francisco Federal Building at 90 Seventh St.
Copyright © 2023 Bay City News, Inc. All rights reserved. Republication, rebroadcast or redistribution without the express written consent of Bay City News, Inc. is prohibited. Bay City News is a 24/7 news service covering the greater Bay Area.