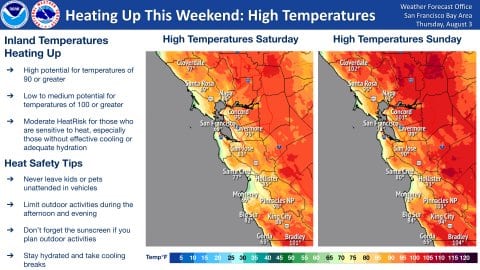 04 Aug

Warm Weather Settling Over the Bay Area This Weekend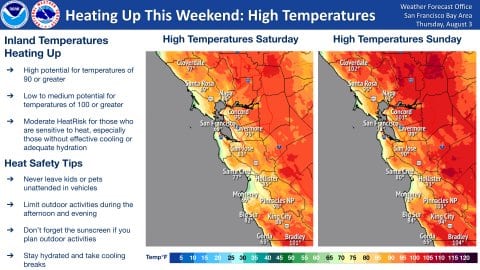 The National Weather Service is forecasting a warm Bay Area weekend, with temperatures peaking in the high 90s to low 100s for the hottest inland areas Sunday. (National Weather Service via Bay City News)
By Kiley Russell
Bay City News
A moderate weekend warming trend is coming to the Bay Area, bringing temperatures up to the low 100s for many inland areas and slightly increasing fire and health risks, according to the National Weather Service.
The heat is being generated by a high-pressure system moving up from the desert southwest over the next few days, with temperatures expected to spike Sunday.
A moderate heat risk will be in effect starting Saturday for interior valleys, which will see highs from the 80s to the mid 90s, while most inland areas can expect temperatures close to 100 degrees.
Highs around the Bay will be in the mid to upper 70s and the coastal temperatures will peak in the mid to upper 60s, according to the weather service, although a few spots like Santa Cruz and Big Sur could see highs in the 80s.
On Sunday, temperatures will continue to rise, with the hottest conditions expected for interior Napa, Monterey, Alameda, Contra Costa and San Benito counties, where highs are expected to be in the high 90s or low 100s.
The hot, dry conditions will result in elevated fire and moderate health risks, according to the weather service.
>>>Read: New Campaign Launched to Protect Communities Against Extreme Heat
"Even though we don't have any official heat advisories or heat warmings out, people should be mindful," said National Weather Service meteorologist Matt Mehle. "There are elevated heat-related concerns for the general population."
During the hottest parts of the day, usually from 1 p.m. to 6 p.m., people should take extra precautions and throughout the day should limit their time outdoors, wear lightweight clothes, drink plenty of fluids and never leave pets or people alone in vehicles.
Monday's highs will drop a few degrees and then a new system is expected to move into the region on Tuesday and Wednesday, bringing onshore breezes and the likelihood of cooling fog.
Copyright © 2023 Bay City News, Inc. All rights reserved. Republication, rebroadcast or redistribution without the express written consent of Bay City News, Inc. is prohibited. Bay City News is a 24/7 news service covering the greater Bay Area.