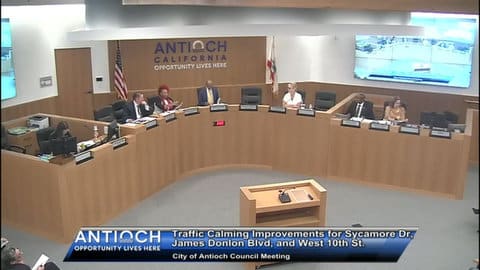 09 Aug

Antioch Council Tries to Make City Streets Safer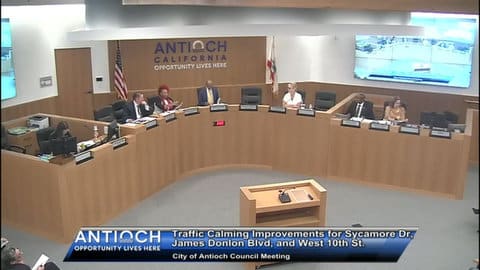 Antioch City Council on Tuesday approved measures meant to increase safety on three of the city's most dangerous roadways. (Screenshot captured by Samantha Kennedy / Richmond Pulse)
By Samantha Kennedy
Despite previous talks to prevent traffic collisions in the city, Antioch has not been able to greatly increase street safety. But the city thinks part of the solution is in the works.
The Antioch City Council unanimously approved traffic calming improvements for city streets to reduce car collision injuries and fatalities at its Tuesday meeting. Road improvements will be made to three of the city's most dangerous passageways.
The traffic calming improvements, which include crosswalks, reduction of lane sizes and increasing signage, will be done down James Donlon Boulevard, Sycamore Drive and West 10th Street.
Between 2015 and 2022, nearly 200 people have been injured in car crashes on James Donlon Boulevard. Intersections at James Donlon, though, are often at a higher risk of accidents. Lone Tree Way, which traffic calming improvements will also affect, saw over 500 accidents in those seven years. James Donlon had under 200 accidents in that time.
A "pork chop island" is a raised triangular segment of concrete that separates a right turn lane from through traffic and gives pedestrians a place to wait until it is safe to finish crossing. (Screenshot captured by Samantha Kennedy / Richmond Pulse)
Many crashes on these roads, which are known to be popular for street racing, are due to speeding. Cars frequently crash into trees and homes, especially on James Donlon, and memorials to crash victims line the passageway.
Traffic calming measures along passageways like James Donlon aim to reduce vehicle speeds and alert drivers of pedestrians and bicyclists. Speeds on the road often go above the posted speed limit of 45, with some driving nearly 100 mph.
>>>Read: Richmond Will Try to Make Streets Safer
Traffic calming measures will intentionally not include any permanent infrastructure like roundabouts to first see how temporary measures will impact traffic.
But some residents worry that the traffic calming measures will do the opposite of what they're meant to do.
During public comment, residents said smaller lanes will only increase the number of crashes on roads. Residents don't think increased signage will encourage drivers who are reckless to drive responsibly, which will make the smaller lanes more dangerous for both drivers and pedestrians.
Council told the public that the traffic calming measures are not meant to be the final solution to dangerous roads in Antioch.
Council member Tamisha Torres-Walker said the city can only do so much to prevent crashes.
"There is no cure for human behavior," she said.
Mayor Lamar Thorpe agreed with Torres-Walker, saying that rejecting these traffic calming measures because of a potential increase in reckless driving will not help solve anything.
Torres-Walker said drivers who try to get around the traffic calming measures in order to continue driving recklessly could create other problems. Surrounding streets, she said, could see an increase in traffic and crashes because of rerouted reckless drivers.
She asked if traffic calming measures could be extended to smaller surrounding streets around the passageways. More specifically, Torres-Walker asked if streets like Manzanita Way that are likely to have high pedestrian demand due to children in the area can add traffic calming measures. Children have previously been injured on these streets.
Though state law determines certain crosswalk guidelines, the council directed city staff to go forward with figuring out how to protect residents on surrounding streets.
The next Antioch City Council meeting is Aug. 22.