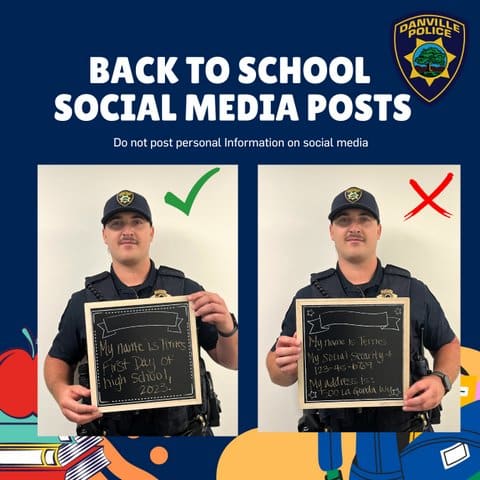 10 Aug

Danville Police Warn Parents Not to Overshare in Back-to-School Photos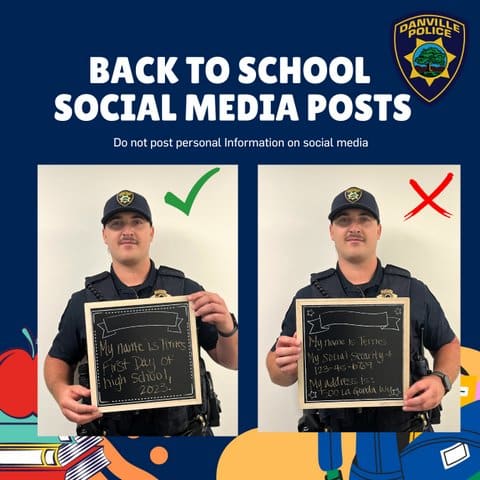 A school resource officer reminds parents to keep certain personal information out of social media posts about their children. (Danville police via Bay City News)
By Tony Hicks
Bay City News
Many Bay Area police departments this week are warning the public to be aware that school is restarting and to be careful driving during times children are going to and from school.
Danville police added a message for parents: Be careful of what information you share in social media posts about your children.
Danville police posted on Facebook on Wednesday: "We know some of you parents are EXTRA excited about school starting this week, but we want to share a word of caution about those back-to-school social media photos."
"As most schools resume tomorrow, we would like to remind parents not to reveal personal information about your children in photos."
Police use the example of a school resource officer posing as a child holding up a sign with the child's address, among other information, as what not to do.
"Please be cautious about sharing personal information such as addresses, phone numbers, school locations, your child's name and other personal information that can be used by predators and criminals for identity theft and scams," police wrote.
"Being cautious about what you share and with whom you share it is key to maintaining control over your personal information. We'll see you out at the schools tomorrow!"
Copyright © 2023 Bay City News, Inc. All rights reserved. Republication, rebroadcast or redistribution without the express written consent of Bay City News, Inc. is prohibited. Bay City News is a 24/7 news service covering the greater Bay Area.