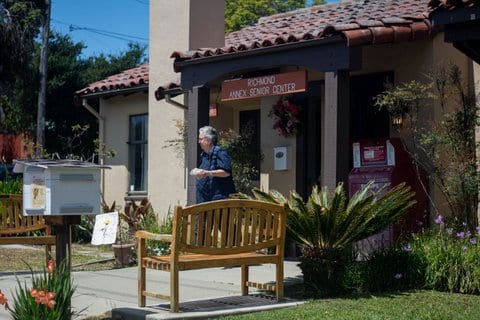 10 Aug

Program Helps Low-Income Seniors Get Healthy Food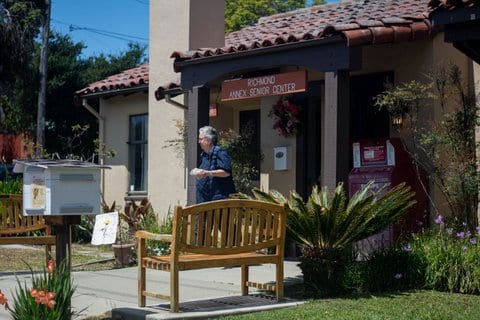 The Richmond Annex Senior Center gave out 200 healthy food vouchers this year through the state Senior Farmers' Market Nutrition Program. (Mitzi Pérez-Caro / Richmond Pulse)
By Mitzi Pérez-Caro
The city of Richmond is helping more than 200 older people access healthier food through the state Senior Farmers' Market Nutrition Program.
Started in 2011 through the California Department of Food and Agriculture, the goal of the program is to provide fresh and nutritious local food from farmers' markets to low-income seniors aged 60 years or older.
To receive a voucher, a person needs to show proof of age, state residency and income. The income limit is $26,976 annually for an individual and increases with household size.
Each year, qualifying seniors are given vouchers good until November for $50 at certified farmers' markets including those in Brentwood, Concord, Danville, Martinez, Orinda, Pinole, Richmond, San Ramon as well as at the Diablo Valley and downtown farmers' markets in Walnut Creek.
Most of Richmond's vouchers were given out at the Richmond Annex Senior Center.
"In the prior year, 150 vouchers were given to seniors," said Tania Swartz, recreation program coordinator at the center. "[The Richmond Annex] this year requested an additional 50 vouchers. We distributed 200 vouchers total this year."
The city of Richmond has an additional 50 vouchers at the Civic Center Senior Center, totaling 250 vouchers for low-income seniors in the city.
All markets accepting the vouchers will have a "WIC/SFMNP accepted here" sign. Seniors are able to purchase fruit, vegetables, herbs and raw honey with the vouchers but not flowers, potted herbs or vegetables, nuts or processed packaged foods.
"My favorite part of the program is helping connect seniors with resources that they need," said Swartz.
Swartz said the county offers another way for older people to get food they might not be able to afford. In Contra Costa County, seniors 55 or older that meet income guidelines can get free groceries twice a month at Corrine Sain Senior and Family Community Center and Southside Church of Christ, both in Richmond. Corrine Sain is at 515 Silver Ave., and Southside is at 1501 Florida Ave. Both locations are open the second and fourth Friday of every month from 10:30-11:30 a.m. People are asked to bring photo ID and proof of address such as a utility bill.
Many more local food assistance programs can be found through Get Food Richmond, including community produce programs, drive-thru food distribution, food pantries and soup kitchens. Proof of residency is required for these programs.
The Senior Farmers' Market Nutrition Program will return in May 2024.