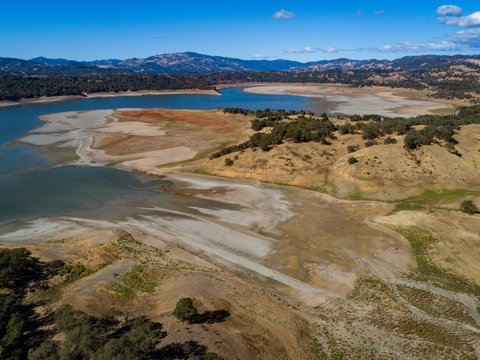 11 Aug

Climate Scientists Warn of Dangers of Extreme Heat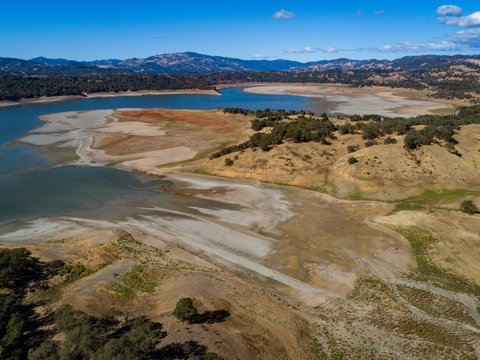 Lake Mendocino is seen here with low water levels because of drought in 2021. (Florence Low / California Department of Water Resources via Bay City News)
By Spencer Otte
Bay City News
In the midst of a summer filled with record-breaking high temperatures, climate scientists at a virtual panel held Thursday warned of the dangers of extreme heat.
At the panel hosted by the American Association for the Advancement of Science, speakers said that climate change is already having an impact on average daily temperatures throughout the world.
Andrew Pershing, vice president for science at the nonprofit Climate Central, says the climate scientists he works with not only study areas with extreme high temperatures like Phoenix, where the mercury rose to 115 degrees this July, but also in regions experiencing heat that deviate from average baseline temperatures. Often, these areas that do not typically experience high heat are not equipped to deal with temperature extremes.
Pershing presented a map showing the regions of the United States where climate scientists have found climate change has had the greatest impact, with much of the Southern portion of the country highlighted. Pershing also attributes an increase of wildfires to climate change, including ones that blazed in Canada earlier this year and sent smoke across much of the U.S.
Areas that have already experienced extreme heat this summer should expect more of the same over the rest of the season, said Pershing. He says that if current trends continue, people can expect massive shifts in average climate and temperature in cities across the country.
"I want to emphasize is that this is not the new normal," said Pershing. "Normal implies that it's ordinary, that it's natural and it's very much not. Our analysis shows that climate change is having a detectable quantifiable impact on today's temperatures, and it's also not normal in the sense of something we can get used to."
Extreme heat can have disastrous implications for human health, said Kristie Ebi, a climate researcher at the University of Washington. Seniors, those with chronic medical conditions, pregnant women and people who work outdoors are at the greatest risk due to extreme heat.
"When we think about the impact of heat on our bodies, we focus on our core body temperature," said Ebi. "This is not the temperature you measure with a thermometer. This is the internal temperature in our body and that needs to be maintained within a pretty narrow range to protect ourselves and our organs."
Extreme high temperatures can lead to heat stroke, which can be deadly even with medical treatment. Ebi said that the impacts of high heat can be lessened with heat wave early warning signals, more trees providing shade in public spaces, and clever mitigation through architecture like requiring white-painted roofs that reflect heat.
Tracking the number of deaths caused by heat can be difficult and the true impact of extreme heat events are often not clear until a year or more after.
"So we don't know real-time how many people are dying," said Ebi. "We can figure out real-time how many people died from heatstroke that you can get from the emergency departments in most cases, but it is just a long period before you have a real solid estimate of how many people died in these events."
Climate scientists at the panel said that high temperatures will continue past the summer thanks to El Nino conditions in the Pacific Ocean, which are expected to raise global temperatures in the winter.
"If you look at historically, global temperatures, the average over the whole planet starts to peak about six months after you start to see El Nino kicking," said Pershing. "So what we're seeing this summer, we are not yet even feeling what El Nino is."
Pershing said that no region of the county will escape the effects of climate change, but that temperatures in the Great Plains and northern Midwest lagged behind the rest of the county in terms of high temperatures. Despite this, many cities, like Phoenix, Los Angeles and Miami experiencing high temperatures have developed mitigation strategies or have appointed heat officers to coordinate with city departments to respond to extreme heat.
"I think this is not normal. This is shocking. This is, but it's not surprising. It's what it's what was predicted, you know, 20 or 30 years ago," said Pershing. "This is the world we're living in. And part of that is acknowledging the change that things are unfortunately only going to get harder as the years progress until we get CO2 under control."
Copyright © 2023 Bay City News, Inc. All rights reserved. Republication, rebroadcast or redistribution without the express written consent of Bay City News, Inc. is prohibited. Bay City News is a 24/7 news service covering the greater Bay Area.