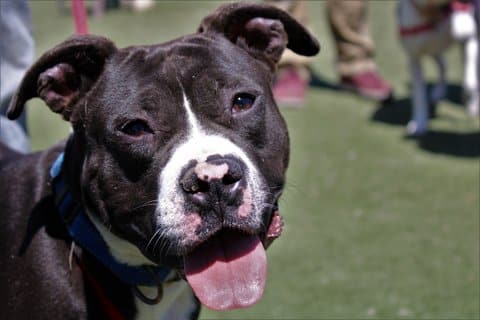 15 Aug

Shelters at Capacity Need Community Support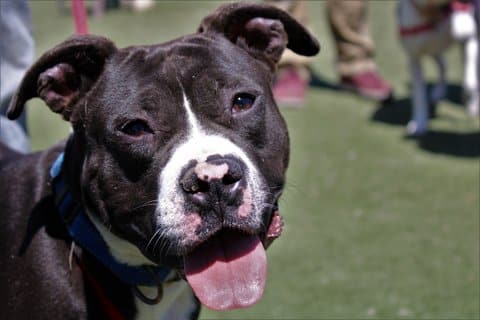 Squirrel spends some final moments at the Contra Costa animal shelter before going home with his new family after being adopted.
Story and photos by Joe Porrello
Editor's note: This is part three in our series on Contra Costa Animal Services and pet adoptions. Read to the end of the story to find out more about adopting an animal.
Part One: Overcrowding at Contra Costa Shelter Puts Animals at Risk
Part Two: Local Advocates Say More Can Be Done to Save Animals. CCAS Says It's Doing All It Can
Rescue groups in the Bay Area such as Rocket Dog and Muttville go to shelters and "pull" dogs into their nonprofit programs until their kennels are full.
Public shelters like that of Contra Costa Animal Services, on the other hand, cannot turn animals away.
Muttville was founded by San Francisco resident Sherri Franklin in 2007, who has since saved thousands of dogs from euthanasia.
If people fostering a dog from a rescue decide to return it, then the rescue often has to pay for the dog's boarding somewhere else until it has an available kennel.
Rescues try to get as much information as they can about dogs before pulling them.
Irina Dyatlovskaya, who works to help shelter dogs find foster families, said CCAS does not allow rescue groups to freely come and evaluate dogs.
"They set so many roadblocks," she said.
CCAS public information officer Steve Burdo had a different take: "Another thing we're doing really well is engaging our local rescue partners and developing ways to communicate with them."
Florence, a 3-year-old female German Shepherd mix, arrived at the Contra Costa shelter June 2 and has since been adopted.
CCAS director Beth Ward said it's important animal shelters have some down time when they don't have people walking through their kennels.
Contrary to being hard to find room in shelters, just two years ago it was hard to find dogs to adopt.
Dogs became very hard to come by via shelter adoption during the COVID-19 pandemic when people were looking for companionship in isolation.
According to Ward, those same dogs and more animals are now being surrendered to shelters because they do not fit many people's lives once they are back to commuting to work every day.
In the entirety of 2022, 146 dogs at CCAS were euthanized; that number was at 106 just halfway through this year.
"Despite our revenue increases, we're still in the same situation, particularly public shelters are in post-pandemic, in that our intake has gone way up," said Burdo.
Most of the animals at the Contra Costa shelter are cats and dogs. But you can also find other animals such as rabbits like Ziggy Starbun who was recently there for around two months, and chickens named for "Shrek" characters.
The majority of dogs surrendered to CCAS so far this year have been strays (about 78%) and owner surrenders (about 10%).
When a stray comes in, there is a period of time ranging from about three to 10 days (depending on the situation and shelter) that gives their owner time to claim the dog before it goes up for adoption (if adoptable).
Ward said CCAS and other shelters being at capacity is largely because of public negligence and/or lack of knowledge, so local communities must also contribute to the solution.
"We need people in our community to expand positive pet parenting and ensuring their animals are taken care of, and making sure they educate their neighbors, friends, and family about being responsible," she said. "Adopt locally and support your local nonprofits through donations to help them continue the work they're doing in the community."
Shelter employees and volunteers spend time outside with dogs like Marcus, this 1-year-old pit bull terrier, to give them enrichment.
According to Ward, it's easier on a dog if you try rehoming them yourself first because they go straight from one loving home to another, and you can stay connected with the owner and help them in ways CCAS can't.
The absence of understanding is being combated by CCAS partly through offering classroom presentations available to be scheduled by phone.
Community becoming part of the solution will not only benefit the dogs, but the people themselves, as Americans annually pay $1.5 billion for animal control, including euthanasia.
Dyatlovskaya said taxpayers' money should be used more wisely.
Overpopulation of dogs comes from leaving them untrained, unspayed or unneutered, without suitable permanent homes, and without potential owners willing to invest their time long term.
"People need to make a commitment when they get a pet," said Wendy Wolf, an ex-CCAS employee who coordinates with rescue groups and interacts with shelter personnel frequently.
Wolf continued, saying people bring dogs back to the shelter too soon, highlighting a rule that puts a timeline on the changing behavior of dogs after adoption referred to as the "3-3-3 rule."
The rule suggests it takes three days for a dog to calm down in a new home, three weeks to learn the rules of the house, and three months for their full personality to show.
"They say the dog is energetic, but it's just been cooped up and needs to adjust," said Wolf.
Marcus here got adopted. If you adopt a dog, follow the 3-3-3 rule, which suggests it takes three days for a dog to calm down in a new home, three weeks to learn the rules of the house, and three months for their full personality to show.
In terms of overpopulation, Dyatlovskaya said local government needs to intervene.
"It's critical for (the) Board of Supervisors to adopt some kind of ordinance in regard to control of breeders and affordable spay and neuter," said Dyatlovskaya.
Dyatlovskaya also believes dogs' lives would be saved by Animal Services having a Citizen Advisory Board.
A resolution developed in May by Assemblymember Ash Kalra, D-San Jose, urges action on the state's pet overpopulation crisis.
Assembly Concurrent Resolution 86 calls for the state to immediately fund spay and neuter and other medical services along with a public relations campaign urging Californians to adopt shelter animals, stop unwanted litters, and for out-of-state veterinarians and registered veterinary technicians to apply for California licensure.
"It's hard to find veterinarians or qualified RVTs," said Burdo.
Currently, getting your dog spayed or neutered in the Bay Area commonly involves a long waitlist.
"It used to be relatively easy to schedule (spay/neuter) at CCAS. Now, I think it's four months out," said Dyatlovskaya.
At CCAS, the spay and neuter fee is $72 to $173, depending on the dog's gender and weight, and dogs must be spayed or neutered before adoption.
"Spay and neuter are provided on a first come, first served basis. So being one of the only low-cost options for things like that in Contra Costa County, appointments fill up pretty quick," said Burdo.
In 2023 alone, CCAS has performed almost 1,000 spay and neuter surgeries.
Pet adoptions from Contra Costa Animal Services are free for the month of August, though a $25 licensing fee may apply. Use the following links to see available dogs, available cats and other available animals. To search for animals beyond Contra Costa County, visit https://24petconnect.com/.
Read part four in this series: