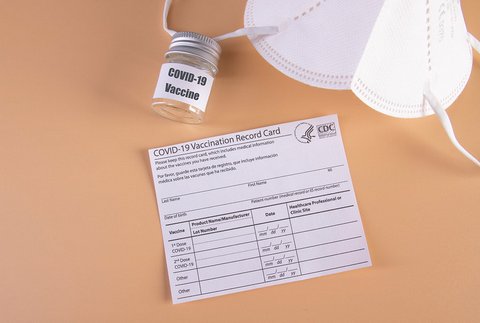 16 Aug

COVID-19 Is Not Going Away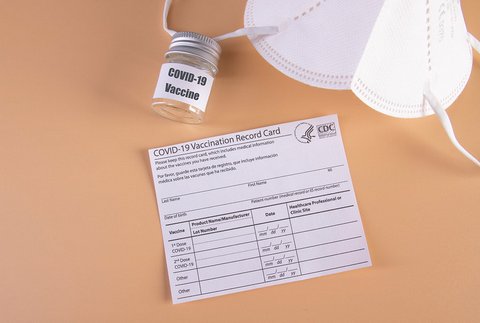 COVID-19 is not behind us, and a new booster shot is in our future. ("COVID-19 vaccine bottle, mask and vaccination record card" by Jernej Furman via Flickr under CC BY 2.0 license)
By Malcolm Marshall
The masks are all but gone, a sign that the Bay Area has returned to pre-pandemic norms. Free testing is gone. The public health emergency was declared over in May. Standing 6 feet apart? Also gone.
It's easy to think that the coronavirus pandemic is over. But there's one thing that's still around. It's COVID, and it's still doing what it does.
Last month saw a rise in COVID cases and hospitalizations throughout the country. Then there's the new subvariant of the omicron family, EG.5, or Eris, that has become the dominant strain of COVID in the U.S. and as of Aug. 5 accounted for 17.3% of COVID infections, according to the Centers for Disease Control and Prevention.
Three medical experts discussed the rise in cases, the new variant and new booster shots coming this fall during a virtual media briefing hosted Aug. 8 by Ethnic Media Services.
The guests were Dr. Benjamin Neuman, chief virologist of the Global Health Research Complex at Texas A&M University; Dr. William Schaffner, professor of preventive medicine and infectious diseases at Vanderbilt University School of Medicine; and Dr. Peter Chin-Hong, an infectious disease specialist at UCSF.
New variants are fueling a rise in cases fueling around the country, though not as much as previous surges.
Neuman talked about the EG.5 variant, which he said is "one of the fastest-spreading variants right now."
"This variant is spreading, because it has a lot of changes at the receptor binding site," he said. "That is the target of most of the vaccines and of some of the most useful parts of the immune system."
He said the variations are happening as expected.
"At the beginning of COVID, we looked at this virus and we looked at the rate it would change, and it looked like it should be about 30 mutations per year," Neuman said. "And so if you do the math, we are actually right on schedule."
>>>Read: As COVID Variants Outpace Vaccines, We Need to Keep Up
A new COVID vaccine is due out next month, designed to target another omicron variant, XBB.1.5. But Neuman said the EG.5 and XBB variants are closely related and approves of people getting the new booster when it becomes available.
"The formulation of the new booster is supposed to be a monovalent against the XBB variant," Neuman said. "From the studies that we have now, it looks like new variants like EG.5 are close enough that a vaccine against XBB seems to work against it pretty well. So I think it's a good move, and I wish they'd hurry up to release it."
He also addressed the importance of staying up to date on immunizations.
"The only predictable thing," Neuman said, "is that the more recent your immunity, the more recent your vaccination, the less likely you are to have serious symptoms."
Chin-Hong put what he calls the recent "swell" of COVID cases in perspective.
"There has been a slight uptick in hospitalizations," he said, "not a tsunami, not even a surge."
"If you look at California, for example, one year ago, exactly to this date, we have had about 4,700 people hospitalized at one point and the beginning of July was about 750. That was the lowest point we've had," he continued. "Right now, we have about 890 people hospitalized… in perspective, it's nothing compared to even one year ago."
Chin-Hong said cases may be going up for multiple reasons: people getting together more, including internationally, big concerts like Taylor Swift's bringing lots of people together, unprecedented heat waves that have driven people indoors, and people's immunity kind of waning from the last time a lot of people got infected last winter.
Then, there are the new variants.
Meanwhile, the new vaccines, expected in late September, will be available for adults and children.
Schaffner says that getting the new vaccine and other therapeutics to everyone that needs them will continue to be a challenge.
"We are now using the conventional medical care system in this country and you know we have disparities in access to medical care," Schaffner said.
"We are particularly concerned about minority communities — minority by language, by race/ethnicity, and rural locations."
Whether Americans will get the shot in large numbers remains to be seen. Both vaccine hesitancy and overall pandemic fatigue play a role.
>>>Read: Pandemic Burnout: It's OK To Not Be OK
Regardless, Schaffner said we be will living with COVID for the foreseeable future and that it's now part of our ecology.
He wants people to understand that although the pandemic has receded, the virus is still with us.
"It has the capacity to make people very, very ill," Schaffner said. "As I like to say, the virus is bad; vaccines are good."
He continued to promote the vaccine.
"Take advantage of the new updated booster vaccine that will be available this fall, starting sometime in September," he said. "That will provide the best protection for yourself. Make sure your family is protected, and contribute to the protection of your own community."