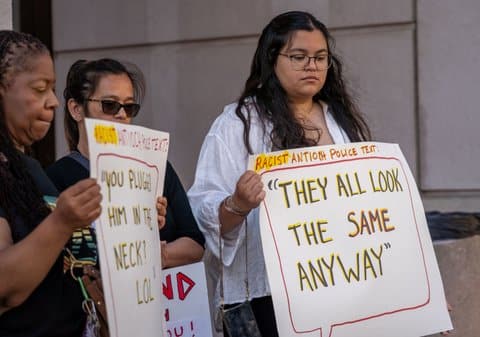 20 Aug

Indicted Antioch, Pittsburg Police Officers Identified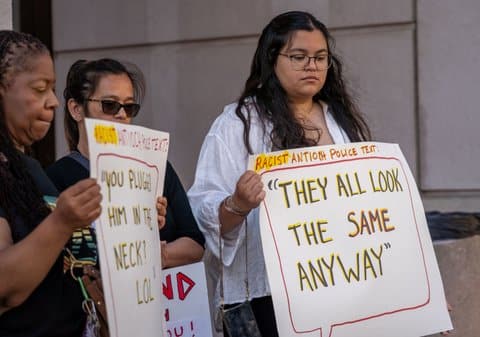 Bella Quinto Collins, sister of Angelo Quinto, and others protest Antioch Police officers involved in the racist text scandal outside A.F. Bray Courthouse in Martinez on July 21. (Harika Maddala / Bay City News / Catchlight Local)
By Tony Hicks
Bay City News
The U.S. Department of Justice has released the names of Antioch and Pittsburg police officers indicted this week for various civil rights violations after a two-year investigation by the FBI and the Contra Costa County District Attorney's Office.
Authorities on Thursday unsealed four indictments of 10 former and suspended Antioch and Pittsburg police officers for alleged offenses including civil rights violations, falsifying records, wire fraud, obstruction of justice, improper use of weapons and K-9 dogs on suspects, turning off body cameras, selling steroids, and paying individuals to take college classes for officers.
The FBI on Thursday morning arrested nine of the 10 officers in the Bay Area, Hawaii and Texas.
Law enforcement officials said in a statement that beginning in June 2019, Pittsburg Police Officer Patrick Berhan utilized a person identified as "Individual 1" to complete multiple college courses on his behalf.
The courses were credited toward Berhan's completion of a bachelor's degree in criminal justice. Berhan allegedly received a degree and then applied for and received reimbursements and pay increases from the Pittsburg Police Department.
The first indictment alleges Berhan "promoted Individual 1's services" and "benefited from payments received by Individual 1 in furtherance of the scheme."
The indictment says five other members of the police departments retained Individual 1 to complete similar coursework from the university, with each paying that person to get them degrees based on fraudulent coursework. They all allegedly applied for benefits including reimbursements and increases in pay from their departments.
The second indictment charges Antioch officers Daniel Harris and Devon Wenger with conspiring to distribute anabolic steroids.
The indictment describes how they allegedly conspired illegally to distribute the drugs to an unnamed customer.
The indictment also alleges Harris possessed the drugs and Wenger tried deleting evidence of the scheme from his cell phone before giving the phone to investigators.
The third indictment charges former Antioch Police Officer Timothy Allen Manly Williams (Manly) with two counts of alleged interference with a wiretap investigation and a third involving the illegal seizure and destruction of a telephone.
The indictment alleges on March 23, 2021, Manly was assigned to a "wire room" where, pursuant to a court order, he was tasked with monitoring communications between a target and others who contacted the target by phone. While monitoring the target,
Manly allegedly used his personal cell phone, dialed a special code to ensure his number would not appear to others, and called a target of the investigation.
After dialing the number, Manly allegedly designated his call to the target to be "non-pertinent," ensuring the 14-second conversation would not be recorded. Manly also allegedly made entries on the wire logs to suggest the call he made resulted in no answer and no audio.
The indictment also alleges on May 6, 2021, Manly was on the scene when another officer deployed a police dog when arresting someone. Seeing a witness using a cellphone to record the aftermath of the incident, Manly allegedly seized the witness's phone and destroyed it.
The fourth indictment accuses three Antioch officers — Morteza Amiri, Eric Rombough and Wenger — of conspiracy against rights and deprivation of rights under color of law. The 29-page indictment describes how the defendants allegedly communicated with each other and others about using, and intending to use, excessive force against individuals in and around Antioch.
Those uses of excessive force allegedly included deployment of a K-9, deployment of a 40mm "less lethal" launcher, and other unnecessary violence. The indictment alleges the officers used the force as "punishment" to people "beyond any punishment appropriately imposed by the criminal justice system," and allegedly made repeated reference to or suggestion of violating the civil rights of their victims.
Department of Justice officials said in a statement the indictment says, "On July 24, 2019, Amiri allegedly pulled over a bicyclist, identified as A.A., for failing to have lights on after dark. The indictment alleges that "in the course of apprehending A.A., Amiri punched him multiple times; K9 Purcy then bit A.A. in the arm, injuring him."
Amiri then shared pictures of the victim's wounds with other Antioch police officers who exchanged text messages including: "Yeah buddy good boy pursy," "F[expletive] that turd," and Amiri later stated "Detectives already called PRCS and got him a 45-day violation and we are gonna leave it at that so I don't have to go to court for the bite, easy." In response to a question from another officer about what cut the dog's face, Amiri responded, "that's a piece of the suspect's flesh lol."
The indictment also says "On October 8, 2020, Amiri allegedly sent a text message identifying a transient living in Antioch identified as M.Z. stating "anyone that finds him gets code [a free meal or beverage]. This f[expletive] stole my mail and was trying to open accounts under my name."
Wenger responded, "Lets beat his f[expletive] ass I'm down after work morty."
According to the indictment, the recipients of Amiri's message located M.Z. later that evening. Amiri then arrived on the scene, shoved M.Z. against a wall and threatened to kill him. The indictment also alleges that a few months later, Amiri texted another group of officers in reference to M.Z., "few months ago, I tracked him down and dragged him to the back of a car to 'discuss' the matter,'" and "putting a pistol in someone's mouth and telling them to stop stealing isn't illegal. . . it's an act of public service to prevent further victims of crimes."
The indictment also says, "On May 5, 2021, Rombough accompanied other Antioch police officers who responded to a report that transients were living inside a privately-owned unit. While responding, Rombough and another officer located a couple lying on a bed inside a room. Rombough deployed a 40mm less lethal launcher at one of the persons on the bed, hitting them in the chest and knocking them off the bed."
The indictment added, "On August 24, 2021, Rombough accompanied other Antioch police officers as they executed a search warrant at a residence in Antioch. Officers located a subject — identified as J.W. — inside a locked bedroom holding a video game controller while sitting on an air mattress, with a video game on a television screen. J.W. removed a pair of headphones and raised his hands as officers, including Rombough, entered the room. One officer took J.W.'s left arm to arrest him as four other officers surrounded J.W. As the other officer held J.W.'s left arm on the bed, Rombough deployed the 40mm less lethal launcher at J.W., injuring him."
The indictment describes several other incidents of excessive force and the alleged collecting and sharing of pictures to memorialize acts of violence. Rombough also allegedly shared spent munitions to commemorate his deployment of the 40mm launcher."
The state attorney general's office opened its own probe earlier this year.
Law enforcement officials have said as many as 45 Antioch officers were involved in the text message chains, using racial slurs and describing violence against suspects. They also allegedly threatened violence against Antioch Mayor Lamar Thorpe, who is African American. The N-word was used at least a dozen times, as were terms describing African Americans as "gorillas."
The texts also described recently retired Police Chief Steven Ford, who is African American, in racially derogatory terms. They also contained homophobic slurs.
Some of the defendants named in the texts, including some convicted and accused of murder, have already had their cases overturned in court or are challenging their arrests as racially motivated and violations of the California Racial Justice Act.
Civil rights attorneys John Burris and Ben Nisenbaum have filed two lawsuits so far, involving 13 plaintiffs accusing Antioch police of civil rights violations, among other allegations. They lawyers have said they've interviewed another "140 people who claim they also have been subject of multiple constitutional violations by Antioch police officers for years," they said in a statement earlier this month.
Lee Houskeeper, who represents Burris, said after Thursday's announcement that three of the officers indicted are also defendants in Burris' civil rights lawsuits: Amiri, Rombough and Williams (Manly).
Thorpe said in a statement Thursday the arrests are demonstrative of issues that have plagued the Antioch Police Department for decades.
"Seeking to reform the Antioch Police Department is not anti-police, it is pro our residents, and pro-officers that have served and continue to serve with honor," Thorpe said.
Antioch's Acting Police Chief Joe Vigil issued a statement Thursday afternoon, saying, "Today's announcement reporting the arrest of current and former APD officers is disheartening and undermines the incredible work our staff does on a daily basis.
"Any police officer who breaks public trust must be held accountable, especially because our effectiveness relies heavily on confidence and support from our community," Vigil said.
An Antioch police spokesperson said the department is precluded from making any further statements on the matter out of concern for the ongoing criminal and internal investigations.
Copyright © 2023 Bay City News, Inc. All rights reserved. Republication, rebroadcast or redistribution without the express written consent of Bay City News, Inc. is prohibited. Bay City News is a 24/7 news service covering the greater Bay Area.