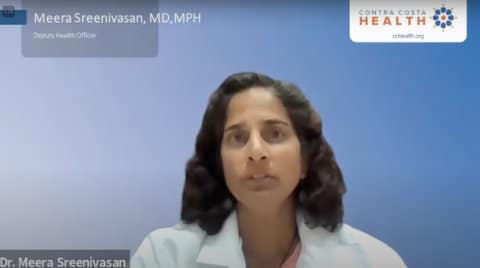 22 Aug

Richmond Spa Confirmed as Source of Deadly Legionnaires' Outbreak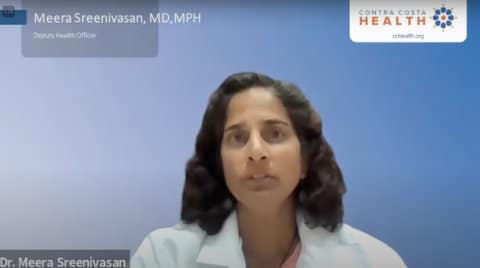 Contra Costa deputy health officer Dr. Meera Sreenivasan said at a press release concerning the Legionnaires' outbreak that originated at a Richmond spa and killed two and sickened others that it does not appear to pose an ongoing threat the public. (Screenshot captured by Natasha Kaye / Richmond Pulse)
By Natasha Kaye
Contra Costa County health officials announced during a press conference Aug. 21 that the deadly outbreak of Legionnaires' disease bacteria originated from a hot tub at the Zen Day Spa on San Pablo Avenue in Richmond.
Water samples taken from the tub showed "very high" levels of the bacteria, leading health experts to believe it was the source of the outbreak, according to Dr. Meera Sreenivasan, a deputy health officer for Contra Costa Health.
Contra Costa Health began its investigation Aug. 4 after the deaths of two individuals, on Aug. 3 and 4. The spa was closed voluntarily the following day.
"On behalf of Contra Costa Health, we do want to express our deepest and heartfelt regret for anyone who was touched by this tragedy," Sreenivasan said.
Legionnaires' disease is a severe lung infection caused by the Legionella bacteria. It cannot be transmitted from person to person, instead it is contracted when individuals inhale aerosolized water droplets or consume contaminated water.
At the spa, officials believe the untreated water of the hot tub created an ideal environment for the bacteria to grow.
"Proper maintenance of hot tubs and pools is becoming increasingly important, both for businesses and private citizens who own tubs, as we continue to experience climate change," Dr. Ori Tzvieli, Contra Costa County health officer, said in a press release. "Higher temperatures make growth of legionella and bacteria more likely, and more prolific, in water that is not properly treated."
The hot tub used by the facility was a residential unit, instead of a commercial unit, so it lacked both water circulation and disinfection systems required to keep high-use tubs safe.
"This business did not have a permit for its hot tub, and Contra Costa Health would not have issued a permit for this hot tub because it did not meet California regulatory standards," said Kristian Lucas, assistant director of environmental health programs.
Lucas said all publicly accessible hot tubs and pools require a permit from the county in order to operate. These permits ensure that the water is safe and properly treated.
Lucas said inspection records for all permitted public pools and spas are available at CChealth.org/eh. Customers are recommended to check the database before entering a hot tub or pool to ensure the facilities are up to regulatory standards.
"One of the things were doing, along with our city partners, is looking into business license records looking into these types of establishments and seeing what we can do to either visit or contact these spas to figure out what is going on inside and see if there's any activities such as pools and spas that need to be regulated by us," Lucas said.
As of Aug. 21, the county declared the hot tub at the spa a "public nuisance," giving the owners 30 days to conduct a deep cleaning of the facility and requiring them to properly dispose of the hot tub.
Following its investigation, Contra Costa Health will send a referral of its findings to the district attorney's office who will then decide if any further investigation is necessary and if formal charges will be brought against the owners.
In addition to the two fatalities, there were two other lab-confirmed cases of Legionnaires' disease linked to the Zen Day Spa, and two other suspected cases. Fortunately, if caught early, the infection can be treated with antibiotics.
Sreenivasan said the department does not believe there is an ongoing risk to the public, as the hot tub was closed immediately after identifying it as the source of the outbreak. The incubation period for the disease is one to two weeks, so it is unlikely there will be any new cases linked to the spa moving forward.