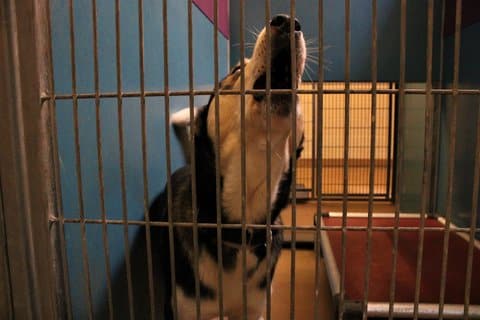 25 Aug

CCAS Wants to Keep Animals Out of Its Shelter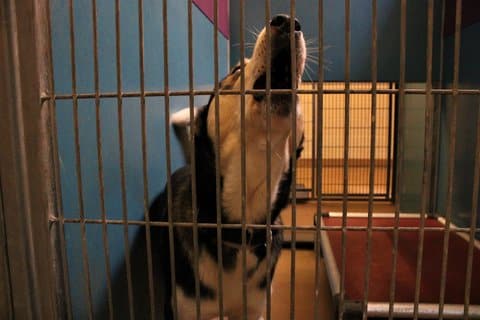 Zip, a Siberian Husky, was probably howling for joy when he got adopted from the Contra Costa Animal Services shelter in Martinez.
Editor's note: This is part four in our series on Contra Costa Animal Services and pet adoption and the final chapter in this particular story. This month is the ninth annual Clear the Shelters campaign. Please read to the end of the story to find out more about adopting an animal.
Part One: Overcrowding at Contra Costa Shelter Puts Animals at Risk
Part Two: Local Advocates Say More Can Be Done to Save Animals. CCAS Says It's Doing All It Can
Part Three: Shelters at Capacity Need Community Support
Story and photos by Joe Porrello
Nearly 200 dogs, cats, rabbits and chickens are in the care of Contra Costa Animal Services at this time. Of those, more than 100 are up for adoption.
According to mspca.org, the most common reasons for dogs being surrendered to shelters are lack of time, shortage of money, incompatible housing, and bad behavior from the dog.
"We understand it's really hard to find housing in the Bay Area that accepts dogs," said CCAS public information officer Steve Burdo. "This isn't necessarily a problem we can just adopt our way out of."
Burdo noted pandemic renter protection laws being lifted caused an uptick in surrenders due to people being displaced from their homes along with being unable to relocate, and that CCAS tries offering support for owners to find new homes.
Marcus, a pitbull terrier, steps into the water on a sunny day. Since this photo was taken, he has been adopted.
When it comes to financial shortcomings, local organizations such as Paw Fund help low-income owners keep their pets by providing aid such as free vaccines.
Vaccinations at CCAS are only available during a two-hour window, once a week, by appointment only, with fees totaling $106 (including a microchipping fee).
A Contra Costa County Animal Control ordinance requires all dogs over 12 weeks old be vaccinated against rabies with an approved vaccine and licensed within five months.
As of Aug. 25, there are 69 dogs and 110 animals overall up for general adoption at CCAS. Most of the other animals are cats, but there are also four chickens and four rabbits.
Bunnies, like Devito here, are among the animals available for adoption that are not cats or dogs. Devito, a 1-year-old dwarf bunny was at the CCAS shelter for a month before being adopted.
Burdo said CCAS tries keeping dogs out of the shelter in the first place, partly by talking with people to work through options aside from surrender.
"We save our surrender program for those most in need," he said.
Dogs up for general adoption are immediately ready for life in a home, but CCAS also has "transfer-preferred" dogs (of which it currently has 25) that are better suited for a rescue group because of behavioral problems or medical issues.
In less than one week at the end of June, CCAS facilitated the adoptions of over 50 dogs; it also held multiple weekend mobile adoption events throughout the month featuring dogs in their foster programs.
Burdo said a recent mobile adoption event in Martinez was one of its most successful in years.
Also expediting the large number of dogs being homed by CCAS in June was the month's free adoptions, as fees for adoption normally range from $85 to $155. Adoptions were also free in July and continue to be in August.
Although some may feel added space and kennels at CCAS might be a solution, CCAS director Beth Ward says it's mainly about proper resources, partners, and efficiency.
Aside from adoptions free of charge or added space, there are other things Wendy Wolf, an ex-CCAS employee who coordinates with rescue groups and interacts with shelter personnel frequently, and Irina Dyatlovskaya, who works to help shelter dogs find foster families, think CCAS could bring back into use to help rehome the animals at their shelter and provide them with better care.
"They used to have an affordable training program for people who adopt from the shelter," said Dyatlovskaya.
Wolf had a similar sentiment of past positives.
"When I first started there, they had a behavior team and they offered several programs for volunteers that went above and beyond what volunteers normally do," she said. "They don't have anyone to properly evaluate the behavior of the dogs now."
Dogs, like Marcus here, at the CCAS shelter get to spend time outside to get exercise and enrichment.
According to Burdo, CCAS is doing all in its power to employ adequate staff.
"We recruit for staff positions as they become available," he said. "Municipal, county, and city governments across the board are having trouble filling positions."
He went on to say behaviorists are certified and of a very high standard.
"Many public-run shelters don't have somebody like that on staff," he said. "Most of the behavior and enrichment is done by the staffers."
Ward believes new hires will move things further in the right direction.
"We have about twelve vacancies but many of them are in the process of finalizing their hire. Three new positions start July 1," she said. "Everybody in this facility picks up the slack for vacant positions."
Because of things like background checks, it can take three to four weeks for a new worker to start after an employer offer agreement is made.
Unlike paid employees, volunteers can start immediately.
At CCAS, the volunteers play a large role in the enrichment of the animals by walking and socializing dogs, bringing them toys, and performing adoption counseling.
"Our shelter would absolutely not be able to exist without volunteers," said Burdo. "We have a core of volunteers that have been here for a while, as well as a lot of new faces because they understand the crisis and want to help out."
Squirrel shows off his silly side, and no wonder he's happy. He's getting ready to go home with his new family.
CCAS is still actively looking for more volunteer help, as they have lots of animals other than dogs that need additional care and new homes, including cats and bunnies.
"We're always recruiting for volunteers who can fill the gaps," said Ward.
Ward said the most important part about volunteers is their availability.
"We probably have close to 200 volunteers on the books, but not all of them are available to work," she said. "I would say we have about 70 or so that are active."
Currently, CCAS has volunteer training options such as mentoring, shadowing, conferences, and outside agencies coming to educate.
Ward said she expects CCAS to keep pushing forward with new plans aimed at saving dogs' lives.
"We are going to be developing our strategic plan this fall, through which they'll gather input from stakeholders and community," she said. "I'm positive that we'll have a lot of innovative ideas and suggestions coming from our community that will help us in our effort to save more animals' lives."
CCAS leadership and local canine advocates might not be completely on the same page yet, but Ward is hopeful.
"The one thing I firmly believe and I hope is that we can all come together and all realize we have the same goals, and that we will be able to accomplish more together working toward those goals," said Ward. To be honest, I want to tell them thank you for being in our community and being there to support the dogs that are in need. Thank you for caring about animals in Contra Costa County."
Euthanasia in shelters dropped from 15 million in 1997 to 1.4 million in 2019, so history says there's hope that number will continue to dwindle — and faster if people work together.
***
Pet adoptions from Contra Costa Animal Services are free for the month of August, though a $25 licensing fee may apply. Use the following links to see available dogs, available cats and other available animals. To search for animals beyond Contra Costa County, visit https://24petconnect.com/.