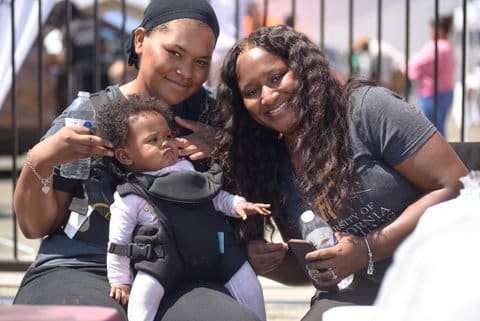 29 Aug

Drive-Thru Baby Shower Gives Expecting Black Parents Services and Support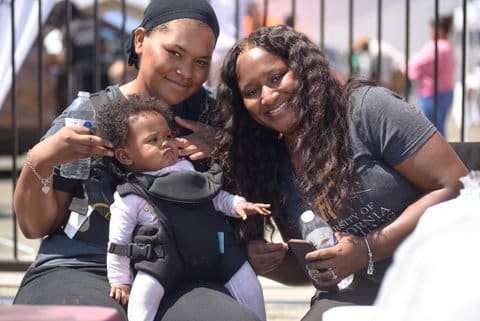 Mia, from top left, 9-month-old Aubrielle and Brianna Robinson at the 11th annual Contra Costa African American Community Baby Shower on Aug. 26.
Story and photos by Denis Perez-Bravo
In a display of community solidarity, hundreds of expecting mothers and fathers received a plethora of resources Aug. 26 during the 11th annual Contra Costa African American Community Baby Shower at Bethlehem Missionary Baptist Church in Richmond.
A convoy of residents drove or walked up to receive assistance from a variety of organizations all brought together by A More Excellent Way, an organization that partners with churches in Contra Costa and Solano counties to provide health services for pregnant people.
The vibrant tableau of booths lining the sidewalk and parking lot offered a range of services that parents could readily access.
Parents were able to get a lactation consultation, curated bags brimming with essential supplies, informative resource materials, books, diapers and various other essentials.
Lynn Sims, 72-year-old Richmond resident in black shirt, stands by the supply of diapers given out at the community baby shower.
"Sometimes your family is not there. And so the community can become your family," said Richmond resident Braghette Price, 40.
As a walk-up participant, she said she found herself immersed in an atmosphere of care and assistance that has been transformative for her family. Price said the church and the various community organizations it partners with have given her confidence and peace of mind knowing that there's someone advocating for her and her family.
Braghette Price said carrying her baby, 1-month old Messiyah Jacskon, in the Ghanaian style called Tur Wo Ba, which she learned at the shower, made getting around more convenient.
She attended the event to get supplies for her 1-month old Messiyah Jacskon, whom she had wrapped in front of her in a Ghanaian traditional style learned from Cynthia Obleton of Fawohodze Inc., an organization in attendance.
That was Price's first time being exposed to Tur Wo Ba, the Ghanaian baby-wearing style. She said she would wear her child like that more often as it was very convenient as she walked from booth to booth.
I Didn't Want to Move to Ghana. Now, I Can't Wait to Go Back
"I started my organization to help the community improve," Obelton said. Their dedication is evident through not only the provision of valuable resources but also through educational cultural expeditions to Ghana, enriching after-school programs, adult literacy initiatives, and the nurturing Tur Wo Ba classes, all of which were on display at the event.
In total, 180 families were registered as drive-up participants.
"When a mom is pregnant, you need that partner. You need the community to support them," said 62-year-old Dr. Monique Sims, a Vallejo resident and founder of A More Excellent Way and the community baby shower. "This event was birthed out of my dissertation research around improving the perinatal outcomes of African American women."
Black Infant Health Helps Black Moms 'Give Birth the Way She Wants'
In 2003, Sims learned a daunting statistic that set her on a course to help her fellow Black women.
"I found out about the health disparities that exist," she said. "Women that identify as Black die at four times the rate as other mothers."
So she created an event in East County that brought service providers together for the benefit of the Black women in that community. This year, the Solano County African American Community Baby Shower celebrated its 19th year.
But she soon saw a need to expand the community baby shower initiative to Contra Costa County.
"My experience (in Contra Costa) was that it ramped up faster than it did in Solano County, just because of all the interagency collaboration," she said.
Q&A: At Black Infant Health, 'There's Something We Can Do to Support That Family'
When she began in Contra Costa, she was welcomed by organizations like Black Infant Health, the Women, Infants and Children supplemental nutrition program and the Early Head Start program.
"All of those kind of came around, like, we don't want the statistics to persist. We want Black women, Black babies to thrive at the same rate as other mothers," Sims said.