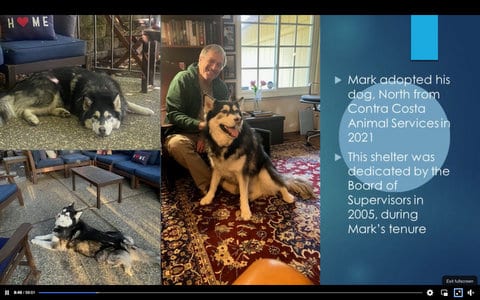 01 Sep

Rep. DeSaulnier Hosts Town Hall at Contra Costa Animal Services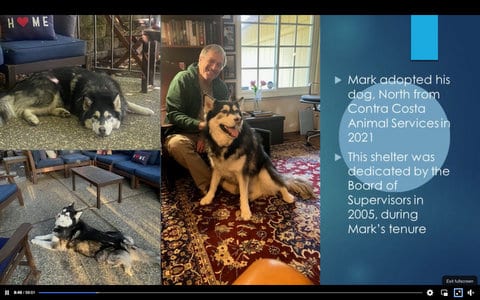 Rep. Mark DeSaulnier hosted a town hall meeting Monday at Contra Costa Animal Services, from which he adopted his husky, North. (Screenshot captured by Danielle Parenteau- Decker / Richmond Pulse)
Editor's note: This story continues our series on Contra Costa Animal Services and pet adoption.
By Natasha Kaye
Rep. Mark DeSaulnier, D-Walnut Creek, held a long-awaited town hall meeting for his 10th District constituents at Contra Costa Animal Services on Monday to provide updates from Washington and address concerns about his efforts to protect animals in the county and nationwide.
DeSaulnier kicked off the town hall with a PowerPoint, introducing the audience to his own rescue husky, North, and also advocating for the adoption of shelter animals, a sentiment that was applauded by the crowd.
He said the current municipal shelter in Martinez was opened by the Board of Supervisors in 2005 under legislation from the late Tom Hayden, a former California senator who also pushed heavily to make California a "no-kill" state, meaning no animals that enter municipal shelters would ever face euthanasia.
"So we've got a lot of history, but a lot of problems with that vision is that we haven't been able to fund it, in my view, to the degree that we want it to be successful," DeSaulnier said.
Recently, CCAS has faced criticism from animal advocates who say the shelter is not doing enough to adopt out animals in their care.
One animal rights group, People for Animal Advocacy and Welfare, was in attendance, all wearing white shirts in solidarity to show their disappointment in the state of animal welfare in Contra Costa County.
The shelter has been at maximum capacity since the start of the year and has had to euthanize over 500 animals since January, according to its records. Irresponsible breeders and neglectful owners directly contribute to pet overpopulation, exacerbating the issue for CCAS.
"Animal shelters and rescues in the Bay Area and around the state are overcrowded due to an influx of animals coming into our shelters and rescues, and the flow of animals being adopted from all of our groups — fosters and transfers — is far outpaced by the number of animals we see each day," Beth Ward, director of CCAS, said. "This is a community-wide problem that requires a community-wide solution."
DeSaulnier made a point to say that not all counties are funded equally and that much of the funding for municipalities comes from property taxes. He noted that after Prop. 13 was passed in 1973, more urban counties like Alameda and San Francisco voted to raise the property tax aggressively, while Contra Costa, with its more rural settings, only raised it slightly, resulting in less local revenue in the general funds.
He said the departments that received the biggest budget cuts because of this tax structure are juvenile probation and animal services.
"When you compare how we do animal services here, from my memory being on the board, you look at Alameda or Santa Clara or San Francisco, they have a lot more of this funding that allows them to draw out more money and do more creative things," DeSaulnier said.
During the question-and-answer portion, one constituent asked why CCAS does not advertise its adoptable dogs at public events like municipal shelters in Alameda County do, to which Ward said CCAS depends on volunteers to commit to those events.
One constituent brought up that DeSaulnier is not a co-sponsor for Senate Bill 271, a.k.a. the Farm System Reform Act of 2023, which aims to place a moratorium on concentrated animal feeding operations, or industrial-sized animal feeding facilities where animals are raised and fed in confined spaces to reduce costs and increase meat, dairy and egg output. In response, DeSaulnier said he was surprised he wasn't aware of it but now plans to sign on.
Although the town hall was held at CCAS and was advertised both as a "Washington update" and updates on DeSaulnier's efforts to protect animals, many of DeSaulnier's talking points focused only on his work at the federal level. He boasted that since being elected in 2015, he has secured funding for 25 community projects, totaling roughly $30.8 million, and also highlighted Democratic achievements in Congress.
After several questions were chosen to be answered on non-animal-related themes, the crowd began to complain.
DeSaulnier attempted to calm the audience by saying the event was a congressional town hall and constituents had the right to ask whatever they wished.
In another question that did concern animals, one constituent asked when penalties for backyard breeders would be increased.
"I don't think there's anyone in this room that doesn't think enforcing laws for backyard breeding is not important. Backyard breeding is probably one of the No. 1 reasons we have for animals entering our shelter. The problem we have is enforcement," Ward said. "It's not just about laws; it's about the capability to do the enforcement."
She noted a significant staffing shortage in the animal enforcement branch, which limits the shelter's capability to enforce the existing laws.
"In things like this, I think the best role we can play is looking at best practices around the world and giving the state and locals the information and resources and being able to compare performance," DeSaulnier said in closing. "When we invest in these things, we want to make sure we accomplish the goals we set out, and in this instance, it's to make sure the animals don't lose their lives unnecessarily."