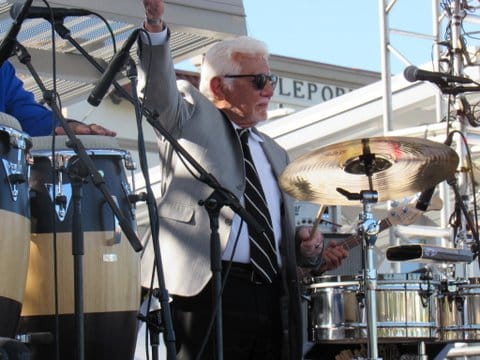 17 Sep

Pittsburg Seafood and Music Festival Returns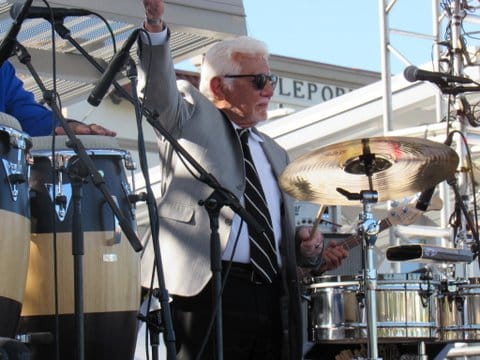 Percussionist and Pittsburg native Pete Escovedo performed at the Pittsburg Seafood & Music Festival, which returned for the first time since 2019.
Photo Essay, Eduardo Torres
An East Contra Costa County staple made its long-awaited return. The Pittsburg Seafood & Music Festival was back the weekend of Sept. 9 for the first time since before the COVID-19 pandemic began. Despite the festival being absent since 2019, thousands of eager people from all over the region showed up to eat seafood, listen to music and celebrate Pittsburg.
The late summer two-day festival is a tradition for East County residents and features all the seafood you can imagine, rides for kids, and live music performances on three stages. Held this year in Old Town Pittsburg, musical headliners included country music artist Clayton Q and legendary percussionist Pete Escovedo, who was honored by the city of Pittsburg.
"I was born on Black Diamond Street. You see that old house over there, that's where I was born," Escovedo, 88, told the crowd as he accepted a proclamation from Mayor Shanelle Scales-Preston.
"I want to especially thank all of the people of Pittsburg for supporting and just supporting my family, and just being here today. This is really something special for me."
Joining Escovedo on stage was his family of musicians, including daughter Sheila E.
Joann Reed and her husband, Kevin, from Pittsburg were delighted to be at the festival again.
"I think it's seeing the people, the camaraderie, the food, the entertainment, just everything. I'm glad to see it back," she said. "After COVID, we kind of missed it for a few years. This year, I'm look forward to seeing Pete Escovedo because he was actually born in Pittsburg."
Andrew Gonzales from Hayward said the Pittsburg community is one of the reasons that he keeps coming back. "The community, the food. They have Sheila E. here and Pete Escovedo. It's a good turnout. We have a lot of our family members here. I think we're about 12-14 deep."
Gonzales also said he enjoys eating the food that the festival offers. "One is the barbeque oysters. The second is the crab that the rotary club put on. And the ceviche."
Pittsburg City Council member Angelica Lopez was glad to see the community coming together again for the festival.
"We haven't had it in a few years, especially because of COVID, so it's nice to have the community back and enjoying it with one of our own, which is Pete Escovedo. We were really excited to have him this year. Last time I came to a seafood festival, I saw children that were, you know, 7, 6 years old, and now I see them, they're teenagers. Just to be able to see the same familiar faces again, it's really heartwarming because we have been through lot as a community."