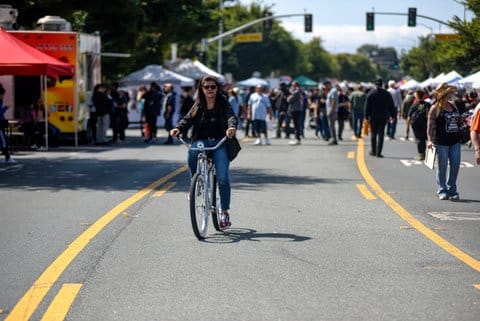 19 Sep

El Sobrante Stroll Fills San Pablo Dam Road With Festivities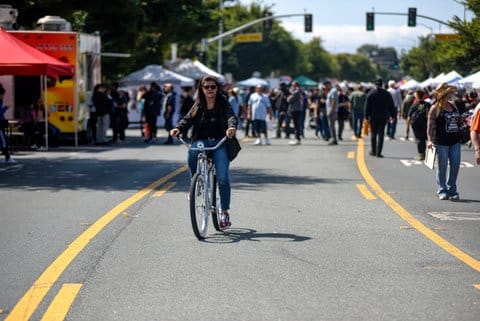 San Pablo Dam Road was closed to traffic Sunday for El Sobrante Stroll, which featured more than 100 vendors, classic cars, a BMX bike show and a parade with marching bands and horses.
Photo Essay, Denis Perez-Bravo
Thousands of East Bay residents walked San Pablo Dam Road between El Portal Drive and Appian Way during El Sobrante Stroll on Sept. 17.
It was the 28th annual occurrence of the event that bills itself as "The Best Dam Road Block Party in the East Bay." More than 100 vendors along the corridor showcased their services, attractions, products and information from 11 a.m. to 4 p.m.
"I am here to give publicity to my business," said Raquel Argueta, owner of Anahi Handmade Jewelry.
She had never participated as a vendor in any event but said the stroll is a community event for which she felt comfortable taking this step as a business owner.
"And I feel confident," Argueta said with a smile on her face and her handmade earrings dangling off her ears.
El Sobrante resident and Anahi Homemade Jewelry owner Raquel Argueta showcases her handmade earrings during El Sobrante Stroll on Sunday.
All week she worked hard to create handmade jewelry. Those new creations in addition to her inventory already created decorated the table at her booth during the stroll.
El Sobrante Chamber of Commerce, the organizing party, advertised there could be up to 200 vendors.
The event began with a parade filled with marching bands like that of Richmond High School and a caravan of horses.
Attendees then filled the street to shop from local businesses and watch the different music shows scattered around the event.
John Jay, 58, and his family shopped for hats at one of the vendors. He goofed around as he grabbed and put on a Disney's "Frozen" hat. His family laughed along with him.
"I am enjoying the diversity," Jay said.
As his family looked at hats during the El Sobrante Stroll, John Jay put on one featuring characters from Disney's "Frozen" while goofing off.
This was his first time attending the El Sobrante Stroll, but he is no stranger to such events as he has attended the Solano Stroll many times.
He appreciated that El Sobrante Stroll had a car show and showcased different communities.
Salma Muzaffa, a henna artist from El Sobrante, was happy to be part of bringing unique experiences to participants.
Salma Muzaffa, a henna artist from El Sobrante, creates a design on an attendee's arm at the El Sobrante Stroll.
"This year, I saw that there were a lot of people getting henna for the first time," Muzaffa said.
Being able to give that experience to people, especially people she sees around town when she is just "out and about" doing errands, is the reason she continues to participate in the stroll.
A person shows off the henna design on their hand created by Salma Muzaffa at the El Sobrante Stroll.
Outside of The Pedaler bike shop, people stopped their walks to watch a BMX show hosted by TGC Action Sports. The hosts pumped up the crowd during the final trick of the performance asking them to chant "backflip." Soon, the cyclists pedaled at full speed and after leaving the ramp, flipped backwards with their bikes as the crowd cheered.
Concord resident Gerardo Reyes, 29, pedals past The Pedaler Bike Shop before doing a backflip on his bike as part of a BMX show during the El Sobrante Stroll.
Close by, in the parking lot of the closed PJ's Restaurant & Cocktail, dozens of classic cars were being admired. Different models and years were on display. Car owners sat and talked around their cars as patrons walked by or took pictures with the cars.
El Sobrante Chamber of Commerce is also hosting the Stroll's Photo Contest, open to anyone who attended the event and took a photograph. To enter, send the photos and contact information to 2023stroll.photo.contest@gmail.com. The winner will receive cash or a gift card. All entries become the property of the chamber, which did not specify when the contest ends.