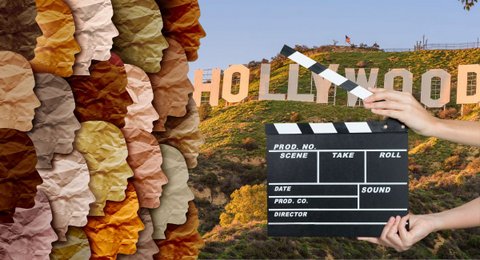 24 Sep

For True Diversity, Hollywood Can't Just 'Check the Box'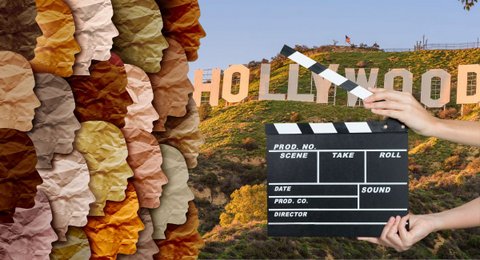 (Image courtesy of Ethnic Media Services)
By Danielle Parenteau-Decker
When "Rutherford Falls" premiered in 2021, it was celebrated for its Native American representation onscreen and behind the camera. Then, it got canceled after its second season — during which one episode satirized "Yellowstone." That highly successful show's own Native representation has drawn criticism, but that has stayed out of mainstream attention.
The point being that Hollywood has made some progress when it comes to diversity, but it still has a long way to go. Ethnic Media Services hosted a panel Aug. 25 to dive into this issue, asking them, "Are We Telling Our Own Stories Yet?"
To panelist Michael Tran that question "is kind of like, 'Are we there yet? Are we there yet? Are we there yet?' The short answer is, 'No.' "
Tran is a co-author of the latest Hollywood Diversity Report, a product of the UCLA Entertainment & Media Research Initiative. The report looks at the actors, writers, directors and show creators of usually the 200 highest-grossing English-language films across streaming and theatrical releases and all scripted series.
Across the 11 years the report has been produced, Tran said there have been "two very consistent findings": "lack of diversity is an ongoing problem" and "diversity sells."
The headway has been made on diversity has come unevenly.
For one thing, Tran said, "progress (is) happening a lot quicker in television than in film."
There has also been "much more progress in front of the camera than behind it," he said. "Here's diversity that's visible, but there's less diversity where the decision-making is happening."
Takashi Cheng is the executive director of Chime TV, the only English-language Asian American Pacific Islander entertainment network in the U.S.
He said it is not enough to "kind of check the box and say now that I've put a Black woman in place or an Asian woman in place that we've checked the box and we're doing good," with the former referring to Disney's casting of Black actress Halle Bailey as Ariel in its live-action "The Little Mermaid."
"Hey, what about the creativity here, guys?" Cheng asked, effectively challenging the major studios. "How about … making a real investment into a creator community that can give you fresh, original stories that will do our people justice instead of just slapping us into your storybook context of what you think is going to sell? How about investing into the storytellers that can create a new generation of characters?"
Tran said that high-profile projects that have been hailed for their contributions to diversity such as "Everything Everywhere All at Once" and "Reservation Dogs" are not indicative of structural change.
In interviews, actress Geena Davis has discussed hearing that her 1992 movie "A League of Their Own" was going to usher in a new era of equality for women in film. That did not come to pass, though some insisted it did.
"Everyone said, 'No, no, no — it used to be like that, but it's been fixed,'" Davis told The New York Times earlier this year.
So in 2004, she founded the Geena Davis Institute on Gender in Media, which has since expanded to also examine and boost representation of people who have been marginalized in the entertainment industry because of their race/ethnicity, LGBTQ+ status, disability, age or body type in addition to gender.
It is not enough for someone to be represented; it matters how they are being represented.
Fanny Grande tried to get her start as an actress 25 years ago but said no roles were made available to her when she refused to play negative stereotypes.
Her experience is not unusual. Many actors have shared similar experiences: the actor of Middle Eastern descent who only gets to audition to play a terrorist; the Latino and Black men pigeonholed into criminal roles; the women who are relegated to being the wife and mother with no agency of her own, particularly once they reach a certain age; the various people who are always the friend or sidekick but never the lead.
Grande said that Latinos make up about 20% of the U.S. population but only get 2.3% of leading TV roles, half of which are negative stereotypes.
"It affects how we're perceived as a community," she said.
Even a stereotype that isn't necessarily negative is still a problem.
"There's a perception that we are always the perennial immigrant," Grande said. "There's nothing wrong with being an immigrant, but we're constantly being portrayed as the other."
Also at issue is who is getting the parts.
Grande said that Latino roles sometimes go to non-Latino actors, or if the actor is Latino, they're usually light-skinned.
"Thank you, Jennifer Lopez for opening (doors). Thank you, Salma Hayek. Thank you. They just don't look like me," said Afro-Latina actress Adargiza De Los Santos, referring to the only sort of Latina representation she sees on screen.
Much is said about who has or deserves a seat at the table, but De Los Santos took that idea further.
"They're creating the table," she said, referring to Grande and her colleagues who started Avenida Productions, which works "to give a platform and voice to independent filmmakers of color, women, the LGBTQ community, and all those who are overlooked and underappreciated by a vast majority of studios," according to its website.
Later in her remarks, De Los Santos again advocated for not working with the existing system but making something new.
"We are not breaking ceilings," she said. "We are building a new f— house."
The question of representation even came up within this discussion.
Television producer Frank Blanquet asked why there was no Native voice on the panel. Moderator and EMS editor Pilar Marrero said attempts were made to get a Native panelist, but no one who was asked responded. Then, she asked Blanquet, who is of Maya descent, if he would like to say a few words.
"We need to stop playing Native characters and just play characters," he said. In other words, actors need to be given roles where their race — or some other piece of their identity — is part of who they are, not all that they are.
When "Rutherford Falls" was canceled, it created a hole but not a void when it came to Native representation. In fact, it wasn't the only Native-focused show to premiere in 2021, which also saw the debut of "Reservation Dogs." That show, about four teens on the Muscogee Nation, is about to come to an end after three seasons, however. Some people also took issue with the fact that one of its creators is Indigenous but not Native American, that being Taika Waititi, who is Maori and Jewish. Its other creator, Sterlin Harjo, is a citizen of the Seminole Nation and has Muscogee heritage.
Native-focused shows that are still running include the children's programs "Molly of Denali" and "Spirit Rangers" and the drama "Dark Winds," which was recently renewed for a third season.