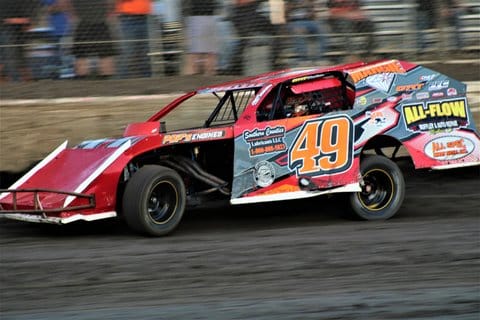 26 Sep

Antioch Speedway Hosts Fifth Annual Hall of Fame Induction Weekend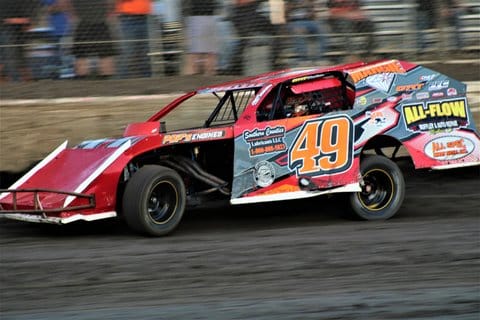 Troy Foulgers of Oakley took his No. 49 IMCA Modified car across the finish line ahead of the pack Sept.15 at the Antioch Speedway.
Photo Essay, Joe Porrello
Antioch Speedway began festivities for its fifth annual Hall of Fame Induction Weekend on Sept. 15. 
While a mix of nine current and former drivers were honored, three classes of main racing events also took place.
International Motor Contest Association stock cars, IMCA modifieds and hobby stocks were all featured in main events of 25 half-mile laps each. About 40 cars were on hand to race in total. 
Drivers in each class started based on their point totals in the standings, with the leader being placed on the pole (i.e., in front).
Troy Foulgers of Oakley passed the checkered flag first in his IMCA Modified car, taking home his sixth championship in the class and fifth win of the season. 
Foulgers leads in points on the season at Antioch Speedway for IMCA modifieds as well as IMCA stock cars.
Winning the IMCA stock car main event and his third victory of the season was Nick DeCarlo, hailing from Martinez.
Nick DeCarlo of Martinez gives a victory speech to the crowd. His father got him started early, having him drive a go-kart when Nick was 5.
The DeCarlo family had three generations of drivers competing, including Nick's father, Terry Sr., who was honored Sept. 15 as a 2023 Hall of Fame inductee and has been racing at the track since 1978.
"I started my son Nick at 5 years old driving a go-kart," he said. "We've pretty much been together racing our whole lives."
Ken Johns, an Antioch native and lifelong Speedway goer, took first place in the Pacific Coast General Engineering Hobby Stock Bobby main event.
"Man, that was just straight up incredible," he said. "The track was amazing…car was amazing."
Racing also runs through Johns' DNA.
He said he honors his hero and uncle Norm Johns by keeping the same number and paint scheme that he raced with. 
"It's cool to keep it going," said Johns. 
Even if not blood relatives, the drivers and pit crew members at Antioch Speedway are very closely knit.
"Everybody out here, we're not related, but you could definitely consider it full racing family," said Johns. "We're all here to compete against each other, but they are more than willing to help you out in time of need."
It was a family affair at Antioch Speedway for the DeCarlo clan with three generations racing. Here, they gather to celebrate Terry DeCarlo Sr., a Hall of Fame inductee.
Event organizer Chris Bennett echoed Johns' sentiment.
"It's really a family-oriented environment, and I think that's one of the things that makes this place special," he said.
Speedway Hall of Famer Ron Brown exemplifies the familial bonds held at the pits in Antioch, as he is one of the track's longest tenured regulars.
Ron Brown, pointing to a photo of himself on on the Antioch Speedway Hall of Fame wall, says he has been coming to the track every Saturday since he was 5.
He has been a fan, a driver, an owner, and now helps out at the track daily.
"This is where I am every Saturday night since I was 5 when my dad took me here 65 years ago," he said. "You stay friends for life out here."
First opening in 1962, the track was originally called Lenoir-Burke Speedway.
The number 65 isn't only the amount of years Brown has spent at the track; it's also the number on his wife Lori's car who was inducted into the Hall of Fame on Sept. 15.
The decal on Lori Brown's car represents a friend and fellow Hall of Fame racer who died after being diagnosed with cystic fibrosis, a phrase which when said somewhat sounds like it contains the number 65. 
Lori and her friend's success as women at the Speedway is not a unique circumstance. 
Ron Brown said he believes Antioch Speedway has more female drivers than any other track around, noting that the top five in points for the hobby stock division were all women last year.
Illustrating Brown's point is Misty Welborn, a third-year driver who won a championship in just her second year.
Welborn took over as driver to replace her husband, who now works as the car owner and mechanic.
"We're like a team; it's really fun," she said. "When we came here, we didn't know anybody…it was almost just like immediately, you just get taken in."
Driver Adam Kujala has similarly split duties behind the wheel with his wife in the past and also taken some hiatuses, but he's been steadily in the driver seat since 2019.
"You never really get out of it," he said.
Kujala didn't take first place in his class, but he had realistic expectations.
"Always hoping for a win, but there's a lot of fast guys and girls out there, so it's tough," he said before the race.
According to Terry DeCarlo Sr., first prize for each race has been about $500 since the 1980s, but driver costs have steadily risen.
Ron Brown said the sport is dying because it's so expensive, noting the roughly $30,000 necessary to buy a car that's usually torn up, along with additional expenses like purchasing a trailer and lots of equipment.
"I tell my grandkids, 'If you race, you won't be able to afford anything else, you'll be broke,' " he said.
Unless they travel out of the area for a race, drivers invest lots of money in their cars and get one day a week to make it worth it.
Normally, the Speedway is only open Saturdays, but Bennett said races were held Sept. 15, a Friday, to have time to properly honor all of the Hall of Fame inductees and grow the occasion.
"We wanted to split it into two nights and let the folks from out of town come in, and give them an opportunity to celebrate with their families," he said.
In addition to nine Hall of Fame inductees and three classes of races the first day, the next featured four honored drivers and five race divisions.
Drivers in the pits wait to get approval from their crew before heading to the entrance of the Speedway track.
The weekend of celebration comes just as the Speedway approaches its off season, when rainy conditions typically make the track undrivable until March. 
The next Speedway event will be Sept. 30, featuring Dwarf Cars, Super Stocks, Hardtops, and USAC Western States Midget Cars for the Chet Thomson Memorial race.
"It's a good family night out," said Cujala. "Bring the kids. Kids love race cars. Go in the stands and have fun and get everybody off the screens."
If you're thinking of checking out an Antioch Speedway race, tickets at the event are cash only but can be purchased online at myracepass.com/tracks/1055.
If you go: Antioch Speedway is located at 1201 W. 10th St., Antioch, CA 94509.